Program Impact
Research & Evaluation
Reading Partners is committed to ensuring that students gain the critical reading skills they need to prepare them for academic, social, and civic success. At the core of our program model is the use of multiple data sources to monitor student progress and site quality, and to evaluate program success. From annual student assessment and quality monitoring activities to researching the effectiveness of pilot initiatives and contracting for independent studies, Reading Partners systematically collects, analyzes, and uses data to generate knowledge, improve programs, and report on impacts.
For example, we assess student reading skills three times during the year and formally survey teachers twice each year to track each student's progress and ensure high-quality programming. The assessment process enables our staff to benchmark students' reading levels at enrollment, modify instructional reading plans during the year, and report gains at the end of the school year. In addition, our volunteer tutors write observational notes after each tutoring session. Our site staff review the notes and use the information to provide additional instructional support and guidance for tutors throughout the year.
---
Third Party Research
The Reading Partners program is an evidence-based approach to improving reading proficiency. Our program was evaluated by MDRC, a nonprofit, nonpartisan education and policy research firm. The rigorous, randomized control trial found that Reading Partners boosted three different measures of reading proficiency over a control group of students who also received supplemental reading services. It also included a cost analysis, which revealed that the Reading Partners program is substantially less costly for schools to implement than typical literacy interventions.
View and download the infographic
View the MDRC web page highlighting Reading Partners as a Tier 1 (strong evidence) program for districts based on the guidelines of the Every Student Succeeds Act (ESSA)
---
Our Curriculum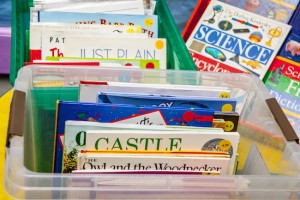 Reading Partners has developed a proprietary, easy-to-use, structured curriculum to help students gain the skills needed to be independent and successful readers. Our curriculum provides targeted instruction and practice of foundational literacy skills students need to move towards grade-level reading proficiency and is designed to be easily administered. Reading Partners' instruction is aligned to the Common Core State Standards, other state standards, and best practices in reading instruction to promote student mastery through alignment with classroom expectations.
The Power of Individualized Attention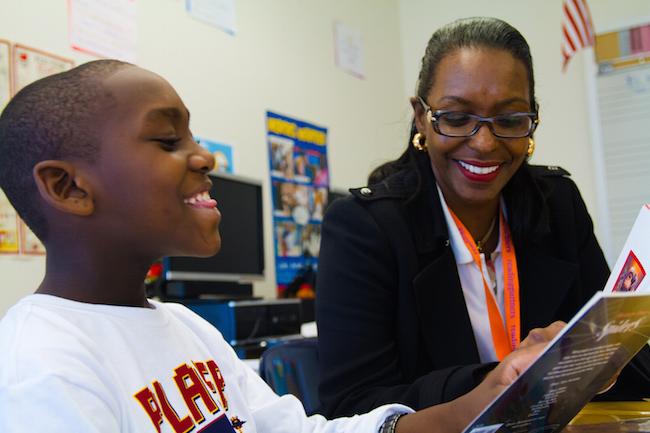 Reading Partners recognizes the challenges classroom teachers face in meeting a wide variety of student needs. Our one-on-one model:
Provides each student with a caring coach to give help where needed and champion each success.
Gives each student the opportunity to work at his or her own pace and at just the right level.
Supplies personalized language support; a tutor can stop and discuss words and topics unfamiliar to his or her student as needed.
Allows for student choice with the guidance of a trained adult.
Targeted lessons for success
The Reading Partners curriculum is comprised of more than 150 lessons. Each lesson is easy-to-follow and requires no preparation outside of the reading center. Reading Partners' staff offer ongoing coaching and support to tutors as questions arise.
The right starting place for every student
Reading Partners' students are assessed at enrollment and placed at an appropriate starting place in the curriculum sequence, where they practice key reading comprehension skills and develop their vocabularies.
Emerging readers learn about letters, sounds in spoken language, and how print works.
Beginning readers learn phonics principles and high-frequency words.
Independent readers work on their accuracy, fluency, and comprehension, and write about their reading.
Lessons to cover multiple reading skills
Each lesson begins with the tutor reading aloud to the student from a book the child has selected. The tutor asks questions and discusses the book's content and vocabulary with the student.
The tutor introduces a new skill or concept and helps the student complete an introductory task.
The tutor supports the student while he or she reads and encourages the student to apply the new skill and/or concept.
Supporting success beyond the reading center.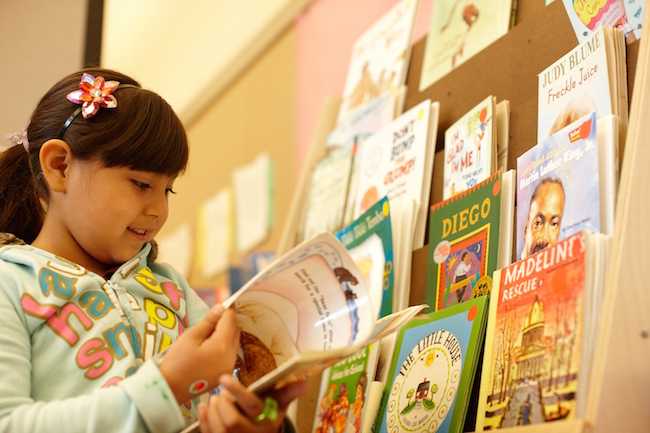 Reading Partners' lessons are built around carefully selected books. Books are chosen to fit the skills being taught and match students' reading levels. To acknowledge the diversity of our student population, Reading Partners ensures that the curriculum includes texts featuring characters and stories from a wide variety of cultural backgrounds.
Reading Partners encourages reading at home. Since many families in the United States have few children's books at home, we give students books to read at home and build their own libraries.