Reading Partners Washington, DC
About Us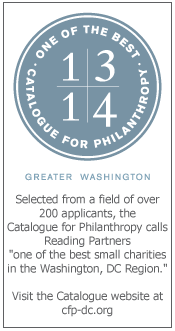 Washington, DC is the center of our nation's political power. Yet too many of our capital's schools are failing to prepare our students to be future leaders. Only 13 percent of DC's fourth graders from low-income families could read proficiently in 2013, placing DC among the worst-performing cities in the country.
At the same time, DC is uniquely positioned to reverse this trend. With a high concentration of college-educated citizens, a desire to change the odds for students, and a robust volunteer community, DC is poised to help our students and future leaders succeed. While the challenges facing the nation's capital are formidable, Reading Partners is committed to playing an important role in improving the educational achievement of DC students.
The Reading Partners Washington, DC program launched in 2010, thanks to a partnership with the NewSchools Venture Fund. Starting with four school partners in the 2010-11 school year, we are now operating in 15 schools and are working with more than 725 students.
Our Impact
In the 2013-14 school year:
97% of Reading Partners Washington, DC students accelerated their rate of learning in reading.
87% of Reading Partners Washington, DC students narrowed their literacy gaps with their peers who read at grade level.
Reading Partners is committed to continuing to help our students gain the literacy skills they need to succeed in school and beyond.

By The Numbers
Reading Centers:

15

Students Served:

725

Volunteer Tutors:

860
Contact:
Reading Partners Washington, DC
1224 M Street, NW, Suite 301
Washington, DC 20005
Telephone: (202) 701-9110
Fax: (408) 516-8516