April 5, 2016
Enterprise Holdings — Corporate citizenship in Colorado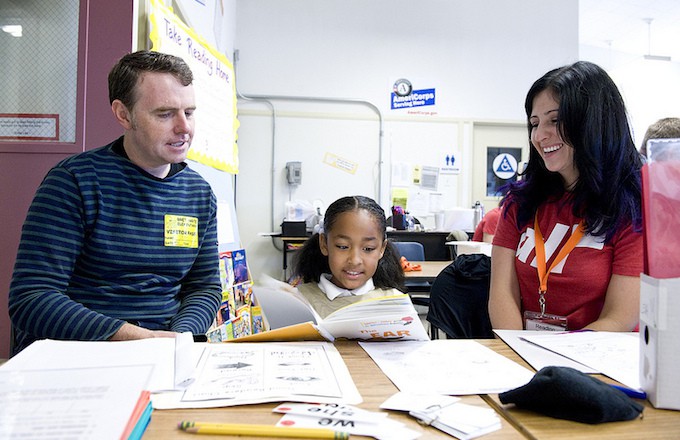 By: Christina Herold, development manager, Reading Partners Colorado
At Reading Partners, partnerships are the essence of our organizational value that "together we are better." The Reading Partners program could not operate without amazing volunteers of all ages and walks of life, from high school scholars to senior citizens. Reading Partners Colorado is fortunate to have volunteer support from some generous corporate partners. One of these groups doing amazing work is Enterprise Holdings.
Enterprise Holdings, which owns Enterprise Rent-A-Car, National Car Rental, and Alamo Rent A Car brands,  has been working with Reading Partners Colorado to elevate literacy in Denver public schools since 2014. The success of this partnership is due in large part to the commitment of Enterprise team members who volunteer with Reading Partners at College View Elementary.
Enterprise Business Rental Sales Executive Lauren Chandler and Enterprise Car Sales Business Development Manager Aimee Owens are the leaders of two Enterprise teams. Together, they total about nine members, and are completely devoted to College View Elementary and to Reading Partners. As full time working professionals, it is easy to prioritize work and let other items slip to the bottom of the list. The Enterprise team makes Reading Partners a priority in their work week and truly understand the value of service in our community.
"Making time for volunteering is a huge priority for me and my team," says Lauren. "Not only does it feel good to give back to the community, but it promotes team camaraderie and allows us to take a step back from the daily grind and put things in perspective."
At College View, Enterprise teams provide weekly volunteering for two students in the program and as a team they never miss a day of tutoring. According to Leslie Cairns, Reading Partners site coordinator, "As a team they rotate on a four or five week basis, meaning that a student doesn't see the same tutor for a few weeks at a time. Regardless, my students love it and feel incredibly supported. It's been a pleasure working with Enterprise and they truly define the term 'professional'."
"Enterprise Holdings supports employee participation in programs like Reading Partners because, as a company, we believe we owe our own success to the communities we serve, and we must support their good causes in return," says Aimee.
Enterprise's reach also goes beyond the reading center at College View. In addition to tutoring, the team has hosted book drives to benefit the Reading Partners program and they are also regular participants in Reading Partners events and initiatives. We are so grateful for the Enterprise team!