February 2, 2017
A tall order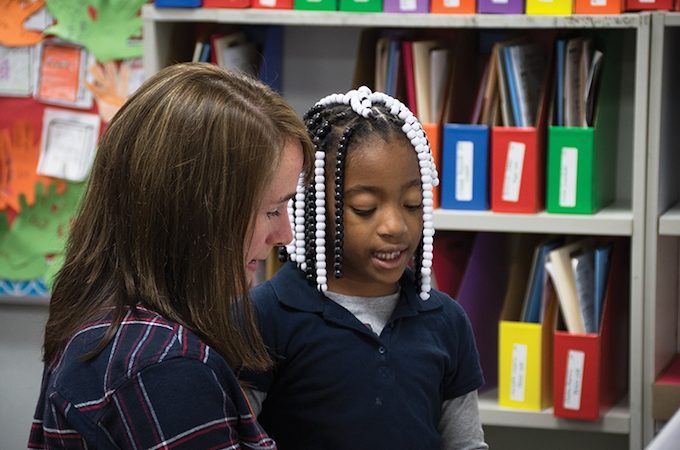 Originally published by Tulsa People.
By Jane Zemel
Growing Together targets two neighborhoods to promote education and community investment.
Growing Together provides no direct services, yet the nonprofit is the guiding force in changing the physical, social and educational landscapes of two of Tulsa's most promising neighborhoods: Kendall Whittier and Eugene Field.
The idea is to unite organizations, residents and teachers to advance the quality of education, bring communities together and invest in the neighborhoods' physical environment.
A tall order, for sure. That's why Growing Together assembled gold-standard partners — including Communities in Schools, Talent Development, Reading Partners, City Year and the local YMCA — to collaborate in improving students' futures.
"We're the supporters of the tapestry," says Kirk Wester, Growing Together's executive director. "We help them work effectively, to feel supported, so they can do amazing work."
Other strategic partners have been added to the holistic mix, including the University of Tulsa, faith-based groups, Habitat for Humanity and Capital Homes.
Why so many partners? "I always assume there's someone out there who knows how to do this better than I do," Wester says.
This is more than a job to him. It's a calling. Wester grew up in Broken Arrow and married in 1996. Two years later, the couple decided to move into "a struggling neighborhood." They chose Kendall Whittier, Tulsa's red light district at the time. He and his wife felt strongly that they needed to be intentional about their support of social justice; that the best way to support a community was to be a part of it. They believe justice is truly a lifestyle.
Within a short time, a steady stream of projects popped up to improve the area led by a push among residents in the mid-1990s. Ultimately, in 2010, the George Kaiser Family Foundation, Community Action Project and Tulsa Area United Way decided to join forces to further ramp up the trajectory. GKFF provided funds to CAP, which formed a department in 2010 that ultimately resulted in Growing Together.
The holistic approach started with improving third grade reading levels, one of the key measures in school success. Partners such as Reading Partners and City Year were assembled to provide the services necessary to support young students. Growing Together became an independent organization in 2014, but maintains a close relationship with CAP.
Impact Tulsa, a nonprofit dedicated to high-quality education for all, conducted a study about Tulsa schools, which showed that although quality education is vital to every student, the greatest determiner of any child's success is breaking the concentration of poverty within the school.
Armed with that information, Growing Together expanded its focus to include neighborhood revitalization. To involve families and communities. To tear down poverty and attract middle incomes.
Step one was to improve school quality. Parents who could afford it were transferring their students out of the area. "We have to get to a place where our schools are sought after by all people," Wester says. (Read on to learn how member agencies contribute to this effort.)
Step two was to get people to be neighbors, followed by connecting them. Today, Growing Together employs three full-time community organizers, who develop strategies to connect neighbors, like Zumba classes, soccer tournaments, movie nights and community dinners.
"For us to be sustainably successful, we can't be 100 percent free lunch," Wester says, meaning the neighborhood has to work toward a 60-40 poverty-to-mixed-income ratio to succeed.
Amid these changes, however, special care is directed to make sure current residents are not priced out of their own neighborhoods. The creation of a community land trust assures affordability while protecting against gentrification.
Successes in this arena include West Park apartments, a mixed-income development at 2405 E. Fourth St. that now has a waiting list. Capital Homes, builder of 17 market-value homes in Kendall Whittier, offered $4,000 in closing costs; $4,000 was offered through TU as down-payment assistance to TU employees to live in the area. Capital will build up to 10 homes in the neighborhood in the future and will continue to offer its incentive, along with $4,000 offered by Growing Together for teachers at Kendall Whittier and Sequoyah Elementary Schools and Rogers Junior High. Additionally, Habitat for Humanity has designed a new business model that gives owners equity in their new home on the day they move in.
In December the Westers moved into a new-construction residence, their third home in the neighborhood.
• Communities in Schools •
Three years ago, Growing Together brought the country's No. 1 dropout prevention program to Tulsa. Communities in Schools of Mid-America created a local office in Tulsa, and Jania Wester, Kirk's wife, became executive director.
The organization supports schools and individual students, academically and socially. They can help schools with universal issues such as bullying or attendance, and provide case management services for students at risk of dropping out.
"Our students have adverse experiences on a daily basis," Jania Wester explains. "We care for students after the loss of a home, following a visit to an incarcerated parent or in cases of neglect."
Jania Wester was a teacher and assistant principal at Kendall Whittier Elementary and a principal at Zarrow Elementary before joining CIS. "I wanted to get back to the folks I have a heart for — the Latino community, the impoverished and voiceless," she says.
Because CIS helps with non-academic issues, dedicated educators can focus on teaching. "In a climate and culture of support, teachers feel more validated," she says. The outcomes are nothing short of remarkable for CIS caseload students: 90 percent stayed in school, 94 percent were promoted and 94 percent of targeted seniors actually graduated.