October 29, 2019
Get your company involved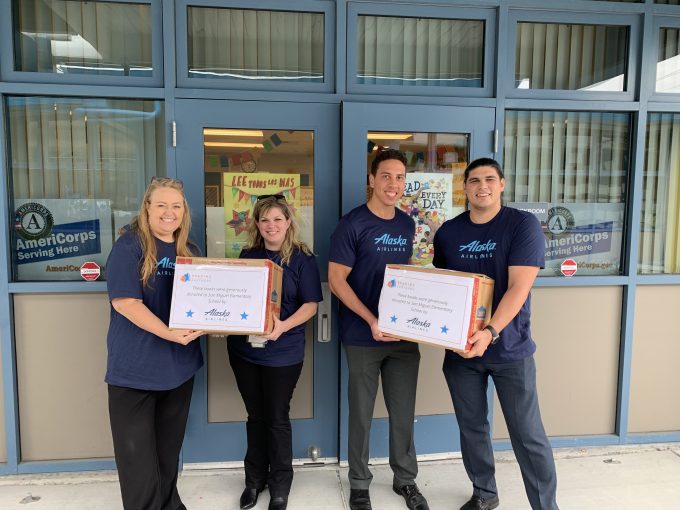 Group Tutoring
Experience the delight and surprise of working with young children and books!
Join Kaiser Permanente, LinkedIn, and Bank of the West, who have all found a meaningful opportunity to give back to the community with Reading Partners. You, too, can help local children to read by bringing together up to 15 employees for a three-hour group event at a  high-need local elementary school.
Help guide students through read-aloud and a simple lesson

Give recognition from your company to students for their reading 

improvement and celebrate their achievement

Reward students for their commitment to reading by giving them a book at their level for them to keep

Get to know a local public school and contribute to its success
The Reading Partners program is designed for volunteers with limited tutoring experience. Your team is fully supported to deliver a high- impact, low-pressure tutoring session.
Students participating in the program already receive weekly tutoring, and look forward to the recognition and attention from your team during these supplemental lessons.
Contact Andrea Edelman (andrea.edelman@readingpartners.org) for more information on pricing and scheduling options.


Book sorting
Hosting a book sorting and bagging volunteer activity is the perfect opportunity to engage up to 20 employees in with an experience made just for you.
Contact Andrea Edelman (andrea.edelman@readingpartners.org) for more information on pricing and scheduling options.

A Novel Night
Join us March 26, 2020 for our signature event, A Novel Night. For more information about tickets and sponsorship opportunities, contact Michelle Collier (michelle.collier@readingpartners.org).

Lunch-n-Learns/Information Sessions
Join us in raising awareness and recuiting volunteers with a 30 minute information session at your office or organization. 
For more information, contact Andrea Edelman (andrea.edelman@readingpartners.org).

School Sponsorship
Show your dedication to students in a transformative contribution by sponsoring one of our reading centers. Whether it is location where you've volunteered or a location near your office, this is the opportunity to show the community your commitment to the future of the Bay Area. Students are the workforce of tomorrow so join us in empowering them with the skills they need to succeed through a school sponsorship. 
For more information, contact michelle.collier@readingparterns.org. 

Host a Book Drive
Our Take Reading Home program allows students to take a book home at the end of each session. To do that, we need a lot of books. 
Hosting a book drive can be a great way to raise awareness for the literacy crisis and get your company/organization involved. Click here for more information and click here for instructions to hold your own book drive. 

Matching gifts and Paid Time for Volunteering
Double your donation with a matching gift from your employer. To make your gift go even further, select the box next to the question "Would you like your employer to match?" (shown below) and see if your employer does matching by scrolling through the list next to "Employer Name". If you do not see your employer's name but know that they do match, click "Not on list?" below the small black arrow and enter it manually. Next, enter your employer email and continue with the donation process. 
If your company does paid time off for volunteering, please ask your employer about how to track those hours. Companies like Saleforce and Cisco make it easy to track.