February 3, 2021
Column: A list of children's books to celebrate Black history every month, not just in February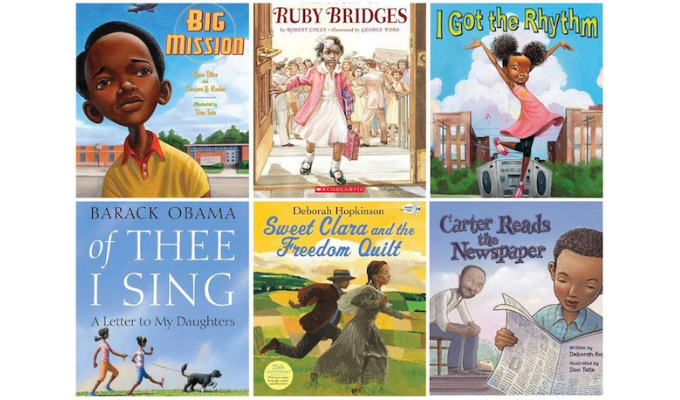 Originally published in the Chicago Tribune
Some fantastic new children's books have been released in time for Black History Month, including "Have I Ever Told You Black Lives Matter," written by Shani Mahiri King and illustrated by Bobby C. Martin Jr. — a personal favorite, and not just because my colleague Clarence Page is one of more than 100 Black innovators profiled in its pages (along with Maya Angelou, Chadwick Boseman, Langston Hughes, Misty Copeland, and John Lewis).
"I've wondered for a long time why Black voices are mostly missing from young people's literature, especially outside the context of slavery and the civil rights movement," King writes in the introduction. "This absence sends the false and disempowering message that Black history and Black achievements are not central to the American narrative. Nothing could be further from the truth."
That brings us to Reading Partners, a national literacy nonprofit, which just released a month-by-month book list for recognizing and celebrating Black history year-round, not just in February.
"Black history is American history," Reading Partners CEO Adeola Whitney told me Tuesday. "We should celebrate Black history and Black heritage every month."
For the list, Whitney's organization looked for books that center around Black characters, real or fictional, and whose authors and/or illustrators are also Black.
"It's ultimately about children seeing themselves in a story," Whitney said, "and also knowing that behind the story is a person like them."
The list:
"Moses: When Harriet Tubman Led Her People to Freedom," written by Carole Boston Weatherford and illustrated by Kadir Nelson. A Caldecott Honor book and a Coretta Scott King Award winner, this picture book introduces children to Harriet Tubman, the abolitionist and Underground Railroad pioneer who led hundreds of slaves to freedom.
"Carter Reads the Newspaper," written by Deborah Hopkinson and illustrated by Don Tate. "We think about Carter G. Woodson as the father of Black History Month," Whitney told me. "This book allows children to be able to relate to Carter as a child, rather than as an adult."
"Martin's Big Words," written by Doreen Rappaport and illustrated by Bryan Collier. A biography of the civil rights leader with his own quotes and speeches woven throughout, plus a timeline of important dates in King's life and a list of resources to learn more about his legacy.
"Let the Children March," written by Monica Clark-Robinson and illustrated by Frank Morrison. The Chicago Public Library chose this selection as a best book of 2018. It tells the story of an African American girl growing up in Birmingham, Alabama, in the '60s who decides, along with her brother, to march with Martin Luther King Jr. for equal rights.
"Ida B. Wells: Let the Truth Be Told," written by Walter Dean Myers and illustrated by Bonnie Christensen. A sobering look at the life of journalist, suffragette, and anti-lynching crusader Ida B. Wells, featuring many of her own words and writing.
"Ron's Big Mission," written by Rose Blue and Corinne J. Naden and illustrated by Don Tate. Based on a real incident from astronaut Ron McNair's childhood, this book tells the story of 9-year-old Ron, who dreams of becoming a pilot and breaks his public library's rule prohibiting Black people from having library cards so he can check out books about aviation.
"The Story of Ruby Bridges," written by Robert Coles and illustrated by George Ford. A look at Ruby Bridges' life and family before, during, and after a judge ordered her to attend first grade at an all-white school in 1960 Louisiana.
"Frederick Douglass: The Last Days of Slavery," written by William Miller and illustrated by Cedric Lucas. "A beautifully written story that looks into the early life of abolitionist Frederick Douglass," according to the Reading Partners description. "The reader understands his life as a slave, his passion for reading to escape his circumstances, and the path that led him to be a hero to many."
"Freedom on the Menu: The Greensboro Sit-ins," written by Carole Boston Weatherford and illustrated by Jerome Lagarrigue. A look at the seminal lunch counter sit-in at a Woolworth's in Greensboro, North Carolina, in 1960, told through the eyes of an 8-year-old girl named Connie who witnesses it with her family.
"Of Thee I Sing: A Letter to My Daughters," written by Barack Obama and illustrated by Loren Long. One of my all-time favorite children's books, it's a lyrical note to the former president's daughters, in which he highlights the accomplishments and contributions of Jackie Robinson, Billie Holiday, Sitting Bull, Cesar Chavez, Maya Lin, and others who shaped America.
"I Got the Rhythm," written by Connie Schofield-Morrison and illustrated by Frank Morrison. This story of a girl and her mom taking a simple walk to the park and being overtaken by the music around them — in everything from butterfly wings to ice cream trucks — is one of Whitney's favorites on the list. "It celebrates the beauty of art in the Black community and specifically in the diaspora," she said.
"Sweet Clara and the Freedom Quilt," written by Deborah Hopkinson and illustrated by James Ransome. A fictional tale of Clara, born as a slave and known for sewing beautiful quilts. When Clara learns about the Underground Railroad, she designs a quilt that will double as a map on her mission to escape slavery and find her mother.
Whitney, who grew up surrounded by words (her father worked as a newspaper editor in Columbus, Ohio) recalls being told to grab a book whenever she'd profess boredom as a kid. She repeated the same advice to her own sons. With this list, she hopes children who sometimes feel left out of the stories and pictures that fill bookshelves in stores and schools will recognize themselves on the pages of the books they pick up.
"Ultimately," she said, "we want children to feel like they belong."