April 20, 2022
Elizabeth Warfield Interviews Adeola Whitney, CEO of Reading Partners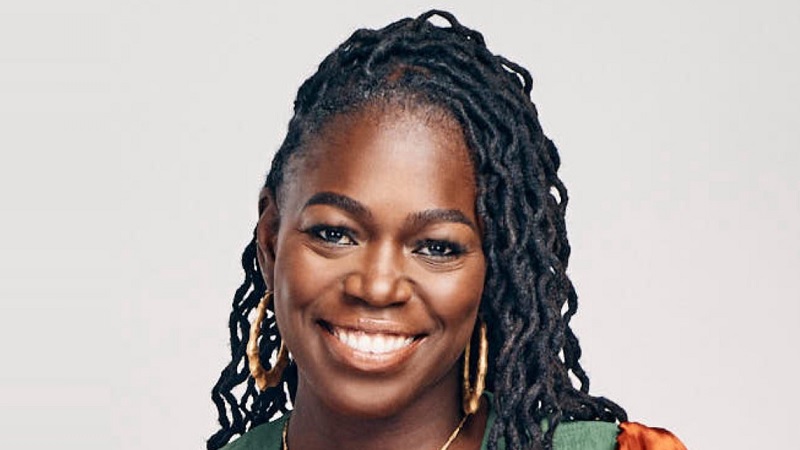 April 19, 2022 / Originally published on citybiz
Adeola Whitney believes that all students deserve the opportunity to reach their full potential in school and beyond and that early literacy is a foundational driver of educational equity. Adeola brings over 20 years of education leadership experience to the CEO role, including three years with Reading Partners during a previous stretch in her career. Prior to being named CEO of Reading Partners, Adeola provided leadership around the expansion and implementation of iMentor's college-success program, serving 10,000 pairs of students and their mentors nationally. In this role, she oversaw executive leadership in the Bay Area, Baltimore, Chicago, and New York City, and partnered with over 15 nonprofit organizations nationwide to ensure the effective application of iMentor's program. Before joining iMentor, Adeola served as Reading Partners' chief regional operations officer, managing 14 executive directors across the country. Before her first time at Reading Partners, Adeola served as executive director for Playworks for the Greater New York / Greater Newark region. She has also held program management and regional management roles at Kaplan and McGraw Hill. Adeola earned her bachelor's degree from Oberlin college where she majored in English and African-American studies. In her spare time, Adeola enjoys being with her husband and three children, traveling the world, and creating memories.
Elizabeth Warfield served in the U.S. Foreign Service for 30 years in Asia, the Middle East, Latin America and the Caribbean, and Washington, D.C. Most recently, as USAID Mission Director in Mexico, she oversaw programming focused on advancing the mutual security and prosperity of Mexico and the United States. Under her leadership, the Mission actively engaged Mexico's private sector through strategic alliances that encouraged innovation and leveraged resources to increase program impact, enhance sustainability, and scale successful interventions across the country.
As USAID's first Local Solutions Coordinator, she championed local governments, civil society, and the private sector globally in leading, financing and implementing solutions for sustaining their own development. As Deputy Mission Director in India, she guided USAID's program in addressing key constraints to health, climate change, food security, and education. During her tenure, USAID/India transformed its role in India from a donor-recipient relationship to a strategic partnership whereby India shares its proven innovations for addressing key development challenges globally. She also oversaw the launch of USAID/India's first innovation platform, the Millennium Alliance, to test, commercialize and scale development ventures with the Indian private sector.
She is a recipient of the Presidential Rank Award for Meritorious Service and numerous USAID Superior Honor awards. Ms. Warfield earned her B.A. in political science from Middlebury College in Vermont and a M.A. in international affairs from the Fletcher School of Law and Diplomacy. She is fluent in Spanish and French. Her pastimes include singing, biking, yoga, reading and spending time with her family and friends.
Connect with Adeola and Elizabeth on LinkedIn
Interview questions:
1. Commitment to Social Justice
As a daughter of Nigerian immigrants living in Ohio, you had some formative experiences growing up that led to your strong commitment to social justice. Can you please share a story or two from that time?
2. How Education Became Her Calling
You attended Oberlin College, a liberal arts college in Ohio. What was that like and how did it help you identify your passion?
What other skills and experiences did you gain there that proved useful in your future endeavors?
3. Career Path
After Oberlin, you worked in the private sector and then moved to the nonprofit world, with an entrepreneurial initiative also included in the mix. Take us through that journey from Score to Playworks, Reading Partners, IMentor, Thrive and now back to Reading Partners. Tell us about that path and how you decided to take on these differing roles.
4. Reading Partners
Challenges and Approach: What challenge is Reading Partners tackling? What is the organization's approach to addressing this challenge?
Vision: You have an ambitious vision for Reading Partners, especially in the context of the times in which we are living. Can you please share that vision with us? (Educational Equity; Race, Diversity, Equity and Inclusion; Technology)
5. MacKenzie Scott Donation and $100 million Initiative
MacKenzie Scott recently awarded an unsolicited $20 million gift in unrestricted funds to Reading Partners. What a windfall and endorsement of your leadership team and you. What are the plans for these monies?
In addition, Reading Partner recently embarked on a growth initiative to raise $100 million in three years. How do you plan to raise the remaining $80 million?
In a recent blog, MacKenzie Scott said that "The leadership of people directly experiencing inequities is essential, both because it is informed by insights no one else can contribute, and because it seeds power and opportunity within the community itself." You have spoken of the importance of community engagement. How does Reading Partners plan to further optimize its engagement of local communities in accelerating child literacy more broadly in the future?
6. The Ask
In closing, what would you like to convey to or ask of its readership of high level business professionals to help advance Reading Partner's vision?
7. Closing
Adeola, Yours is a story of a woman deeply committed to social justice. The challenges and opportunities of your life helped you identify and refine your passion for education and equitable access. Your business management experience and entrepreneurial savvy, public speaking and fundraising skills, your commitment to diversity, equity and inclusion, your strategic ambition, and above all, your desire to catalyze significant social impact with the Reading Partner communities and its partners are amazing. I wish you the best of luck in realizing your vision. Thank you for sharing your story with our readers.
Reading Partners mobilizes communities in 12 regions across the US to provide students in under-resourced schools with the proven, individualized reading support they need to read at grade level by fourth grade.
Reading Partners recruits, trains, and supports community volunteer tutors as they work one-on-one with students (either in-person or online) for 45 minutes twice a week, using a structured, easy-to-follow, research-based curriculum. Reading Partners seeks to use its expertise, continued learnings, and ability to inspire a committed network filled with diverse voices, strengths, and perspectives to partner meaningfully with communities. Reading Partners' shared objective with partner communities is to enact measurable and lasting change in exponentially greater support of remarkable students who are striving to attain their dreams despite facing decades of systemic inequities.