June 7, 2018
Frierson Elementary students are engaged and excited as they prepare for new Montessori program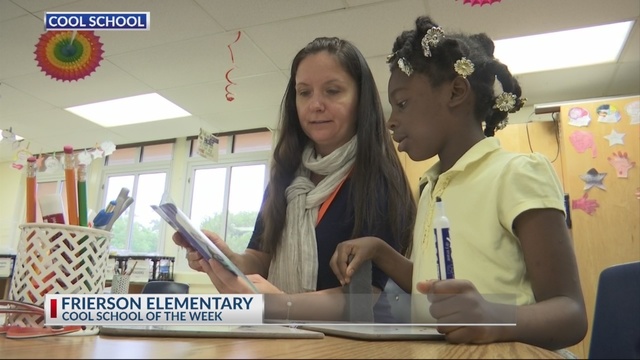 Watch the video coverage on News2 Charleston.
Big changes are underway at Edith L. Frierson Elementary School.  We're on Wadmalw Island for our last Cool School for the 2017-2018 school year.
Frierson Elementary is happy to spread the news about all the changes taking place  with in the walls, including the school's top notch morning news show,  and beyond.  "It is a historical landmark," says principal Dr. Deborah Davis Cumming.  "The only school on Wadmalaw Island, so we are a very proud community, a unique community."
The school is named after Edith L. Frierson, a beloved and inspirational educator on Wadmalaw Island.
This upcoming school year, Frierson will become a Montessori School.  Dr. Davis-Cummings says, "We will be D-9, District 9's first Montessori school.  Next year, we will have three, four, and five year olds, two classes, and every year, we'll grow a class of students."
The school has a garden thanks to students from Michigan and their Kiawah Partners.  "The garden is a huge part of the Montessori curriculum.  We already have a garden, and its flourishing.  With Montessori and the work that our children will be doing in it, it will get even better.   Fifth-grade student Clarissa Romero says,"It's fun and we get to learn stuff while we're doing."   Fifth-grade student Rashida Fraiser says, "I like  my school because I like the garden that we planted, and the fun activities we do after school."
The child development through fifth grade school has 121 students.  Teacher Cynthia Cheatham says, "We have teachers that care.  Teachers who are dedicated and loyal to educating children, empowering children to help them to be the best that they can be, and that's what I spent the last 34 years doing, letting these children know, if you can believe it, dream it, you can achieve it."
Frierson takes pride in its community support. The Reading Partners program brings volunteers from a variety of backgrounds to the school three days a week to help students improve reading skills.  "We have thirty-four  volunteers,  retired teachers, lawyers, doctors, homemakers, community  makers who just want to come.  Every student who has been a part of the Reading Partners program has grown in their MAP skills.  Their reading skills have grown.  It's been a proven program, so we strongly support it."
Teacher Crystal Blue says,  "We're just excited!  The kids are cool.  The teachers are cool, and we definitely have a cool principal, also so we love it here at Frierson."