June 3, 2019
June book drive sets goal of 15,000 books for elementary school students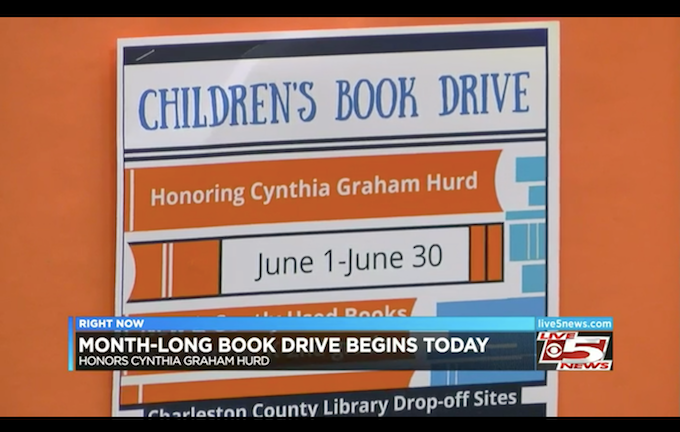 Originally posted on WCSC Live 5 News by Patrick Phillips.
Saturday marked the official kickoff for an annual month-long book drive to help children in need improve their reading skills and begin building their own at-home libraries.
The drive honors longtime Charleston librarian Cynthia Graham Hurd, who was known for her passion for reading. She was among the nine victims of the June 2015 shooting at Mother Emanuel AME Church.
Reading Partners of Charleston and the Charleston County Public Library is joining forces with Live 5 News, Barnes and Noble and Mellow Mushroom during the month of June to collect new or gently-used children books.
The books will then be distributed through Reading Partners' network of tutors who work in local schools to help students improve their reading skills.
This year, Barnes and Noble will give back when you purchase a book at the West Ashley, North Charleston or Mount Pleasant locations for the first week of June.
Just tell your cashier you wish to support the book fair and a portion of the proceeds from June 1 through June 7 will be donated to the Cynthia Graham Hurd Foundation. This also applies to online purchases.
The books help children develop a love for reading and begin creating their own at-home libraries.
You can drop off new or gently used books at the following locations from June 1 through June 30.
Dorchester Road Regional Library
Hurd/St. Andrews Regional Library
John's Island Regional Library
Main Library
Mt. Pleasant Regional Library
Otranto Road Regional Library
Mellow Mushroom North Charleston
Mellow Mushroom Summerville
Mellow Mushroom West Ashley