March 2, 2018
Non-profit needs volunteers to read, mentor local students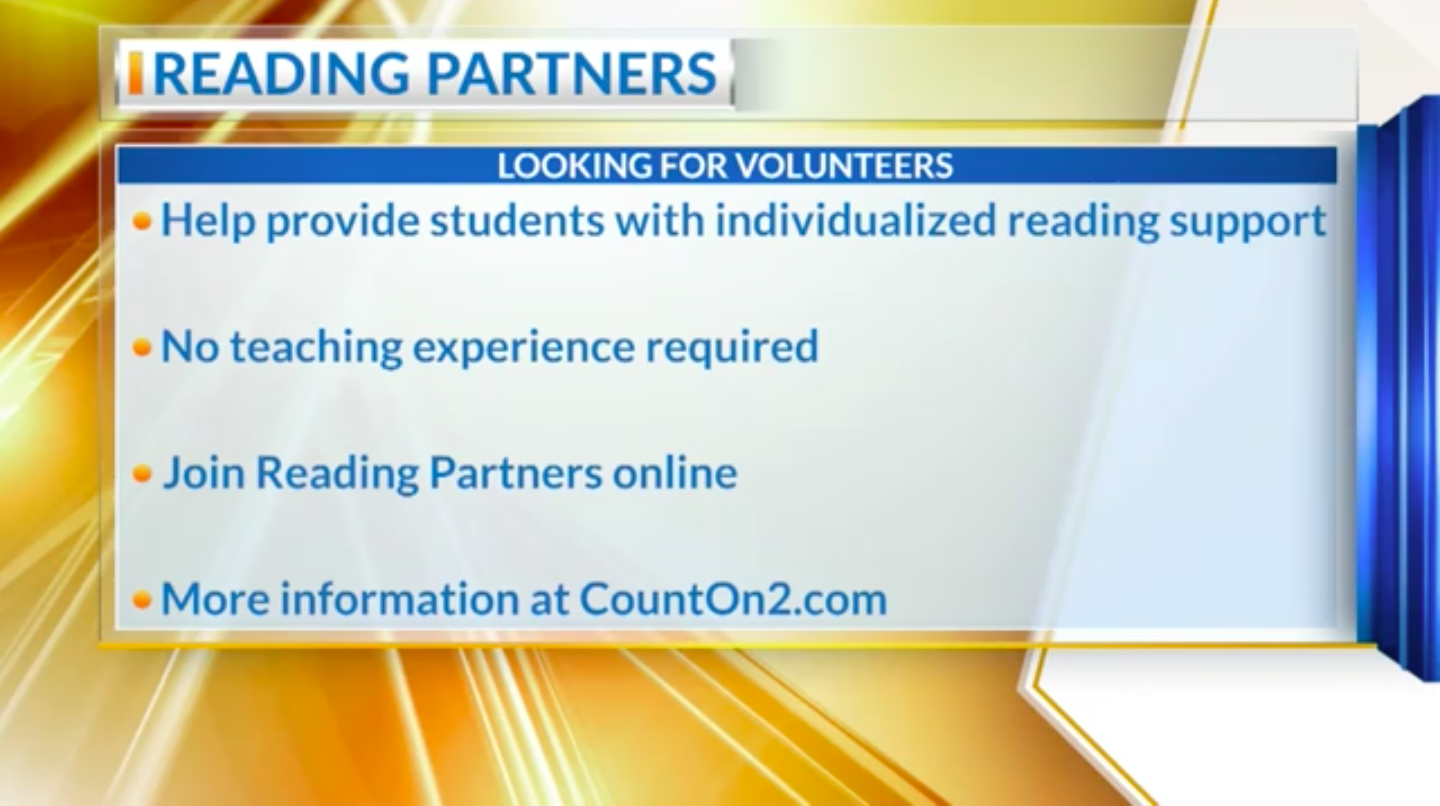 Originally shared by NBC2 Charleston. Watch the video coverage here.
CHARLESTON COUNTY, SC (WCBD) – Reading Partners needs your help! The literacy intervention non-profit is looking for volunteers to read to children in schools in Charleston County and Berkeley County School District.
The group has hundreds of volunteers across the Lowcountry, but there are still 170 students that need a tutor.
"The Reading Partners program allows volunteers, not just to mentor, but to teach a child to read. We know that mentorship is important. We see better outcomes when a strong bond has developed between tutor and student," said Christine Messick, Community Engagement Manager for Reading Partners South Carolina.
In South Carolina, only a third of elementary school students are reading at grade level.
"This is not a challenge. This is a crisis," Messick explained. Fourth grade students who are unable to read, or who read poorly, are more likely to struggle academically, and to later drop out of high school.
The majority of Reading Partners' students are in kindergarten through 5th grade. They attend under-resourced schools, and have been identified by their principals or teachers as needing intervention if they are to catch up to grade level.
The volunteers who sign up to tutor, range from retirees to high school students, working professionals, and stay-at-home parents. The Reading Partners model is straightforward. Each tutor works with one student at a time for at least one hour a week. No experience is necessary.  Training and ongoing support is provided to ensure that all volunteers are successful in their roles.
Reading Partners is tutoring in 17 schools in the Lowcountry, but volunteers are especially being sought in the following, highest-need schools:
Charleston County
Hunley Park Elementary — 1000 Michigan Avenue, Joint Base, North Charleston
Pinehurst Elementary — 7753 Northside Drive, North Charleston
C. Corcoran Elementary — 8585 Vistavia Road, North Charleston
Pepperhill Elementary — 3300 Creola Road, North Charleston
Berkeley County
E. Bonner Elementary — 171 Macedonia Foxes Circle, Moncks Corner
Stephen Elementary — 1053 Russellville Rd, St. Stephen SC
Whitesville Elementary — 324 State Road S-8-357, Moncks Corner
Visit readingpartners.org to learn more about their program impact, or connect with them on Facebook, LinkedIn, Twitter, and Instagram.