April 4, 2016
Leading by example with Reading Partners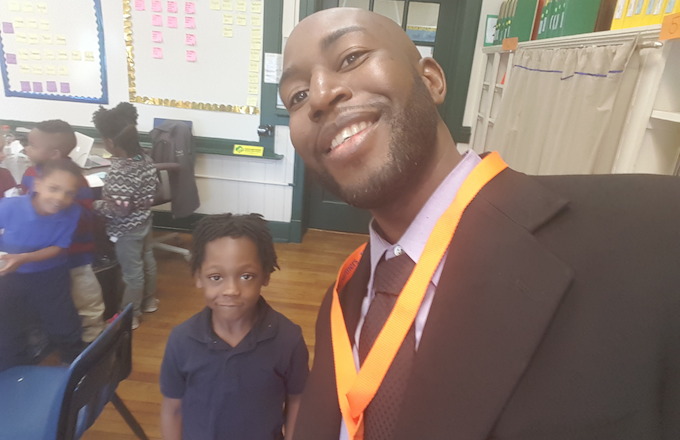 Back to National Volunteer Week blog
By: Stephen Wright, volunteer reading partner in Charleston, SC
Simply stated, "readers become leaders", and where did I learn that, "reading" I'd reply. As a young kid my mother introduced me to reading and expressed how it has the potential to allow the reader to travel the world vicariously. Through reading you can explore the deepest oceans, the most distant galaxies, or dare to delve into the diverse discoveries of the ancient worlds.
I've learned that reading is such an integral part of living an abundant life; in terms of material prosperity, but more so in terms of being a well cultured and balanced sentient being.
I make a conscious effort to offer selfless service through volunteering in a wide variety of areas. However, my decision to volunteer with Reading Partners is founded in the desire to lead by example. W.E.B. Dubois states, "Children learn more from what you are than what you teach." Reading Partners does wonders for children through a well thought out curriculum and effective lesson plans, but perhaps the most important component of the program is the relationship that is formed between the reading partners. For some children this partnership may be the most harmonious thing in their lives, and the structure and order of the reading sessions provide relief from an otherwise stressful life.
Working with my reading partner there is never a dull moment; he always amazes me with the things he knows, especially about animals and nature. It's almost like I'm talking to a younger version of myself, as I was and still am intrigued by nature. Most children are this way I think, inquisitive, but over time often shy away from this magnificent way of being. During the sessions I encourage my reading partner to be inquisitive and curious, and to ask questions.
I am so grateful to be able to participate in Reading Partners, as it provides a platform to be an agent of change, one word, one sentence, one book, one session, and one child at a time.
---
Celebrate National Volunteer Week with Reading Partners! Share your story of volunteering on our website or use #ProudReadingPartner on social media.