April 6, 2016
Students and tutors learn at Reading Partners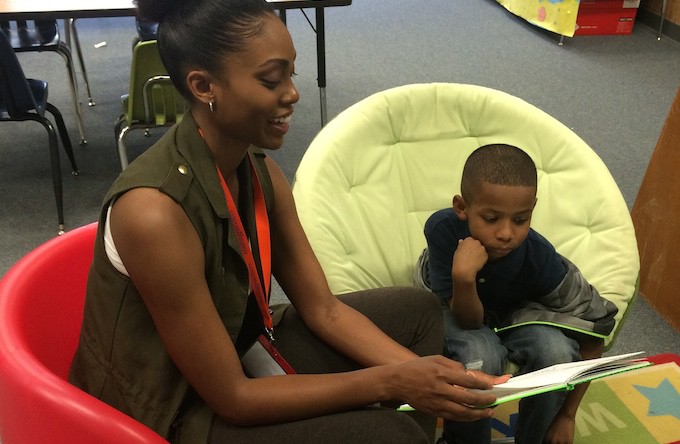 By: Meleah Campbell, volunteer reading partner in Sacramento, CA
Having an extra pair of eyes and ears on a child's reading progress can be very beneficial in the development of a young reader. That's exactly what Reading Partners delivers, but actually they provide about two or three extra pairs!
I discovered Reading Partners while searching for ways to become more involved in my community. Literacy is such a vital skill for success, so the idea of a program linking volunteers with children in need of extra reading tutoring was very appealing to me. I also love working with younger children, which made me even more excited to volunteer with Reading Partners.
What made the program even more enjoyable was the friendliness and the warm welcome that was received from the site coordinator. Not only did she thoroughly introduce the program and the process of how Reading Partners works, but she also showed so much care for the children which I greatly appreciated. It's easy to be involved in a program where you are met with a positive and helpful attitude.
My lack of experience as a reading tutor naturally made me feel a bit skeptical about my tutoring ability. Fortunately Reading Partners provides easy to follow tutoring lesson plans which makes it easy for anyone to become a successful tutor, regardless of their experience.
My tutee, Michael, is such a joy to be around. He is very smart, kind, and a genuine sweetheart. I look forward to seeing him every week because of the effort he puts into his reading. A noteworthy moment I had with Michael was when the lesson plan for the day required him to write down words on a white board. Initially he raced through the words he was required to write, and his handwriting was not at the level where I knew it had the potential to be. I simply suggested that he takes his time while writing, not only in Reading Partners, but in school as well. His handwriting dramatically improved. The following week he told me he now takes his time when he writes. This was a very proud moment, because it made me feel like I was contributing to his improvement.
What's unique about working with Reading Partners, as opposed to any other community service project I have been involved in, is you have the chance to build an ongoing positive relationship with a student. Reading Partners has impacted my life positively because it has allowed me become involved in early literacy, which is an area that is in dire need of attention.
Reading Partners provides a platform to connect individuals who want to make a difference with students who are in need of an extra pair of eyes and ears. I can see firsthand the impact that Reading Partners has on the students and as much as it does for the students I think it impacts the tutors as well! It helps to give us a sense of contribution and it is the best feeling in the world.
---
Celebrate National Volunteer Week with Reading Partners! Share your story of volunteering on our website or use #ProudReadingPartner on social media.
Read more stories on our blog.