April 7, 2016
Finding my niche with Reading Partners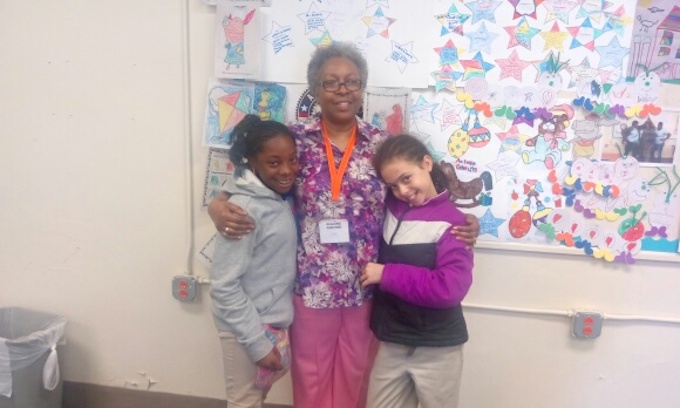 By: Rutha Frierson, volunteer reading partner in Charleston, SC
I'm a retired banker. In fact, I was the first African American woman to be employed at a branch bank in my town.
I began working with youths a long time ago — approximately 42 years ago to be exact. My involvement with young people started in Sunday School, and since then, I have realized that "children" are my God-given gift or ministry. I'm still teaching children in the church I attend.
In 2002, I became a substitute teacher for about one-and-a-half years, but this job didn't suit me. I then decided to start my first business. To be honest, I didn't like it, so in 2009, I started my second business, which was a non-profit organization. One of the main programs I provided was after-school tutoring. I was a Supplemental Educational Services (SES) Provider with the State Department of Education for three years. We tutored students in three school districts, and I enjoyed it very much. Eventually, the State Department of Education terminated its program for outsiders.
In 2015, I decided to try substituting again. After a few months, I received notification from the school district office about the Reading Partners program. I attended the meeting and decided to give it a try. Wow! I'm sold on it! When anyone asks me how I like my job, I explode with enthusiasm, telling everyone how much I love it!
Having parents with a limited education has motivated me to help others succeed at every opportunity. I realize that the best time to work on literacy is as early as possible, starting from the womb. Reading Partners is truly a blessing, and I know that I've found my niche. I love the one-on-one interaction with my students because I can capture their undivided attention, which the students also enjoy receiving from me. My proudest moment with Reading Partners was when I was told that the test score of one of my students had improved by 10 percent. I am also thrilled to note that most of my students' reading comprehension has improved since I've been working with them. I am so very proud of them.
It is extremely rewarding to leave at the end of each work day knowing that I've helped, and I love it when a student walks out of the class with a smile on his or her face. I salute the Reading Partners regional and site coordinators at Main Street Elementary School for their dedication and consistency to the program.
---
Celebrate National Volunteer Week with Reading Partners! Share your story of volunteering on our website or use #ProudReadingPartner on social media.
Read more stories on our blog.