April 7, 2016
Going above and beyond for students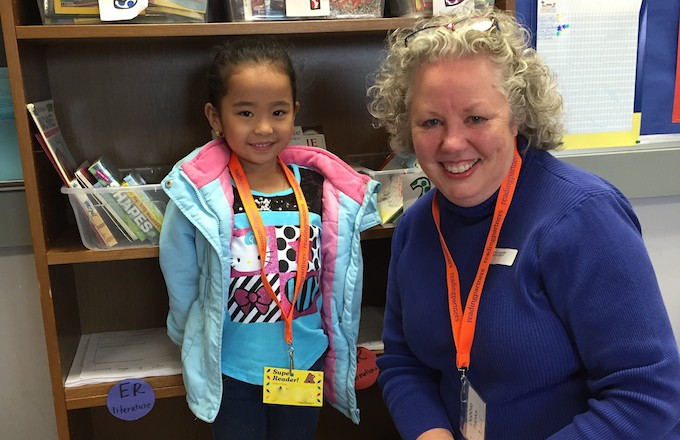 Back to National Volunteer Week blog
Debbie Panks, volunteer reading partner in Seattle, WA
Written by: Tara Francis, site coordinator
Ever since starting as a tutor at Reading Partners, Debbie has gone above and beyond what is required of her. Her commitment, drive, and compassion have made an incredible difference in the lives of her students and the organization. The joy and love of service she brings is contagious. 

Tutors at Reading Partners are required to commit to at least one hour per week. Debbie has committed to 10 hours every week. Seeing the tremendous amount of need at the school site where she serves, she has made tremendous efforts to make sure the students she is paired with make maximum growth. 

She places the students first among all things and it is clear she is always thinking about them. On one occasion, after noticing that one of her students was having a hard time seeing, Debbie brought in reading glasses for her student to use at school. She always makes sure the students are having fun learning. She loves to bring in fun things to keep the kids engaged. She has brought in necklaces to help a student learn the letter "N" and blue soda to show a student after they had read about it in a book! The strong bond she has with her students is testament to everything she does.

Every day Debbie tutors, she is making a difference in the community. After seeing one of her students continuously struggle through alphabet practice, Debbie offered to come four times a week for that student. Since then, not only has the student grown in their alphabetic principle, but their teacher has commented on the immense impact Debbie has had on their academics and confidence in learning. Additionally, the one-on-one relationship she has with her students has influenced them to complete their homework, attend school regularly, and learn to love to read. 

In a school with over 90 percent of students eligible for free and reduced lunch, Debbie has also brought in countless books for students to take home, helping them build their home libraries and get excited about reading. Her positive energy and her attentiveness to the needs of the students have not only allowed for significant growth but has set them up for future success.
---
Celebrate National Volunteer Week with Reading Partners! Share your story of volunteering on our website or use #ProudReadingPartner on social media.