April 7, 2016
Helping students achieve their dreams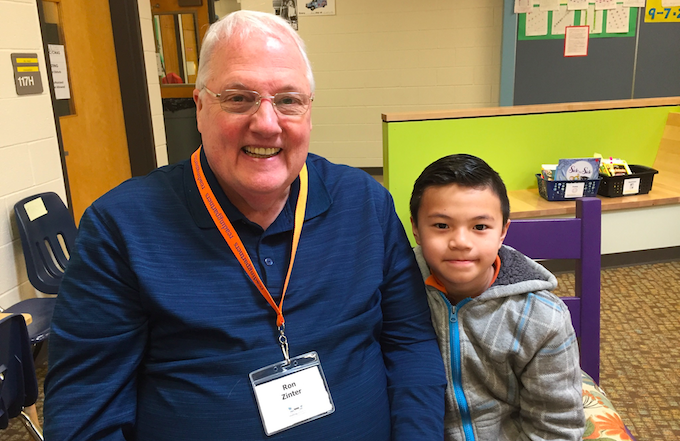 Back to National Volunteer Week blog
Ron, volunteer reading partner in Denver, CO
Loc is a second grader that started with Reading Partners in September. When Loc first met his tutor Ron, he said "My goal is to catch up to my grade reading level." Ron of course responded with encouragement and the two got right to work. At entry, Loc was showing a reading level of mid to lower first grade.
We all immediately noticed his thirst for information and love for space and non-fiction books. If there was a space book to take home, we knew that was going to be Loc's choice.
Loc continued to grow and came to every session eager to learn, but was always a bit more excited when it was Ron's day to tutor. The two bonded and in November ,when I shared with Ron that Loc had actually made a pretty significant jump on his first mid-year test, Ron shared this information with Loc who became so excited and wanted a note to send home to his mom.
After the second mid-year assessment in January, we were all so impressed and amazed to see that Loc had not only caught up to his grade level but by far surpassed it. When we shared this information with Loc, he was so incredibly happy but worried that he had to stop coming to see Ron and he again wanted a note for his mom, which I had ready to go. I don't know who was more excited!
Today, Ron and Loc have set a goal to work on keeping Loc above grade level so he can one day own his own business.
---
Celebrate National Volunteer Week with Reading Partners! Share your story of volunteering on our website or use #ProudReadingPartner on social media.