April 3, 2017
Tutor-student relationships bloom in SF Bay Area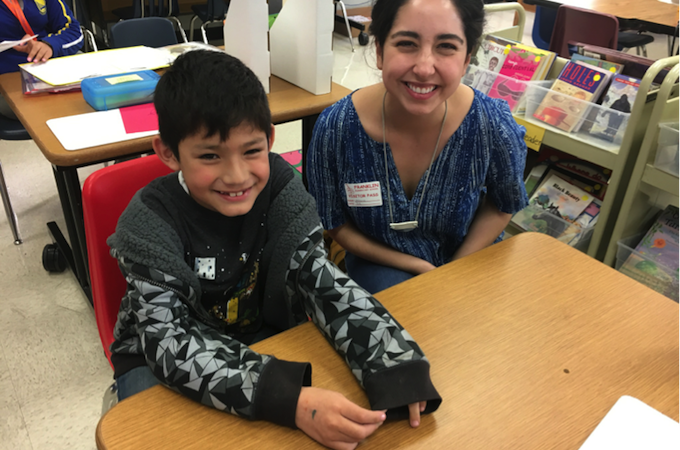 Like the flowers in springtime in the San Francisco Bay Area, many tutor-student relationships are also blooming. One example from the nearly 1,700 student-tutor partnerships that Reading Partners develops in the Bay Area is the story of Valeria Garcia, a tutor at Franklin Elementary in Oakland. Valeria began tutoring with Reading Partners after she discovered the program online and was inspired by Reading Partners' vision to create a future where all children in the US have the reading skills necessary to reach their full potential.
Now in her second year as a reading partner, Valeria works with first-grade student Martin. At the beginning of the school year, Martin was shy, and it was a challenge for Valeria to get Martin to participate. However, when Valeria would meet with Martin in their weekly sessions, she was patient and understanding. Martin became comfortable meeting Valeria for tutoring. After only a few months together, Martin grew more confident, comfortable reading aloud, and excited to answer questions. Valeria is proud of Martin's tremendous strides in reading and improvements in behavior. He has moved up an entire curriculum level in Reading Partners' program!
Valeria says she finds every session very rewarding:
"Serving as a Reading Partners tutor for the past two years has been an incredibly fulfilling experience. I've become more invested in learning about literacy issues in the US and am dedicated to making a difference. The impact Reading Partners has had on my life extends far beyond my weekly tutoring sessions."
We are incredibly proud of stories such as Valeria and Martin's that are being written in each of our reading centers throughout the school year.