July 20, 2017
Angelica's story: Volunteer tutor, turned literacy intervention tutor, turned site coordinator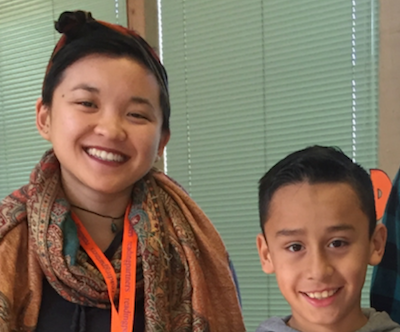 Angelica Guiao is a UC Santa Cruz graduate and Bay Area native. After finishing college and moving back to the East Bay, she was looking for a way to get involved and make a difference in the community, so she started tutoring with Reading Partners at Madison Park Academy in East Oakland. Her strong commitment to student growth and passion for giving back to the community where she grew up have made her an exceptional volunteer tutor.
Angelica first discovered Reading Partners through a staff referral. She was immediately drawn to Reading Partners because of its evidence-based literacy curriculum which makes tutoring easy and effective for nearly anyone who is interested in getting involved. After several weeks of volunteering and experiencing some success as a reading partner, Angelica became increasingly enthusiastic about building strong reading foundations for her students. And when she heard about a new opportunity to become a literacy intervention tutor, she jumped at the chance to further her impact.
As a literacy intervention tutor, Angelica worked alongside the site coordinator, providing administrative support, tutoring students four days a week, tracking student progress, and leading makeup sessions for students at Madison Park. She has a stronger sense of the Reading Partners curriculum helping her cater to each student's individual needs. She's basically a super tutor!
Through her service at Madison Park Elementary, Angelica developed strong bonds with her students that have benefited both her personal growth and her students' academic growth. Angelica says,
Investing in the education of young people through Reading Partners enriches my life by giving me a strong sense of connection to my community. I am both humbled and privileged to be able to witness a student's growth, in both literacy and personal development. I want to be a part of a movement dedicated to empowering students with the tools of literacy in order to equip them to reach unimaginable heights.
As the school year came to close, Angelica felt her work wasn't done and wanted to continue to serve the students of Madison Park. She decided to take her service to the next level and applied to become a full-time AmeriCorps site coordinator with Reading Partners. Needless to say, Angelica got the job and is looking forward to taking the new responsibilities of running a reading center and partnering with the school's administration and teachers—allowing her to work with students in a greater capacity and develop new skills of volunteer management and support.
Angelica's inspiring story of service reminds us that we can always strive to do more in our pursuit to make a difference. The Reading Partners SF Bay Area team is excited to welcome Angelica to the AmeriCorps team and watch her thrive as a site coordinator!