May 1, 2018
DC AmeriCorps Member Proves That #BigChallengesAreOurThing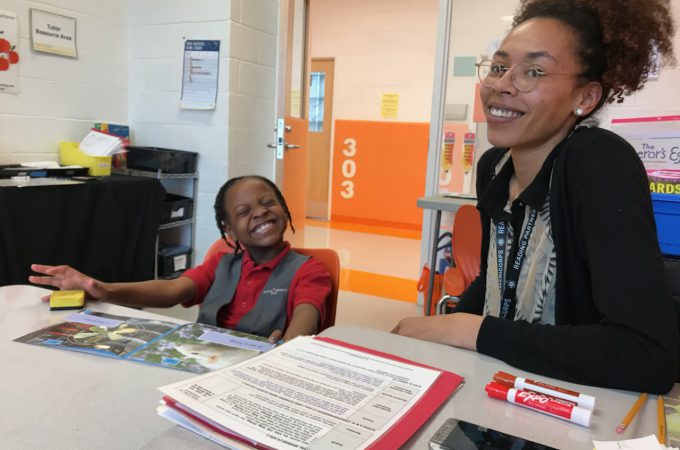 I've always wanted to give back to my community, but have never found the right place.
This was the opening line for almost all of my cover letters back when I was a junior in college looking for a summer internship. I received many rejection letters during the process. I suppose the hiring managers noticed what I had always known deep down—that I wasn't really interested in any of the positions I was applying for. Although I did finally begin an internship that summer, I never stopped searching for a way to serve my community that I would feel truly excited about. And it was not until I discovered Reading Partners that I felt like I finally found the right place for me.
On my very first day of work as an AmeriCorps mapped regional site coordinator, I met Heaven*, an Emerging Reader student in the first grade. Our first tutoring session went very well—she worked hard the entire lesson and really pushed herself. When we made it to the student read aloud, she turned to me and said, "I don't know if anyone told you, but I can't read."
My eyes started to sting as tears began to well up in my eyes and a lump grew in my throat. I thought for a moment, carefully choosing my words. I smiled at her and said, "You can do anything, anything, if you just try, and I'm right here to help if you get stuck." She nodded and began to read nervously, looking up at me whenever she came to a word she didn't know. I'd help her through and we'd continue. By the end of the book she was mentally spent, letting out a sigh of relief.
I previously mentioned that this was my first day and Heaven was an Emerging Reader student. My program manager had been waiting in the wings close by. Coaching and observing my progress, she noticed a key detail that overlooked that made all the difference at the end of our lesson. When I grabbed her lesson for the day, I took it from the Beginning Reader container. It meant that the passages Heaven had read from were more difficult for her because they were above her reading level. The fact was, she read it anyway. I looked at her with surprise and she looked back at me with awe at her own strength. She began to smile and giggle as I said, "Wow, look at that!"
Since then, Heaven did not miss an opportunity to surprise me. Most of all, I think she often shocks herself. Several weeks later, she is now a Beginning Reader. On our fourth or fifth lesson, as we were reading longer books with more complicated sentences, she turned to me again and said, "I can't…" She sometimes stops herself like this because she knows how I feel about "I can't", and finishes with, "This is hard." I still push her to continue because I know she can do this. She will begin to read and won't stop until the book is finished. Then, she is teeming with pride and a bright and wide smile slides across her face.
"It's funny," I said to her the other day, "I remember when you first told me you didn't know how to read and here you are today. See, you can do anything, anything."
In the short time that I have been a Reading Partners AmeriCorps member, I found that every day is different and brings its own set of challenges and triumphs. As a mapped regional site coordinator, I work in multiple schools supporting site coordinators and helping identify best practices for the needs of our students. My responsibilities do not stop with the last session of tutoring. Recording student data and administering beginning, middle and end-of-year testing are also a part of my work. I spend my time steeped in research, lesson plans, trainings, hugs, tears, smiles, and google sheets—oh the google sheets! Ultimately all of this amounts to a rigorous game plan used to heighten our understanding and implement best practices to ensure student success.
Starting this job towards the end of the school year has been a whirlwind of events and emotions of its own. Going through the hiring process, I was asked how I would be able to cope with the stress of this very intense job. When asked about my support network, I began listing off my family, friends, and boyfriend. Then I stopped for a moment, thinking about what would truly be the reason I'd get up and go to work despite all of the potential challenges. Finally, I said, "My students."
Reading Partners for me is about our students. We have an opportunity to inspire a passion for reading and learning in our students. In order to provide support that growth, parents, teachers, program managers, site coordinators, and regional site coordinators build a strong community around our students. It is not only my job to tutor but to make certain that those links are strengthened through communication so that we may empower our students to reach their goals.
Yes, every day is a challenge, but I am constantly thinking of how I can improve myself as a tutor, how I can motivate these children, and how I can help them better understand the curriculum. I've realized that my service year is like running a marathon. Whenever I think I'm too tired or I'd like to take a break, I think of my students, and they keep me going. I have no idea what the future has in store for me. All I do know is, I love my students and my job, so the future is looking pretty bright!
—Ebonie Ellison, Reading Partners AmeriCorps mapped regional site coordinator, Washington, DC
(*name has been changed)