May 4, 2018
Inspiring a love for books: Alyx and Brianna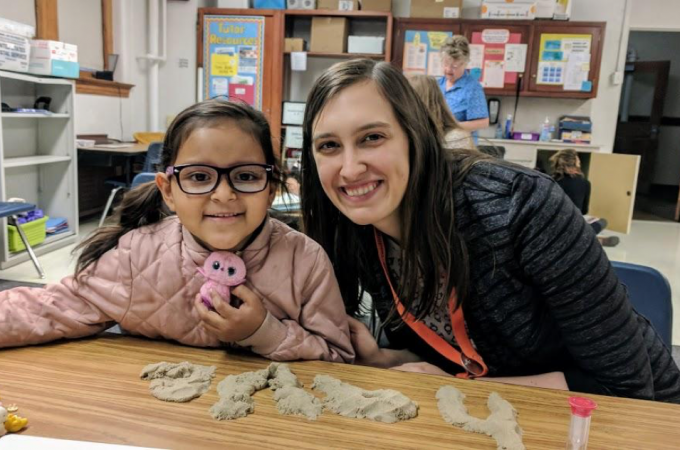 As a children's librarian, Alyx loves being able to share her love of reading with a child each week by volunteering with Reading Partners at Dora Moore ECE-8 School. At the beginning of the school year, Alyx was matched with a very special kindergartner, Brianna. On their first day together, Brianna shared that she did not like books or reading. Alyx was hopeful, however, that during their time together, she would be able to change Brianna's mind.
The pair worked together throughout the school year and Brianna slowly started to warm-up to reading, specifically non-fiction books about animals. Her excitement for being read to continued to increase and Brianna was able to master all of her alphabet sounds!
During one afternoon in March, Alyx was working at the library, which happens to be in the same community where she volunteers as a reading partner. While the day seemed average at first, you can imagine what an exciting surprise it was to see Brianna and her mom walk into the library! They had come to sign Brianna up for a library card. It was her first time at the public library, and Brianna was so excited to see a familiar face. She ran right behind the desk to give Alyx a big hug and even got to sit in Alyx's chair and pretend to be "real librarian".
Together, Alyx, Brianna, and her mother picked out some great informational books, which of course, were about adorable baby animals. Brianna was so proud that she could check out and take home books all by herself, and Alyx was ecstatic to see the same child, who told her on our first day together that she hated to read, so happy to be at the library. Alyx shared:
Of course, Reading Partners increases vocabulary and teaches phonics, but I think that the most powerful thing that Reading Partners does is instill a love of reading for children who thought that they aren't good at reading.
You too can have an impact on the life of a child! Tutoring for the 2018-19 school year will begin in early September. Volunteers and students will be matched on a rolling basis as students are referred by their teachers.
If you haven't already signed up to become a Reading Partners' volunteer tutor next school year, please visit www.readingpartners.org for more information. We look forward to hearing from you!