June 20, 2017
A life dedicated to educating students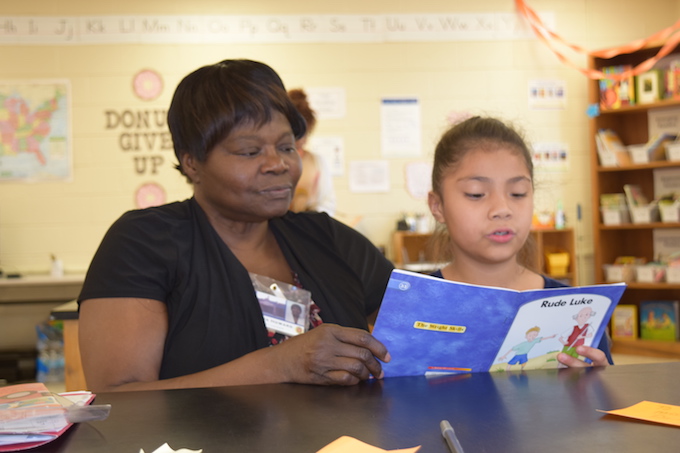 By Brooke Emmonds, Volunteer Coordinator, Reading Partners South Carolina
During a recent tutoring session at Cainhoy Elementary, Dora Howard's first-grade student, Evelyn, was reading The Kitty aloud while Dora kept time. After a minute, her student stopped to ask, "How many more words did I read this time, Miss Dora?" Dora replied, "You read 12 more words, Evelyn. I knew you could!"
Cainhoy Elementary holds a special place in Dora's heart. Not only did she graduate from the school in the 1960s, but she returned years later as a teacher, and eventually a guidance counselor. She strongly believes that education is the key to success and credits her mother with instilling a strong work ethic that Dora later passed on to her own children. Her mother once told her, "Either you are going to sink or swim. And you are NOT going to sink." This can-do attitude has carried Dora through her own academic struggles (like college Trigonometry) and as she helps students overcome their own obstacles in the classroom.
Dora retired from Cainhoy after 34 years of teaching and counseling, but she couldn't stay away for long. She wanted to stay connected to a school that had given her so much, so she signed up to become a volunteer reading partner.
Proving just how close-knit the community is, Dora was surprised to learn that she had previously taught the mother of her Reading Partners student! Dora's commitment to Reading Partners and its program extends beyond her tutoring sessions. She now serves on the Tutor Advisory Council, a committee comprised of Reading Partners volunteers dedicated to improving the tutor experience. When asked why she chose to to serve as a volunteer reading partner during her retirement, Dora said:
"There are so many reasons for my volunteer effort. First and foremost, my love has always been for learning and children. It stands to reason that I would want to dedicate the rest of my life to what I love teaching and changing lives of children."
Reading Partners relies on the support and generosity of volunteers just like Dora who give their time to help our youngest generation become successful readers. Together, volunteer reading partners are making strides to narrow the literacy gap in South Carolina.