December 9, 2019
Following your heart: How two impromptu moments sparked Natalie's AmeriCorps service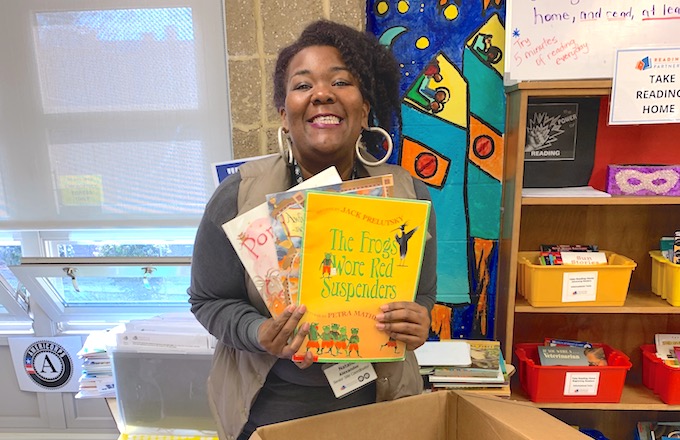 You know those unplanned choices, the ones that end up changing your entire life? Senior site coordinator, Natalie Alexander, has had a few. In fact, two spur-of-the-moment decisions brought her to Baltimore and led her to two years of AmeriCorps service with Reading Partners. 
I sat down with Natalie to learn how she went from Texas resident to Reading Partners Baltimore tutor to AmeriCorps senior site coordinator. 
How did you end up in Baltimore?  
I was living in Texas and came up to Baltimore to visit family one winter. During a random walk to a corner store with my cousin, we got to talking about his dreams for the future. He wanted to go to college, but didn't think he could ever make it there. I knew he was smart, resilient, and dedicated, but he was also balancing some tough family issues. So on the spot we made a deal—I'd move to Baltimore and would mentor him if he promised to apply to college.
It's crazy to think that this one conversation completely changed my life! It was just a gut reaction at the time, but I really meant what I said to him, so a few months later I moved up to Baltimore from Texas. 
How did you first get involved with Reading Partners? 
After getting settled, I really wanted to be more involved in my community. So I started looking for volunteer opportunities that would fit within my schedule and that spoke to my heart and my passion for education and children. I happened to find Reading Partners online, and it sounded right up my alley. Soon, I was volunteering several hours a week, tutoring students in the mornings before heading to work. 
Why did you decide to become an AmeriCorps member serving with Reading Partners? 
I had been volunteering with Reading Partners and just happened to open up our yearly volunteer welcome back email one morning. At the very bottom of that email was a job posting about AmeriCorps positions serving with Reading Partners. 
The email couldn't have come at a better time. My employer was starting to lay people off, and I was already looking for a new job. I loved Reading Partners as a volunteer, and now I could support the organization full-time. I ended up starting my AmeriCorps year of service one month later, as a regional site coordinator. 
Who knows where I'd be if I hadn't scrolled down the email and read that announcement! 
What was it like going from a volunteer tutor to an AmeriCorps member?
I haven't regretted my decision for one day. Don't get me wrong, the position was hard and took me out of my comfort zone. But as an AmeriCorps member, I was able to explore what was already in my heart—empowering students to read and succeed—while directly impacting my community. I traveled between multiple schools, and I loved meeting different students and offering an extra layer of support to site coordinators serving at each reading center. And I could continue tutoring! 
Why did you decide to sign on for another year of service? 
During my first year with AmeriCorps, I really got to experience the ins and outs of the program in a new way. I saw the impact we made on students' lives, and I was hooked. 
A few months into my first service term, my cousin, who had inspired me to move to Baltimore, was murdered. That experience completely gutted me, but coming back into reading centers also really helped me get through the grieving process. I knew I wanted to continue with Reading Partners as long as I could manage it. I saw my cousin in so many of these students, and I wanted to show these kids that they could do it—they could achieve their dreams.
I ended up transitioning to a new AmeriCorps position for my second year, serving as a site coordinator for a reading center. The school where I serve is just six blocks from where I spent summers with my family. I love these kids, this school, and this neighborhood. 
Looking back, what do you want people to take away from your story?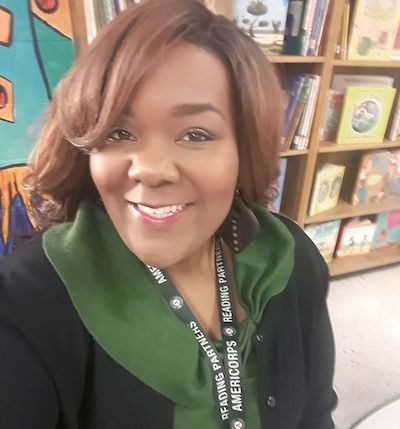 I think some people deny themselves amazing opportunities because they are focusing on the paid side of things. If I hadn't taken a leap of faith moving here, or started volunteering with Reading Partners, who knows what I'd be doing! Transitioning from a corporate job to a volunteer term is scary, but no other job I've ever had compares to the internal rewards you receive with AmeriCorps. 
I'd encourage anyone considering a term of service to just go for it. I don't know what's next for me after my service term ends, but I now know I'm capable of trying things outside my comfort zone and really making a difference in my community.
Are you, or someone you know, interested in learning more about our AmeriCorps service opportunities? We are recruiting AmeriCorps members to serve in reading centers across the country. Learn more.