April 25, 2019
Partnering for Succesful Summers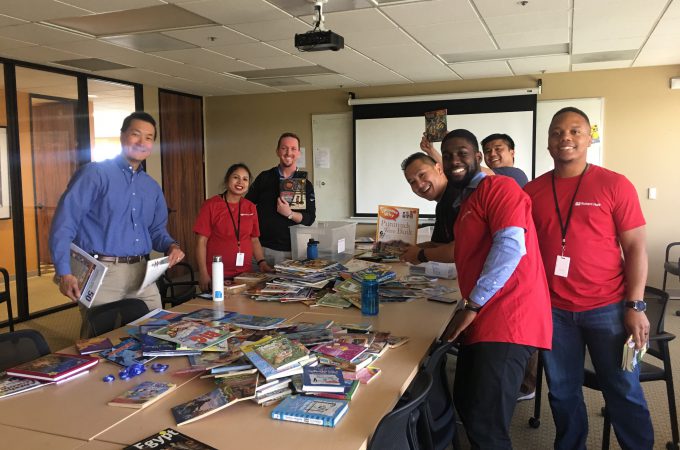 Another copy of Goosebumps went flying across the table into the 4th grade pile. Robert Half employees laughed their way through moments of nostalgia as they sorted through nearly 500 books ranging from timeless classics like Goosebumps to more modern titles like the Elephant and Piggie series to give away to students.
Throughout the spring, partners like Robert Half team up with Reading Partners to make summer reading packs for students from Encompass Academy and Hesperian Elementary. And this is important. For nearly half of the students in our community, the moment they leave their school campus, they leave the support and access to vital tools needed for academic success. For students at 32 schools in San Francisco and Oakland however, Reading Partners is here to help. Our individualized approach gives students two hours a week of one-on-one instruction to help them reach their growth goals.
In addition to weekly tutoring, Reading Partners' Take Reading Home program gives students the opportunity to take a book home every single time they come to a reading center – that's as many as two books a week for months! When a student is given the ability to choose a book that they are interested in and take it home, they break down those access barriers and start enjoying reading. Whats more, Take Reading Home is an opportunity to engage the whole family in the learning process. When families can read with their early learners, the whole family can enjoy reading as a positive, vibrant experience that everyone looks forward to.
Another key part of Take Reading Home is giving students books to read over summer break. During the summer months, students lack access to and interaction with materials to practice everything they've learned during the school year. Our goal is to give each of our 1,500 students at least three books to take home this summer break. To do that, we need A LOT of books.  
Over the past year, we have teamed up with amazing partners like Robert Half, Andersen Tax, LendingHome, SAP Concur, and Kaiser Permanente to collect books for Bay Area students. Thanks to these partners and so many more, we're able to help make sure that when students return from break in the fall, they are ready to pick that reading right up!
If you're interested in hosting a book drive with your team, contact Andrea Edelman at andrea.edelman@readingpartner.org.