May 19, 2021
Partnership Spotlight: Tulsa Community College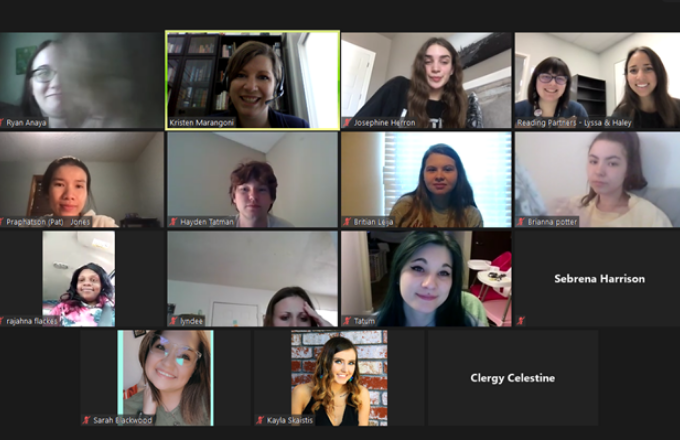 Critical Academic Reading Class
It's often said that the best way to learn something is to teach it. Students from Tulsa Community College (TCC) live into this philosophy serving as volunteers to Reading Partners, with more than 100 participating annually since 2015.
Educators such as Dr. Kristen Marangoni have played a significant role in sending students to Reading Partners to complete their service-learning course requirements while supporting our mission.
The partnership between her Critical Academic Reading students and Reading Partners highlights the learning through teaching model.
"Students in my class are learning reading strategies that will help them succeed in college, and one way they are able to reinforce those strategies is to tutor an elementary school student in the reading strategies that make them successful," Dr. Marangoni said. 
While the content between the books ready by college students and the ones assigned to elementary students is very different, many of the strategies are the same: Find the main idea. Look for supporting points. Review the information you read. Ask good questions.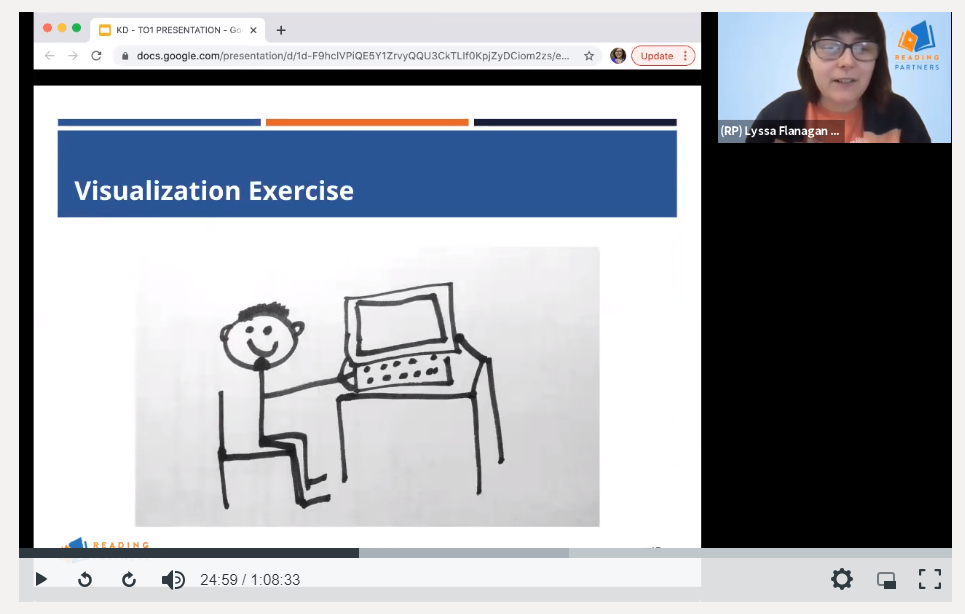 "Sometimes when a student can see these strategies in action in a picture book, it suddenly makes sense why they are being asked to use them with a college-level reading assignment," Dr. Marangoni said.
Another benefit of this partnership? Her students appreciate the chance to learn in a real-world setting. "It breaks up the monotony of the classroom, and it helps students develop relationships in the community, showing them they can make a difference. And when students see they're making a difference, they tend to stay in college longer and succeed in college at higher rates than those who don't. It's a win-win-win for elementary students, college students, and the community."

It also helps that Tulsa Community College and Reading Partners share similar missions focused on reducing opportunity gaps in education, and increasing student success and academic outcomes. A college degree is one of the prime indicators of economic mobility, so just as Reading Partners is fighting to reduce the equity gap among elementary students, Tulsa Community College is working to reduce equity gaps among college-aged students.
Dr. Marangoni credits how quickly Reading Partners pivoted from in-person tutoring to virtual tutoring in order to meet the needs of the community. This pivot was necessary not only for the K-3 students in the Reading Partners program but also for TCC in providing quality virtual volunteer experiences.

"The COVID-19 pandemic significantly reduced the number of volunteer opportunities for our students, many who needed hours for scholarships and coursework," Dr. Marangoni said. "It was a huge relief to see Reading Partners Connects, the great online tutoring platform Reading Partners developed, and to know our students had a safe way to continue making a difference in their communities."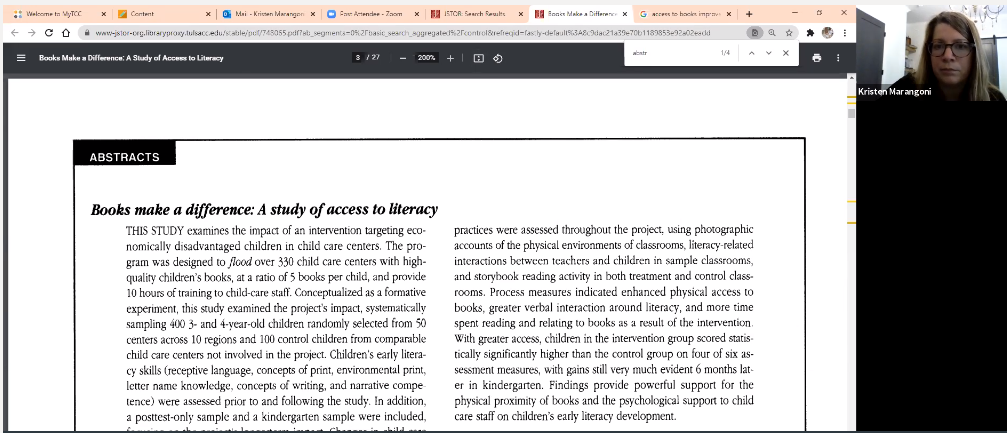 In addition to crediting this service-learning project between her class and Reading Partners for allowing her to develop deeper relationships with her students, Dr. Marangoni says the biggest gains from this partnership have been witnessing her students achieve confidence in their own reading abilities, digital literacy skills, as well as gaining a true sense of what it means to make a difference in their communities. 
Sarah Blackwood and Ryan Anaya are just two of the 15 volunteers from Dr. Marangoni's Critical Academic Reading class this semester, who particularly took their service learning projects to heart. 
"I am a shy person, but being with my reading partner opened me up," Sarah said. "Every session is so much fun, and [my student] showed me it was okay to make a few mistakes or mispronounce a word. This experience has been an eye-opener for me, and I love being able to tutor a young student in my community!"

The Reading Partners team is so glad to give students from TCC and our other student volunteers from around the community opportunities to experience mentorship and to grow their skills in becoming great models for future generations of leaders and readers. 
"My perspective has evolved since volunteering with Reading Partners," Ryan said. "Now I know there is an opportunity gap. Before, I had no idea some students didn't have the opportunity to have access to books." 
If you would like to support Reading Partners with additional volunteer recruitment efforts, please contact Haley Biram, community engagement manager of recruitment, at haley.biram@readingpartners.org or (918) 949-1979.