December 15, 2015
Reading Partners shows students the importance of serving others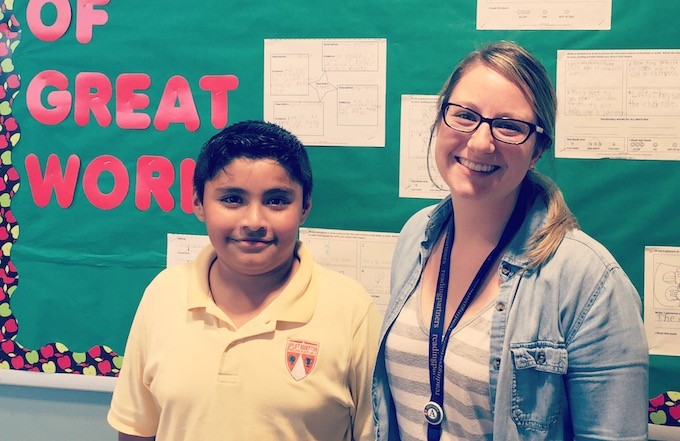 By: Becca Smith, AmeriCorps members at Reading Partners North Texas
After two years with Reading Partners, coming back for my third year as an AmeriCorps member was a no-brainer. I can't stay away from Reading Partners simply because of the joy that radiates from a child when they learn something new. It's contagious and exhilarating. It brings tears to my eyes just thinking about my students' successes.
In the past two years of working for Reading Partners I have never had a student grasp how to make inferences as quickly as one of my current fourth grade students — let's call him Joe. Joe has impressed me since I've started working with him. He is eager to learn, recalls new vocabulary words with ease, and can make connections between different texts.
One day as we were finishing the tutor read aloud book, "The Quiltmaker's Gift," we were discussing the author's message. He quickly recognized that the king was happy at the end of the story because by giving all of his things away, he was making other people happy. We talked about how it's always better to give than to receive and that true happiness comes from serving other people.
A couple of sessions later we were working on an inferencing lesson. Joe chose to read "The Library Lion" and was able to make many inferences while reading. He understood how the characters were feeling, what the author meant by different phrases, and that the author's message was that sometimes it's ok to break rules for a good reason.
Joe also realized that one character, Mr. McBee, although he didn't like the library lion, went to find him and tried to convince him to come back to the library to make Miss Merriweather, the librarian, happy again. The next thing that popped out of Joe's mouth was, "It's just like the king in the book with the quiltmaker! He didn't think giving away his stuff would make him happy but then it did and even though Mr. McBee didn't like the lion, he wanted to make Miss Merriweather happy which made him happy too." Joe was so proud of himself for seeing that connection between the two books and I was pretty proud too.
Seeing Joe learn a new skill and then master it was impressive, but seeing him learn that serving others brings us true joy made my heart soar. I am not only helping improve his reading skills, but also helping him learn that reading can provide a wealth of knowledge and unlock so many doors if only we open a book.