October 12, 2019
Supporting and celebrating shared experiences can empower young readers: Q&A with Diego Luevano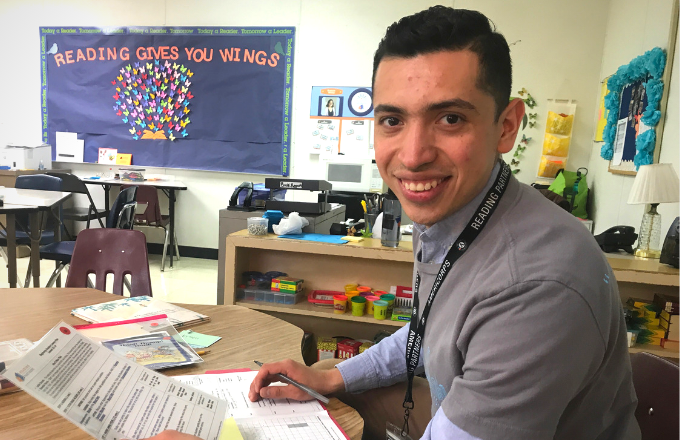 Diego Eleazar Luevano is a regional site coordinator serving his first year of service with AmeriCorps at Reading Partners. Diego joined the Tulsa team in August 2019 and provides support to a portfolio of four reading centers in east Tulsa. Get to know Diego, and learn how his experiences growing up in Mexico paved the way for his desire to be the greater good.

How did you get involved with Reading Partners?

After graduating from college, I wanted to work with an agency that was making a difference in my community. Upon some research, I found Reading Partners. Their mission and vision resonated with me, so I decided to jump in and apply!

Why does literacy matter to you?

In this era of information, being able to read is a life skill. Whether you are signing a mortgage on a house, accepting a job offer, or negotiating nearly any aspect of adult life, you must be able to read what is on the page, and understand. Literacy makes this possible.


What is the best thing about working with students in the Tulsa community?

The best part is definitely the funny stories from the students and my coworkers. As a regional site coordinator, I'm fortunate to provide support to four different reading centers, which makes every day quite fun. It's a good feeling to wake up in the morning, and look forward to going to work. Some of our youngest students, despite their age, have a great wealth of experiences that really make them unique.

What's the first thing you and your student connected over? 

Either sports, or growing up in Mexico and having a similar background.  (I grew up in Zacatecas City, Mexico, but came to the United States in 2013. I graduated from Edison Preparatory High School and then went on to study Math at the University of Chicago.)
During the first week of tutoring, I was chatting with Omar Sanchez, the AmeriCorps site coordinator at Kerr Elementary, when a student came in for her very first assessment. I could tell she was nervous, but when she looked at me, and then at Omar, her nerves melted away and she became very excited. A knowing smile crept across her face as she said to Natalie, 'They look Mexican!' We bonded instantly, and that reaction left an impression on me that I wasn't expecting to experience.
To me, this illustrates how representation matters – and in a big way!  She was so excited to see us, and that first impression is what she will remember every time she enters our reading center.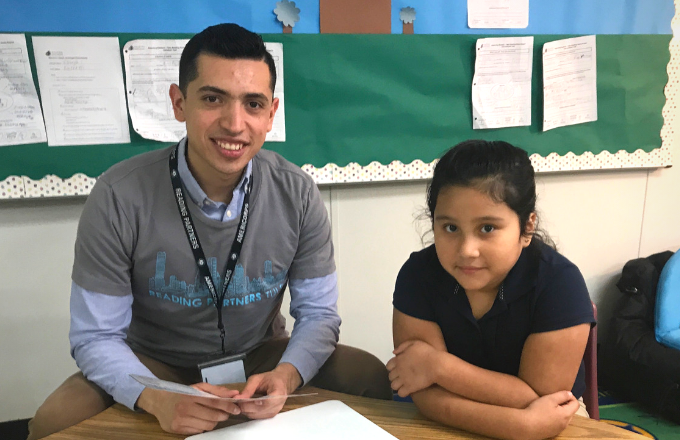 ---
Research shows LatinX students who have teachers or mentors of their same racial or ethnic background are 19 percent more likely to feel engaged, compared to students who did not have that experience, which has a direct impact on their academic outcomes.
What would you tell others who are considering volunteering with Reading Partners?
Do it! If there's one thing I can guarantee [for potential tutors], it's this: with only one hour per week, you will truly be making a tangible and meaningful difference in a child's academic trajectory. Regardless of whether or not you and your student share a common background, what's most important is the willingness to be there: To show up every week for a child who can benefit from your individualized support.  I would also tell them, if you have any questions, just reach out to me or a member of the team!