June 28, 2021
Reading Partners Tulsa announces Third Annual Valued Volunteer Award Winners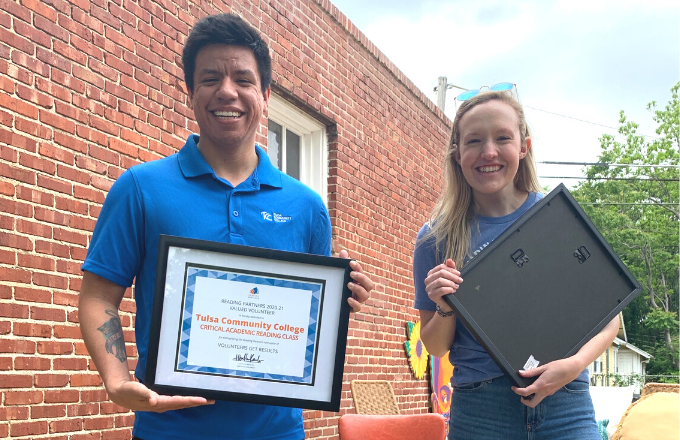 Community volunteers continue to be the backbone of our work at Reading Partners. We simply could not serve as many students as we do without the support of volunteers who contribute their time week after week helping our students learn to read.
This year was particularly challenging as we faced so many unprecedented roadblocks. Those who supported us through the 2020-21 school year will always hold a special place in our hearts. They served alongside us as we tried something new and launched a virtual tutoring program: Reading Partners Connects. 
Each year, we recognize some of our most outstanding community volunteers, as well as a community partner and school partner who have prioritized supporting volunteer recruitment efforts and the volunteer experience. Here are our valued volunteer award winners of 2021.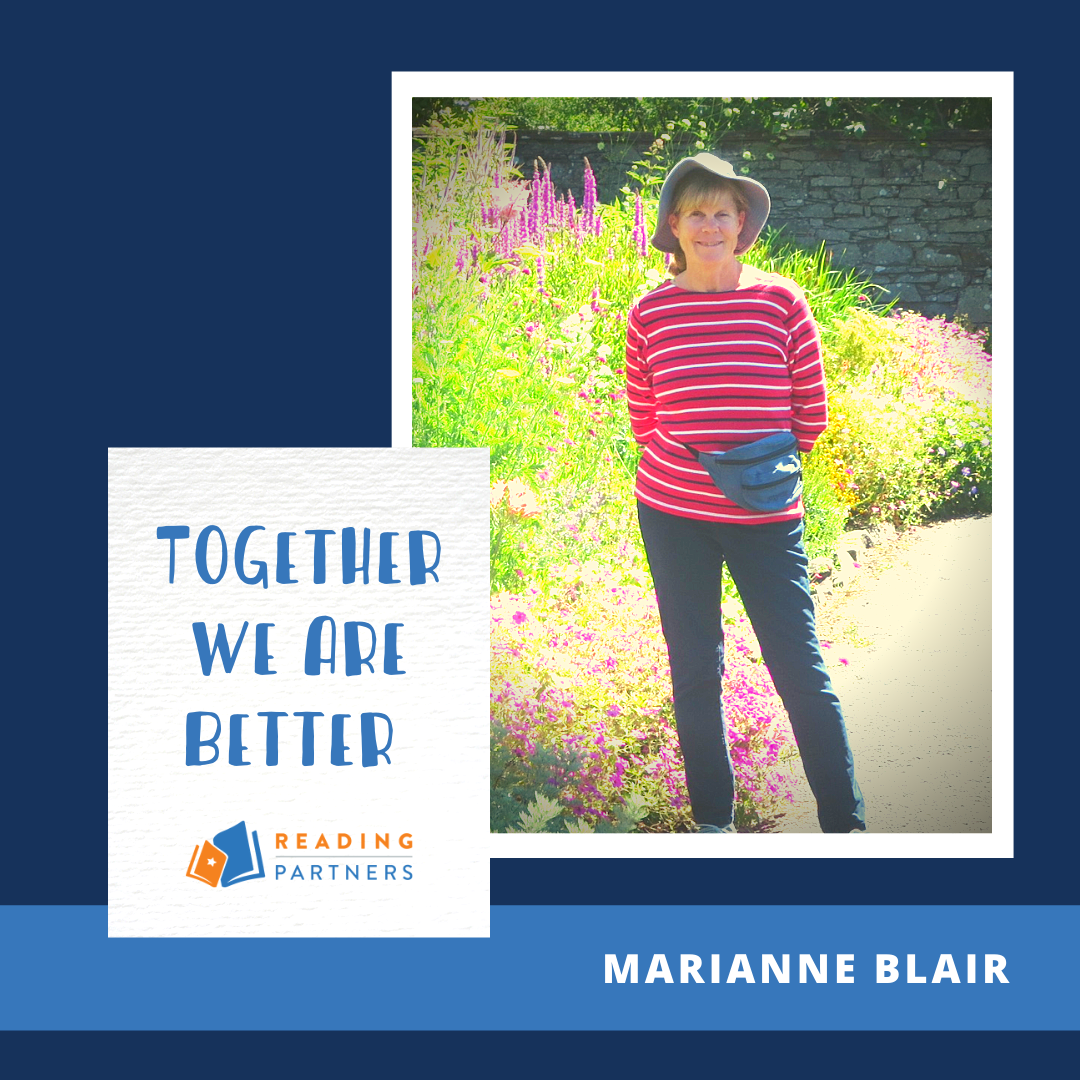 Together We Are Better: Marianne Blair
Marianne is a returning tutor who signed up to volunteer through our virtual program, Reading Partners Connects, as soon as it launched. While it was unfamiliar territory, Marianne jumped right in! She was excited to reconnect with her student from the previous year and quickly began to thrive in the virtual setting. Marianne ultimately increased her commitment and tutored two students twice a week for the majority of the program year.

Marianne's distance tutoring coordinator says she was a rock of dependability the entire year. "I know I can count on her to always sign in for her sessions on time, well-prepared, and with an enthusiasm for reading that shines through the computer screen. She has an amazing ability to stay positive, despite scheduling hiccups, technical difficulties, and the numerous unexpected distractions for kids that come with learning from home. She even referred a friend to take on a new student, knowing I still had so many on my waiting list."

Thanks to Marianne, three students had a consistent, positive learning experience in this unpredictable year. She has helped us all make it through this year knowing we can always count on her to be there with a smile on her face and a (digital) book in her hand.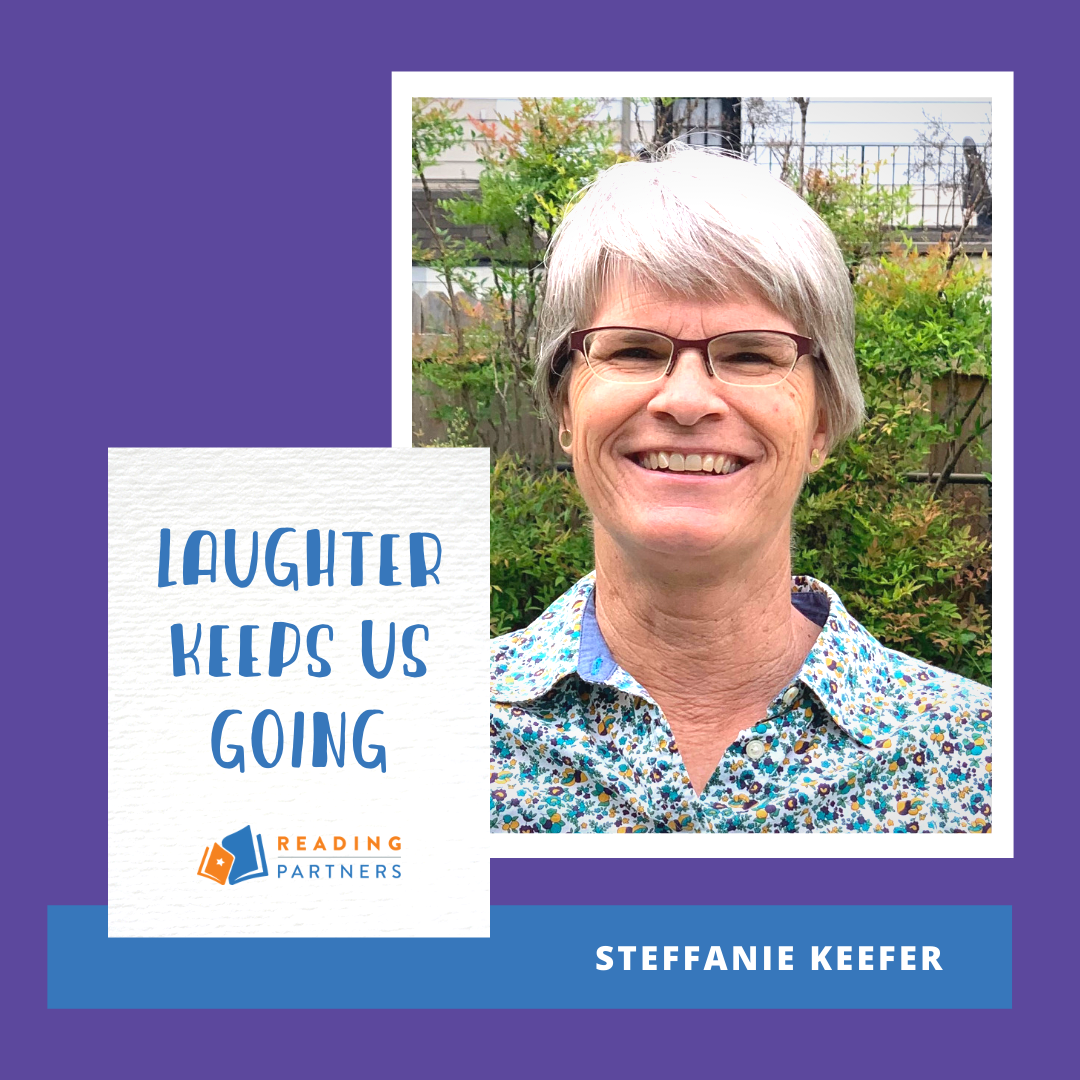 Laughter Keeps Us Going: Steffanie Keefer
Steffanie is also a returning tutor who has been volunteering with Reading Partners since we launched in Tulsa in 2013. She has been a constant presence at the McClure Elementary reading center, tutoring for eight consecutive years. We're grateful she continued to help us serve that community this year.
According to her distance tutoring coordinator, Steffanie exemplifies all of our core values, but Laughter Keeps Us Going describes her best. Instead of being upset if something went unexpectedly during a session (i.e. losing a connection, student doing a lesson in a car, etc.) she continued with a smile and a laugh. She even sent her distance tutoring coordinator memes during the Snow Days so they could enjoy a laugh together. Every session she has with her student is spent with laughter and enjoyment.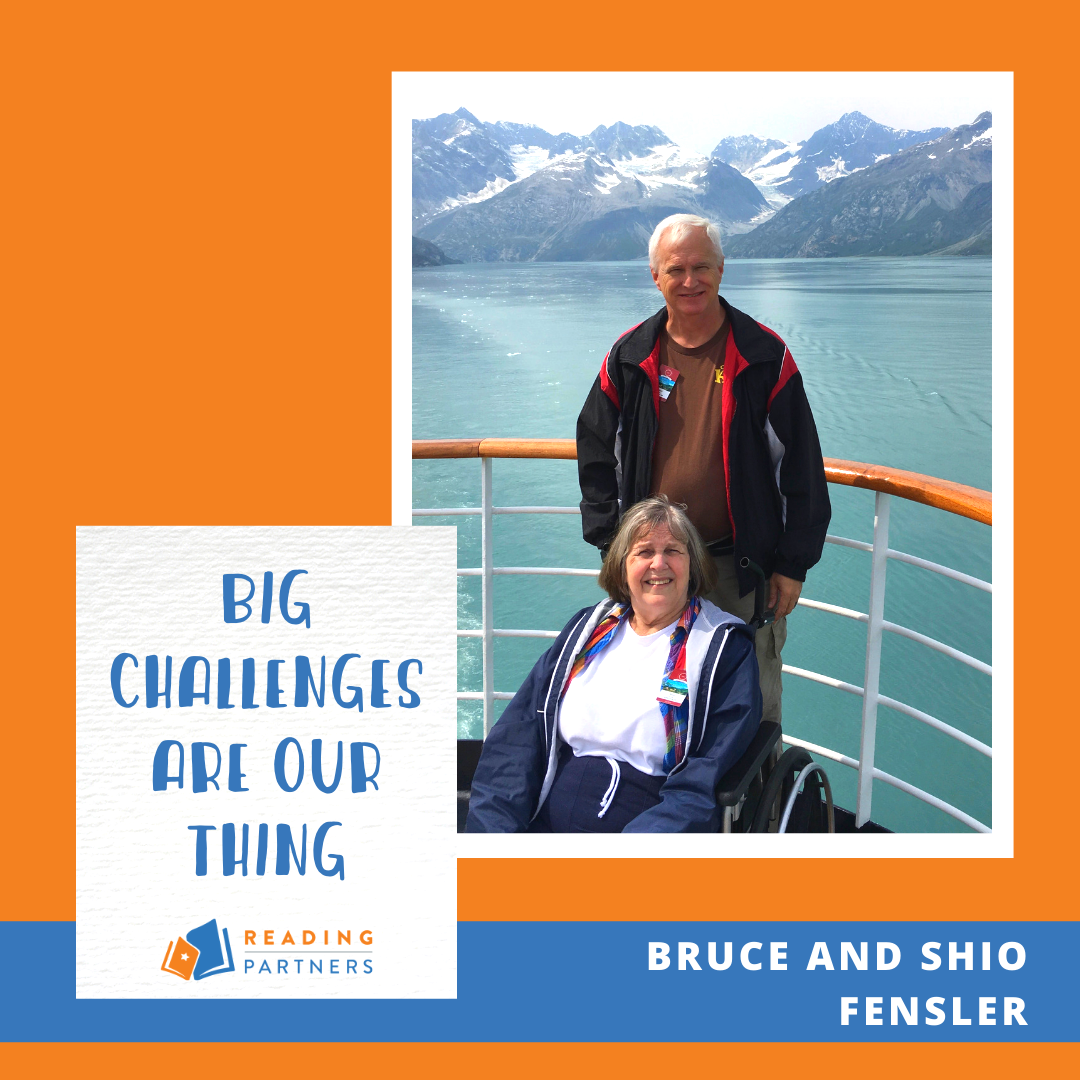 Big Challenges Are Our Thing: Bruce and Shio Fensler
Bruce and Shio have been reading partners for the past eight years. Admittedly, they were not the most computer savvy at the beginning of this year. However, that did not stop them from giving Reading Partners Connects a try. Now, they are pros at delivering sessions virtually. 
Bruce's distance tutoring coordinator instantly saw the connection between him and his students, and how much care and respect they had for one another. She credits Bruce's drive, charisma, wisdom, and ability to understand where his students are making him worthy of this award. He makes his students laugh regularly and encourages his coordinator to no end. He believes in his students, noting this both in tutor notes and verbally to her each session.
Bruce and his wife, Shio created their own physical tracking system to collect "Stars" from every lesson. In addition, they make sure the entire session is meaningful by beginning each lesson by writing down their own notes and studying the curriculum with plenty of time before seeing their student.
The Fenslers have truly made an impact in children's lives. We're positive they will continue to do so for the rest of their days.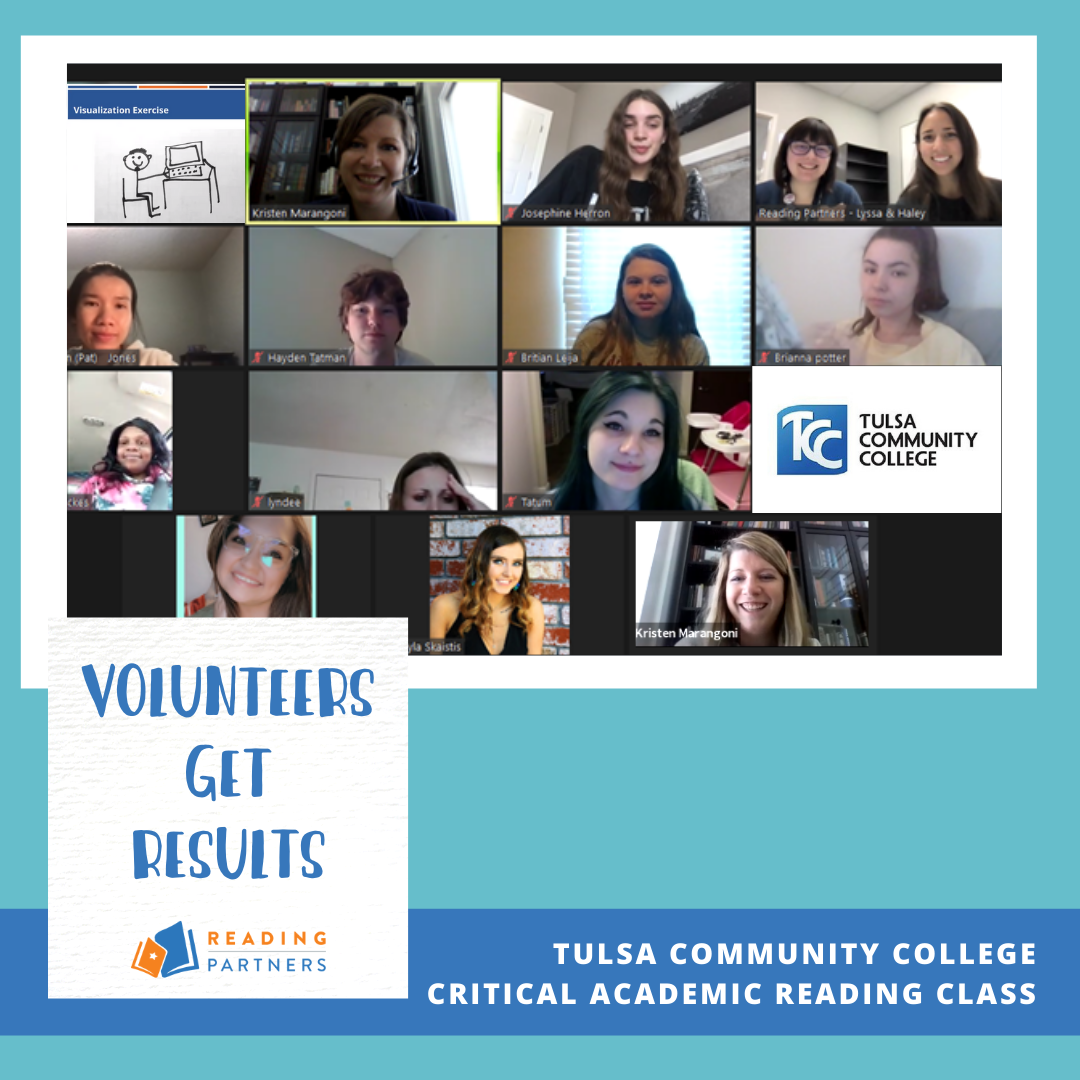 Volunteers Get Results: Tulsa Community College – Critical Academic Reading Class
We're grateful to partner with Tulsa Community College in light of our shared missions to reduce opportunity gaps in education. Fifteen students from this course have volunteered regularly with Reading Partners students this year, and we're grateful for their support. Read more about our partnership in this blog from May 2021.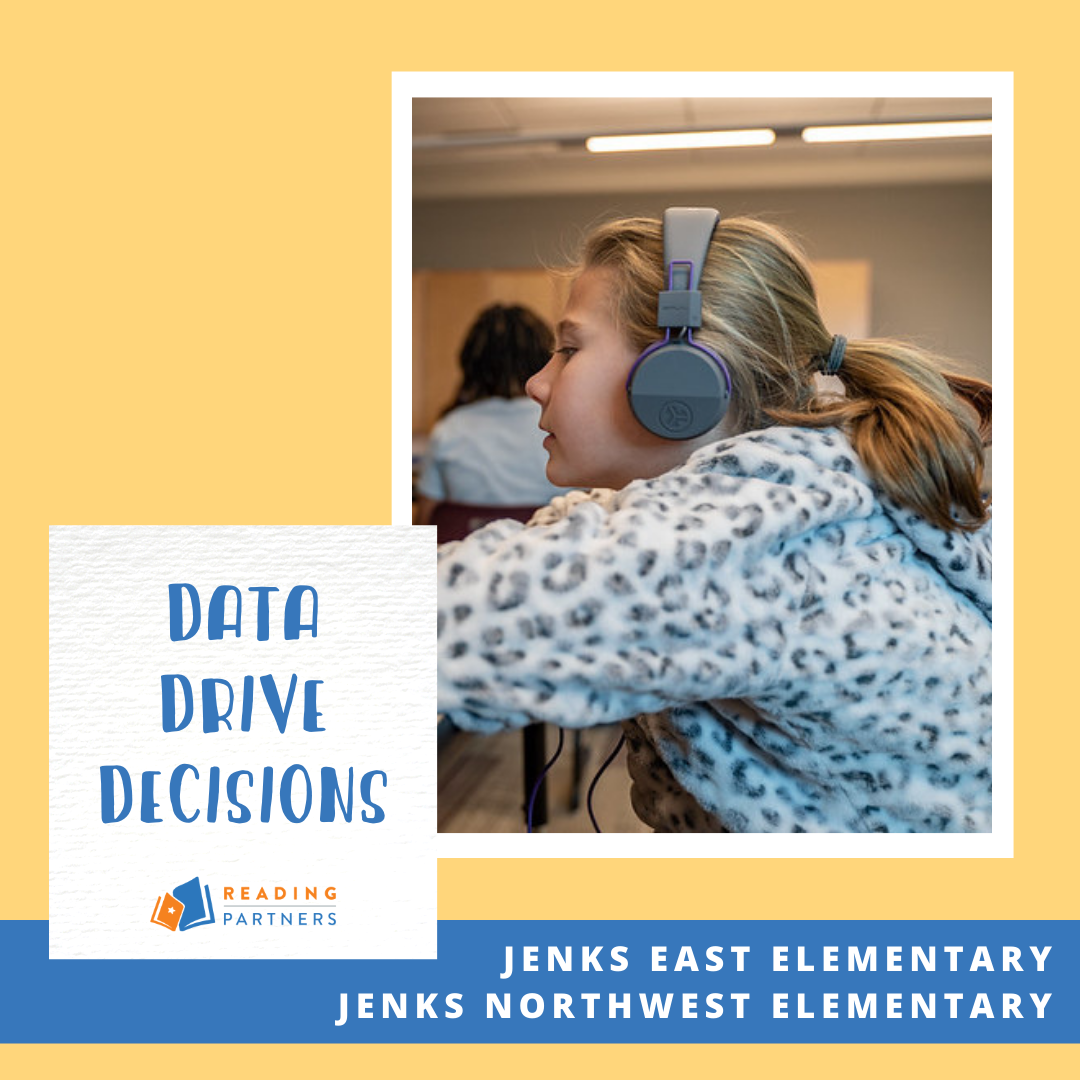 Data Drive Decisions: Jenks Northwest and Jenks East Elementaries
This year, we're also recognizing Jenks Northwest and Jenks East Elementary as our Valued Volunteer School Partners. This is the first year we've served students in Jenks Public Schools. We had more volunteers supporting students at these reading centers combined than anywhere else in the country.

Jenks has been an incredibly proactive new partner. They have leaned into working collaboratively with our program and community engagement teams to review student and volunteer data, which has directly contributed to the strength of this new partnership. Their leadership in data sharing has allowed us to work together as a team to support individual student needs. Additionally, our Jenks leaders and staff have been ambassadors for Reading Partners, which has had a tremendous impact on our volunteer recruitment for Jenks students.  
Jenks Public Schools: 2020-21
73 students 
115 volunteers
1892 sessions
86% attendance rate 
95% of students enrolled at mid year showed growth in assessment scores.
Reading Matters: Dr. Keith Ballard
Finally, we want to recognize Dr. Keith Ballard. Dr. Ballard was the Superintendent of Tulsa Public Schools when Reading Partners launched locally and began tutoring students at that time. He later became one of our regional advisory board members and continued to dedicate his time and passion for students to better our program. We are so grateful for all the ways that Dr. Ballard has contributed to Reading Partners, and we are thrilled to recognize him in this way. To see how Dr. Ballard supported Reading Partners and embodied service, be sure to read about the time he became an AmeriCorps Member For a Day.