Lead a Book Drive
Take Reading Home is a cornerstone of the Reading Partners program. We encourage our students to help build their home libraries by offering gently used, donated books from our Take Reading Home selection, which is made available through book drives and donations.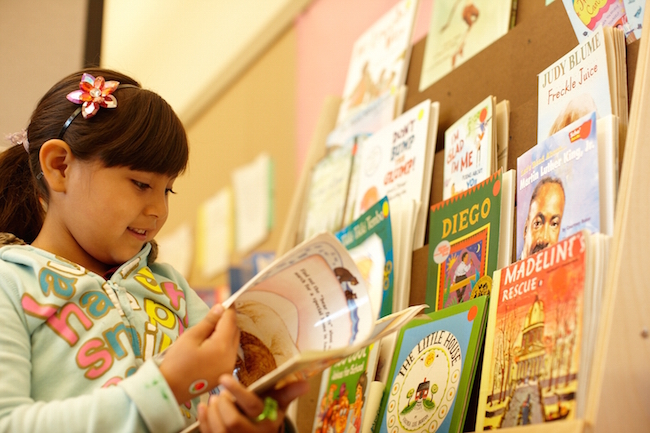 Local businesses and organizations can help Reading Partners build the Take Reading Home selection at local elementary schools with donations of new and gently used children's books ranging in level from kindergarten to fourth grade, of varying topics and genres. These books go directly to students in the community, enabling them to enjoy their own reading library at home.
---
5 Steps to Lead a Book Drive
STEP 1: Let Reading Partners know you plan to host a book drive.
Contact the Reading Partners location nearest you or reach out to our national office and let us know that you're interested in hosting a book drive for Reading Partners. We can provide some pointers and give you more information about how to make your donation.
STEP 2: Determine dates and a goal for the book drive.
Most groups conduct efforts for 2-4 weeks. It is also helpful to set a goal for the number of books to be collected, as this inspires many donors and helps you gauge success.
STEP 3: Promote the book drive to your network.
Successful efforts usually include multiple messages through email, website postings, fliers, etc. Messaging should include information about Reading Partners, the need for new and gently used books, guidelines for donations, and details about when and where to drop off donations. Helpful documents, including fliers and a list of suggested books, are available from our staff. Be sure to share on social media sites!
STEP 4: Provide "donation bins" at selected drop-off locations and collect books.
Bins should be placed where they are most visible and should be strong enough to hold large numbers of books. In some regions, Reading Partners can loan these to your company. Remember to put a Reading Partners logo and instructions on the bins.
STEP 5: Make and celebrate your donation.
As you near the conclusion of the book drive, contact your local Reading Partners team to arrange for your donations to be distributed to reading centers in your area. Don't forget to celebrate and promote your success by sharing results with local media, employees, customers, and other stakeholders.