October 13, 2016
1 of 1 Million milestone lifts AmeriCorps to new heights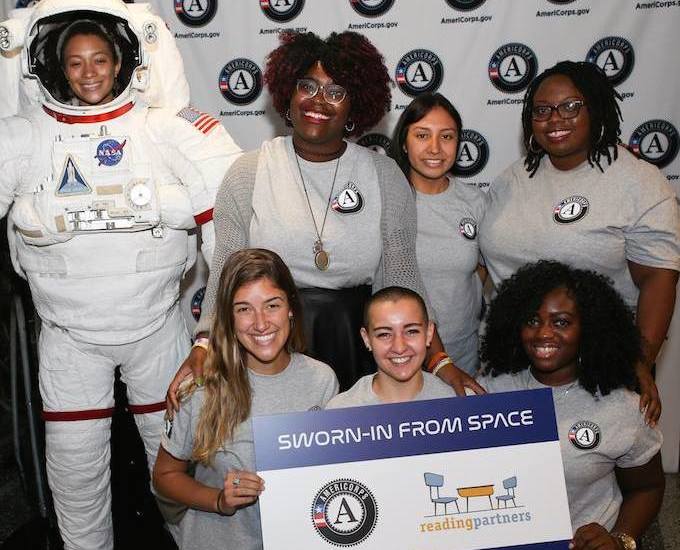 AmeriCorps marked a historic moment when their 1 millionth member was sworn in on October 7 during the national swearing-in ceremony. The momentous event was held at NASA headquarters and featured a 1 of 1 million theme, as well as some space-related surprises. Several AmeriCorps alums from various organizations including Reading Partners, City Year, and TFA spoke at the ceremony about their paths after service and the tremendous opportunities they found and created through AmeriCorps. Maria McLean, development and communications coordinator VISTA for Reading Partners DC, was invited to attend the ceremony along with the rest of the AmeriCorps team there. "They spoke about how much AmeriCorps helped them. Very heartfelt stories were shared, and I was crying," she admitted.
The moment when members took the pledge and were officially sworn in was especially exciting. "One of the best parts was getting sworn in from space by Dr. Kathleen Rubins. She's the NASA Mission Specialist and led the AmeriCorps pledge while floating in air," Maria said. According to NASA, Dr. Rubins is currently circling about 200 miles above earth at approximately 17,500 miles per hour.
Perry McAlister, a site coordinator for Reading Partners Baltimore, was invited to speak at the swearing-in. Perry grew up in the same neighborhood in Baltimore where he now works. In his remarks, he commented on the meaningfulness of his work first as a volunteer tutor and then as an AmeriCorps site coordinator:
"The hours I spent with that young girl provided me more fulfillment than any paid work I have done. […] Over one year later,  I have since met many more students who have all changed my life in some way. I have learned more about myself through them. I have seen more of my own neighborhood through them, for the school is in the very neighborhood I grew up in and where I continue to live.  I have found my life's purpose – helping children – through them. My joy is my service to the children of Moravia Park Elementary School."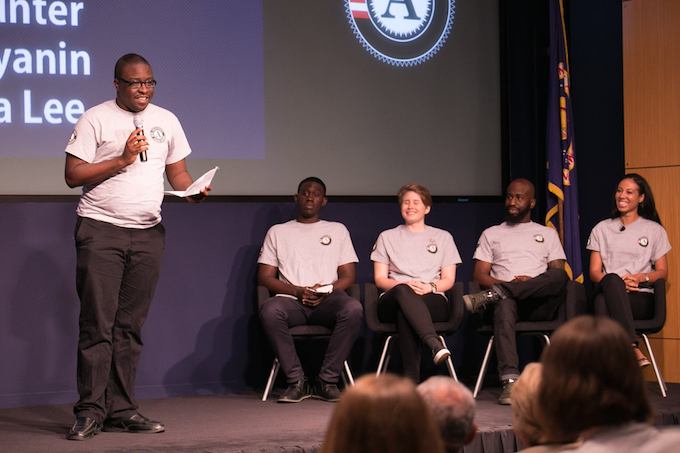 The feeling in the room was one of deep appreciation and thoughtful sharing. As AmeriCorps members current and past shared their stories, it offered a sense of history, empowerment, and possibility to all who were there.  
"You walked away really feeling inspired and appreciated," Maria said. "I was like, hmmm, should I serve another year? It makes you want to give even more. You're giving something, but you're also getting a lot more than you expect."