October 17, 2016
4 ways to fill your Halloween with literary thrills
Halloween is one of the most festive times during the fall season. Children of all ages get excited about dressing up and celebrating all things spooky. Incorporating literacy activities into Halloween festivities is a cinch because children are already excited. Halloween is the perfect holiday to engage your children in literacy-based games and crafts and draw upon children's literature to inspire your costumes and celebrations.
Halloween-themed children's books
There are many frighteningly entertaining Halloween children's stories. These Halloween- and autumn-themed titles are selections that young readers will love almost as much as candy.
Literary snacks


Photo courtesy of Betty Crocker
After reading one of these Halloween texts you can make a snack inspired by the stories.  
A Big Pumpkin vegetable platter is easy to prepare and healthy.  After reading Monster Trouble, you and your child can decorate scary monster cupcakes that look like your favorite characters. You can also serve up the pot of goo from Goodnight Goon by mixing together a tub of Cool Whip and a pack of pistachio pudding mix into a small witch's cauldron. This mixture makes a delightful dip for fruits while also looking just a little bit scary. You can also serve Hallo-wieners at your next holiday party, in honor of our favorite Halloween dog, Oscar.  After reading The Pumpkin Book, you will undoubtedly want to bake pumpkin seeds, pumpkin pie, or pumpkin bread to taste all of the delicious ways a pumpkin can be enjoyed. The ghost story told in the Old Willis Place can be commemorated by baking 3-D ghost cookies. These cookies can be made with packaged sugar cookie dough, jumbo marshmallows, and black and white frosting.
Halloween crafts


Photo courtesy of Woman's Day
If you enjoy crafting with your kids, Halloween is the perfect time to combine DIY decorations with early literacy skills. You can teach your child about onomatopoeia using Halloween-themed terms, such as 'creak,' 'boo,' 'splat,' 'ding dong,' 'eeek,' 'cackle,' and 'crunch.' Then, you can paint pumpkins that incorporate these onomatopoeia into a scene, such as a ghost saying, "Boo," or a witch on a broomstick letting out a cackle. Another festive way to incorporate literacy into your Halloween crafting is to draw or paint your own haunted house poster and fill each window, doorway, or bat flying overhead with one of your child's sight words or a word from the grade-level vocabulary word list. This is a great way to build in review while decorating your house for the Halloween holiday.
Another eerie literary decoration that you can make with your child is an overused adjective epitaph. Have your child read through his or her writing to identify adjectives that are overused. You can also have your child identify words that are overused in everyday conversation. Then, use a tombstone template to create a construction paper grave and write an epitaph putting your overused adjective to rest. An example might read, "Here lies nice. She lived a good life and worked harder than the other adjectives. She will be replaced by kind, amazing, thoughtful, and spectacular."  
Halloween writing activities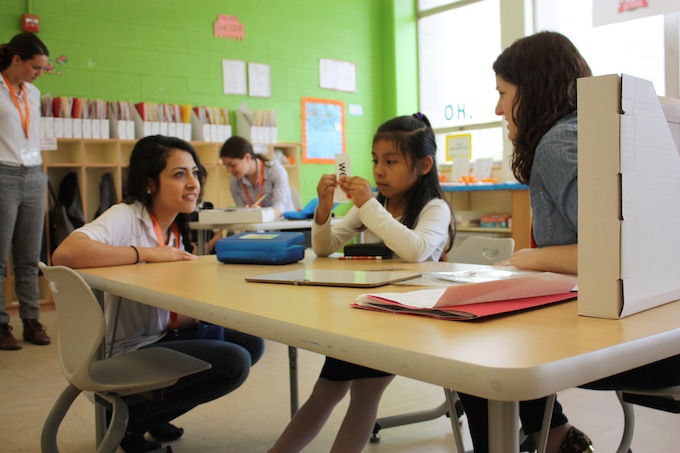 There is a strong connection between being a strong reader and a strong writer. These Halloween-themed activities will bolster your child's literacy skills, by making poetry, alliterations, and riddles part of the fun.
Poetry fosters creativity and encourages kids to play with language. Haikus, which are poems constructed from a 5-syllable line, a 7-syllable line, and another 5-syllable line, are traditionally written about nature. Take a walk outside and bring a small notebook with you.  Encourage your children to generate haikus inspired by the sights and sounds of fall.  Another beloved form of poetry is the acrostic. In this form, a thematic word is written vertically down the page; for example, you might write 'Halloween' or 'Autumn'. Then a word, phrase, or sentence is written that starts with each letter of the vertical word.  
Another engaging way to play with language is to create alliterations. An alliteration contains two or more words that start with the same beginning sound. Challenge your child to come up with as many Halloween- or autumn-themed alliterations as possible in a given time frame, or to write a poem that contains a certain number of alliterations.

Lastly, riddles are an entertaining way to get your child writing and also thinking creatively. Have your child write riddles about his or her favorite candy or favorite Halloween figure, and then have someone try to answer the riddles. These quick writing activities will support vocabulary development and creativity, while celebrating the Halloween season.