February 17, 2016
A day in the life of a Reading Partners AmeriCorps site coordinator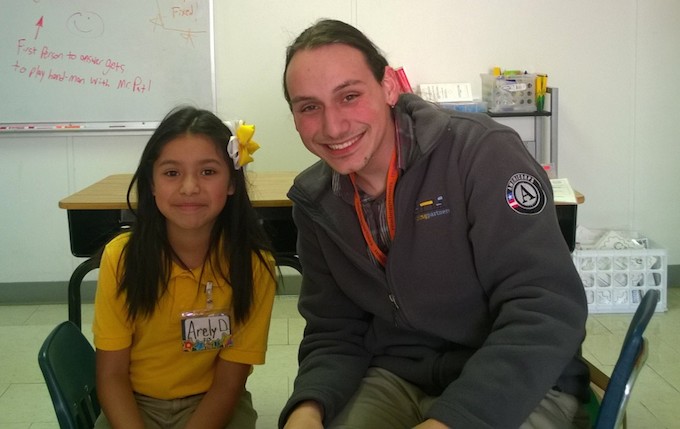 Pat Jeffers joined Reading Partners as an AmeriCorps site coordinator serving in Tulsa in 2014. After his first year of service was complete, he felt motivated and inspired by the work he was doing, so he signed up for another year of service. This time, he is serving as a senior AmeriCorps Site Coordinator.
My position at Readings Partners is senior AmeriCorps site coordinator. In my role, I manage the reading center at Kerr Elementary in Tulsa, where I coordinate and oversee tutoring sessions led by community volunteers and delivered to K-2 students in urgent need of reading intervention.
A day in my shoes
Every day at the reading center is completely unique, which is one of the things I love the most about my position. I start each day in the reading center by printing out my center schedule and checking the school email from the principal. I then visit each classroom to check attendance and brainstorm ways to organize the tutoring sessions throughout the day. By doing these tasks every morning, I can help the center run much more efficiently. This also allows me to contact tutors if their student is absent, helping to create a better bond with my tutors. The morning rush is by far one of the most stressful, yet oddly exhilarating parts of any given day.
As a senior AmeriCorps site coordinator, I have built strong relationships with the school administrators and teachers I work with. Since I have known them for two years, they know my position and are always willing to give me a helping hand. If there is an assembly, event, or problem at the school, they will let me know so that I can work my schedule around it. Even though I am not a part of the school staff, they treat me as one, and I can always count on them to be in my corner.
Throughout the rest of the day, the majority of my time is spent tutoring students, coaching volunteer tutors, and managing student behaviors. Working with students who exhibit behavioral challenges is (surprisingly) rewarding, since these students are usually the ones who need the intervention most.
Any time that is not spent directly tutoring kids — one-on-one — or supporting tutors is almost entirely spent encouraging and motivating students. My favorite part of the day is handing out high-fives. Since I see almost 50 students twice a week, every week, I am able to maintain a strong relationship with each one. Because I have worked with about 100 students in the past two years, both hugs and high-fives are in high demand. Making connections with students is most certainly one of the most powerful aspects of my service and the Reading Partners program.
My second year of service
As a second year AmeriCorps site coordinator, I am often looked to for advice from my colleagues and first year AmeriCorps members; and have the great opportunity to organize national days of service that all AmeriCorps members participate in. These additional tasks are manageable because the site coordinator role has become easier and more enjoyable for two main reasons: building relationships and experience.
While I may have tip-toed around my first year, wondering what the school staff thought of me, that is not at all the case by year two. At this point, we were all brothers and sisters in arms, fighting the good fight to make sure these kids receive the education that they deserve. Now, in year two, I know that everyone in the building is on the same team.  
My second year of service is also easier in a lot of ways. Since I can anticipate challenges in the center and the cycle of each year's events, the day-to-day operations run much more smoothly. In turn, I get to have more fun with the people I interact with. Now, I don't get quite as overwhelmed (though I certainly have my days) and I'm able to organize my time more efficiently, since I know that progress reports and IRP's take much more time than I originally expected in my first year!
I am very glad that I decided to stay with Reading Partners AmeriCorps for a second year. It has been really fantastic to see the growth in my students from one year to the next. Seeing a student move through the Reading Partners curriculum is by far one of the most rewarding experiences of my entire life.
I have also gained benefits in other areas, like receiving the Segal Education Award to help me pay for graduate school. It really is fantastic to be in a position where I know that I am actively changing people's lives for the better. Knowing that some of these kids will remember Reading Partners fondly for the rest of their lives makes me feel like I have done an amazing thing by signing up for a second term of service with AmeriCorps!
If you want to #ServeAYear with Reading Partners AmeriCorps, visit our website to learn more about the opportunities available for the 2016-17 program year!