April 19, 2016
A day in the life of a Reading Partners AmeriCorps volunteer coordinator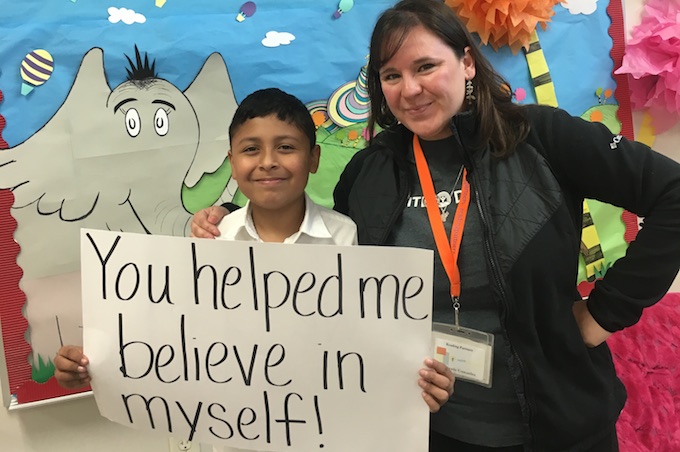 A question I often hear is, "What is a typical day in the life of a Reading Partners volunteer coordinator?" The easy answer is that there is no "typical" day for a volunteer coordinator. My schedule is quite varied from day to day, which keeps things interesting. There is certainly never a dull moment when working to mobilize hundreds of community members to provide reading support to kids in need.
AmeriCorps volunteer coordinators are part of the community engagement (CE) team at Reading Partners, and our job is to recruit and onboard volunteers and build relationships with community partners. I joined the team in August after serving as a volunteer last school year and absolutely falling in love with the Reading Partners program.
A typical Monday morning
Monday starts like most work days usually do: very early! I begin my day with a 30-minute commute to our regional office in Dallas. We have our CE team meetings on Monday mornings, so it's important to arrive early to look over the meeting agenda. The meetings can last up to a couple of hours so prepping with coffee and snacks is also a must! It's great to start the week off by meeting with the team to discuss successes and strategies, and to prepare for upcoming events. Today, we spent a lot of time talking about the assembly and distribution of summer reading packets, which we give to every student at the end of the year. The packets contain pencils, erasers, a summer reading journal, and about eight books that they can keep and read during the summer!
After the meeting, I checked emails, logged on to our Salesforce database to check tutor reports, and scheduled an orientation for a new volunteer at one of our centers. I recruit and manage volunteers for six new reading centers in Dallas and Fort Worth, so all the emails and Salesforce data entry and management can get a bit tedious, but they are an essential part of the position.
Afternoon at school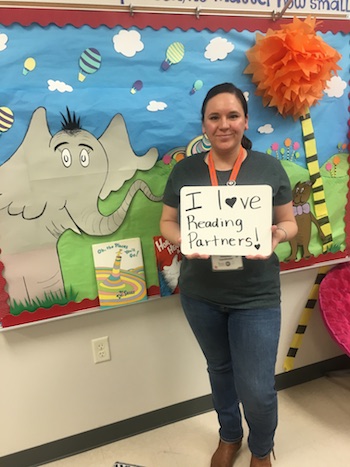 I rarely take a lunch break since it seems like I am always on the go, but today I had a bit of time so I grabbed a sandwich and soup to-go and headed out for lunch at the park. It was a perfect spring day and I got to eat lunch outside overlooking the gorgeous Dallas skyline. Not too shabby for a Monday! After lunch, I headed to a reading center for a tour and meeting with a potential partner. Community partners such as corporations, schools, and civic or faith-based organizations are very important to our program because they can spread the word about the program to their networks, provide us with weekly volunteers, or donate books and summer reading packets.
Since I was already at the school, I did a makeup tutoring session with the student I tutor regularly. Our students are supposed to be tutored twice weekly, but sometimes they have to miss a session during the week due to schedule changes, so we have to make up the missed sessions. As the school year progresses, the number of makeup sessions each center needs increases, so we spend a lot of time helping out with makeup sessions in the spring.
Ending the day tutoring kids
Our tutoring session today was great! I've been working with Alvaro twice weekly since October and his reading and comprehension skills have greatly improved! We usually have sessions on Tuesdays and Thursdays, so those days have become my favorite days because tutoring is a consistent source of motivation and joy during my week. When the school year is over, I will really miss our sessions, reading Captain Underpants books together, and just seeing the positive effects our program has on kids.
It's always nice to be able to visit our centers because it gives us a good chance to catch up with the site coordinators, help with makeups, or observe sessions. It's wonderful to get to watch the students work with their tutors — building relationships and learning all at the same time!
Looking back on my service as a volunteer coordinator
I have really enjoyed being a part of Reading Partners this year. Despite the hectic schedules and long days, my position has been very been enriching and rewarding. Not many experiences allow you to personally see the impact you are making as part of such an amazing organization.
Just this school year, we exceeded our goals and were able to provide tutoring for more than 1,100 students with the help of over 1,000 weekly volunteers! We also continued to strengthen relationships with wonderful community partners such as Bank of America, EY, Texas Instruments, and United Way. Since Reading Partners North Texas expanded to 24 sites this year, it was important to cultivate new community partnerships, especially in new areas served by Reading Partners. Our partners participated in nearly a dozen one-day team tutoring events and donated thousands of books for our centers and summer reading packets. It's amazing what I have been able to accomplish with the Reading Partners North Texas team in just one short year.