October 20, 2014
Autumn "BOOks" for Kids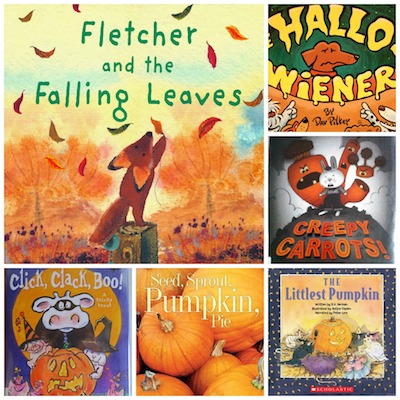 October isn't just about carving pumpkins, making costumes, and eating candy. At our reading centers, kids are digging into Halloween- and fall-related stories. Our top autumn book picks for kids are sure to make kids laugh, learn, and explore their creativity.
The Hallo-wiener by Dav Pilkey. Oscar the dachshund is laughed at by other dogs because of his embarrassing hot dog costume. When they go trick-or-treating, it turns out his costume has life-saving abilities!
In a Dark, Dark Room and Other Scary Stories by Alvin Schwartz. A collection of stories about skeletons, pirates, corpses, graveyards, and a mysterious girl who won't take her green ribbon off…
Fletcher and the Falling Leaves by Julia Rawlinson. Fletcher the fox is worried that his favorite tree is sick. Its leaves are turning brown and dropping, but Fletcher is delighted by an unexpected surprise on the first day of winter.
Seed, Sprout, Pumpkin, Pie by Jill Esbaum. Have you ever wondered how a seed can become part of a pumpkin pie? This book explores the pumpkin life cycle with gorgeous glossy photographs.
The Littlest Pumpkin by R. A. Herman. All pumpkins dream of becoming jack-o-lanterns, but everyone thinks the littlest pumpkin is too small. On Halloween, a group of mice at the farm stand make the littlest pumpkin's dream come true!
Click, Clack, Boo by Doreen Cronin. Farmer Brown hates Halloween, but his farm animals don't — they're ready to party Halloween night away! Annoyed by the festivities, he reluctantly joins the party.
These are great picks to help kids get excited about reading!