September 8, 2014
How to Become a Literacy Champion - Int'l Literacy Day 2014
"Literacy is a key lever of change and a practical tool of empowerment on each of the three main pillars of sustainable development: economic development, social development and environmental protection."  

-Former UN Secretary-General, Kofi Annan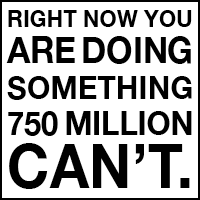 For nearly half a century, September 8 has been recognized as International Literacy Day. This is a day to celebrate the joys of reading – whether it's reading under the blankets with a flashlight, or reading a series that comes to define a generation. Beyond celebrating the joys of reading, International Literacy Day is a day of awareness. A day to recognize that reading is more than just a hobby, but a lifelong skill, essential to every facet of life including the the most simple tasks.
Imagine a day in your life without knowing how to read. How would you apply for a job? How would you get from place to place? How would you interact with technology? For the 32 million adults in the United States who cannot read, this is their daily struggle.
Let's take some time to think about the more than 120 million children and the approximately 775 million men and women around the world who cannot read. They don't have pleasure of experiencing the joys of reading nor do they have the opportunities that arise from having a foundation of literacy. Today let's consider what we can do to become champions of literacy. Let's think about how we can spend a little time each week to help students reach for the stars when it comes to reading.
How can you become a literacy champion and help students reach for the stars?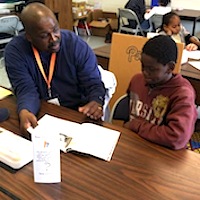 Volunteer.
By volunteering to become a reading partner for a child in need, you can help change the educational and life opportunities for a child struggling to read. Volunteer reading partners make a real difference, working one-on-one with students helping them increase their rate of literacy learning and building confidence in their reading abilities. Not to mention, reading partners help foster a love of reading.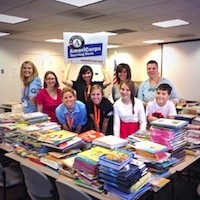 Give books.
Kids who live in homes without books or have barriers in accessing books enter school already behind. By donating books, or funds to give children access to books, you can ensure that more kids have even more opportunities to practice reading and become familiar with books.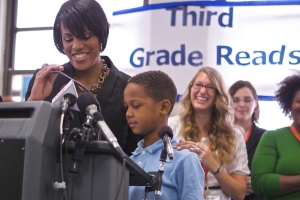 Become an advocate.
By becoming an advocate for literacy and sharing your knowledge makes a big difference in the literacy movement. You are one of many who can make a difference by building awareness. Share current events and literacy facts and statistics online and encourage your network to join you as a literacy champion.
While we are celebrating the joy of reading today, we must also continue to push for reading as a right that everyone can access. Get involved with the literacy movement, become a literacy champion.
Learn more about how you can make a difference in kid's lives in the U.S.