December 10, 2013
Becoming a Successful Tutor: Tutor training and support
Reading Partners puts students and tutors at the heart of our program. Reading Partners' students gain an average of 1.6 months of reading skills for each month spent in the program, all thanks to their tutors. With a simple training process tutors become equipped to meet the needs of their students. Here is an inside look at the process of becoming a tutor.
Learning the Ropes
Before a new tutor starts their very first tutoring session, they will typically undergo two different trainings – an online New Tutor Orientation and an in-person Shadow Session.
The goal of the New Tutor Orientation is to provide a new tutor with a brief introduction to the organization and to the Reading Partners program model.
A Shadow Session is typically a tutor's first introduction to the reading center and to the Reading Partners curriculum. During the Shadow Session, new tutors receive an in-depth training on the core components of the reading center. The Shadow Session is also an opportunity for new tutors to ask their Site Coordinator questions prior to starting and to get their paperwork ready for their first tutoring session.
Lesson Zero
Once a tutor has completed their Shadow Session they are ready to start in the reading center! During the very first tutoring session all tutors complete a special lesson with their student called "Lesson Zero".  Lesson Zero is designed to ease tutors into the curriculum and to get to know their student before transitioning fully into the Reading Partners curriculum.
On-Going Support
Once the initial tutor training is complete, tutors continue to receive on-going support from their Site Coordinators. Some Site Coordinators float around the reading center offering direct and immediate support during a tutoring session, others leave Post-It notes with suggestions or observations in the tutor folder, and sometimes they offer feedback and suggestions after the tutoring session. Site Coordinators check-in with tutors often to ensure that tutors have the resources they need to provide successful tutoring sessions to their students.
Keys To Success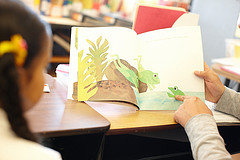 Each region offers monthly tutor training modules called "Keys to Success" that focus on the core competencies for our tutors. These modules are designed to support tutors in the center and focus on areas such as: vocabulary, student motivation, discussing books with students, etc… We encourage all of our tutors to attend these trainings to learn additional skills and create opportunities in their communities.
Reading Partners recognizes that tutors come to our program with varying levels of experience working with young students and teaching reading. With that in mind, Reading Partners provides a detailed system of tutor support and trainings for all of our tutors whether brand-new or returning for their 4th year.