March 5, 2014
Budding Young Leaders Turned Reading Partners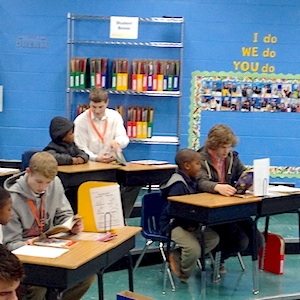 In Tulsa, Reading Partners teamed up with students in ten local high schools–hosting groups of high school aged volunteer tutors every Friday in February. These volunteer high school students led students through a total of 270 make-up sessions!
Reading Partners is committed to engaging community volunteers that work one-on-one with K-5 grade students twice a week. When students or tutors miss a session, it is important to offer make-up sessions to avoid having students fall behind in their reading progress. This is why Reading Partners Tulsa was thrilled to host students from local high schools who paired up with Reading Partners' students, guiding students through make-up reading sessions.
All of the high school students who participated in make-up session events were members of Business Professionals of America (BPA) and/or DECA. Both BPA and DECA are national organizations that promote entrepreneurial development and leadership among high school aged youth and young adults.
The high school volunteers were shining examples of great leadership, they were kind, compassionate, and collaborative during their tutoring sessions.
Jessica Smith, Reading Partners Program Manager, had this to say about her experience interacting and observing the high school students tutoring their younger peers:
"The elementary students enjoyed their time with tutors who were closer to their age group, and the high school students were really enthusiastic about the overall mission of bringing struggling students up to grade level. [The high school students] catch on quickly to the curriculum and really enjoyed their time teaching and discussing books with students."
February came to an end and as a token gesture of gratitude, students from ten participating schools presented Reading Partners Tulsa with a video highlighting their month of service:
Participating High Schools Included: Webster High School, East Central High School, Edison High School, Hale High School, Tulsa Met High School, Memorial High School, Central High School, Rogers High School, McLain High School, Booker T. Washington High School.