March 1, 2016
Christa McAuliffe Elementary gives the gift of reading to thousands across Silicon Valley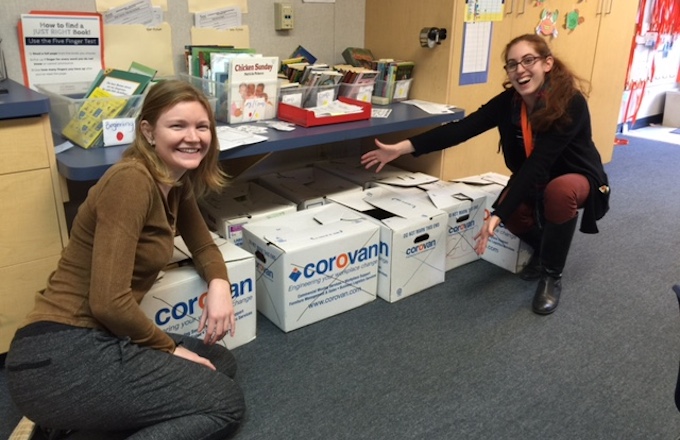 Nancy Neinchel's room at Christa McAuliffe Elementary is exactly what you would expect from a first-grade class: colorful posters, the occasional toy, and shelves upon shelves of books. You would never expect that just a month before, the classroom was filled to the brim with thousands of books that Nancy's students had collected to donate to children across Silicon Valley.
In a campaign to encourage the Christa McAuliffe community to give the gift of reading to underserved students, Nancy's class collected over 6,000 books for Reading Partners Silicon Valley. The first-grade students created signs, delivered presentations to all of Christa McAuliffe's classes, and, of course, raided their own collections to find books they could part with.
"I have a lot of books at home and I don't really read all of them every single day," one student said. "So I asked my little baby brother if he wanted to read this book, and if he wanted to keep this book, and for some of the books he said no. So I wanted to give them away."
While this is the first year that Nancy's class was able to raise such a staggering number of books, it is not the first time that she and her students have led a Gift of Reading campaign. In fact, this annual book drive began when Nancy's daughter was only 13 years old and in search of a way to contribute to the broader community.
"My daughter Lisa, when she was at school here, did something called a Mitzvah. And a Mitzvah means you give back to others. She thought: what a great idea to collect books and give them to kids who don't have the opportunity to have books." Nancy explained, "Our first time, we collected 2,000 books. Ever since then, my first grade class has been the leader of it. But the whole school helped us. We couldn't have done it alone."
"It's kind of like a … what is it called? A tradition." Her student added.
When asked for a message that they would like to pass on to the child who received their books, one student said, "Please take care of the books because they are very special."
A few others simply said, "Enjoy!"
Another warned, "Don't put the book in the oven because then when you're baking cookies you might also bake the book."
"Now we're getting silly." Nancy said with a smile.
She looked out at her students as they sat with her in the bright, lively classroom. "I would just like to say: happy journey. I hope you love the books and that you'll keep reading forever and ever."
Reading Partners received 7,500 book donations this holiday season thanks to the generosity of Christa McAuliffe Elementary and the following community partners:
Downtown Ice, Santa Run Silicon Valley, Temple Emanu-El, Saint Francis High School Book Club, Stand Up! Speak Up!, Linden Tree Children's Books, Resource Area for Teaching (RAFT), Bundles of Books, Stewardess Emeritus Association, Sunnyvale Department of Public Safety, Umpqua Bank, Ernst and Young, Clever Girls Collective, Menlo College Water Polo, Sunnyvale Presbyterian Church, and the James Logan High School Puente Program