November 20, 2013
College students give and receive with Reading Partners in Los Angeles
For El Camino College students Carolina Gonzalez and Cooper Truong, tutoring with Reading Partners comes with an unexpected perk. Both students receive paid Work-Study hours through the college, but they also notice that in coaching their students to become better readers, they have become stronger readers themselves.
Unexpected Benefits from Tutoring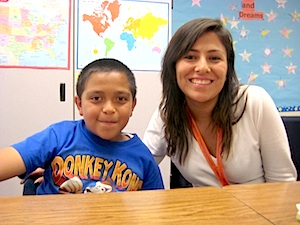 Using the Reading Partners' curriculum, Carolina and Cooper teach foundational reading strategies to their students, which include re-reading a passage for understanding, sounding out unfamiliar words, and asking questions of the text. From teaching their students, the tutors reinforce their own understanding of best practices in reading, and apply these same strategies to their college coursework with great success. "I notice that now I am reading faster and understanding more," says Carolina, "now when I'm reading to myself, it's like I'm reading to one of my students."
Cooper also noticed changes in his reading style after tutoring students. "Helping my students read the text again to find an answer has shown me that I can do that too," he said. "Before, I didn't ask a lot of questions while reading, but seeing how I ask the kids a lot of questions has taught me to do that to myself."
The Work Study Program
Carolina and Cooper tutor at Anderson Elementary in Los Angeles. Both found Reading Partners through the Federal Work Study program at El Camino College. As a part of their financial aid package, the Work-Study program provides paid work hours for Cooper and Carolina to volunteer with Reading Partners several hours per week. Carolina chose Reading Partners because she wants to enter the education field, while Cooper enjoys the challenge and sense of accomplishment from tutoring struggling readers.
A Smart Volunteer Choice for College Students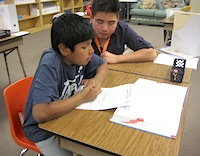 Cooper recommends volunteering with Reading Partners to his peers because "it helps you get to know yourself." Carolina adds that Reading Partners "builds self-discipline because you are the adult and the role model for that child. You want to be a good role model for the student so they can have a positive outcome in their life."
Reading Partners offers tutoring sessions throughout the school day, as well as after school, which are flexible hours that fit neatly into college students' busy schedules. Carolina praises Reading Partners for its flexible scheduling, and the restorative sense of purpose she feels when she tutors her student. "I'm not exhausted at the end of the day. I can still go to school and get my homework done," she explains.
Many colleges and classes offer extra credit or intern hours for volunteering. Reading Partners offers a truly wonderful (and convenient) volunteer experience for college students. Teaching children to read is fun, rewarding, flexible, and comes with some unexpected benefits. To find out more about how you can volunteer as a tutor to change a child's life, visit www.readingpartners.org.