June 22, 2016
A day in the life of a Reading Partners AmeriCorps literacy lead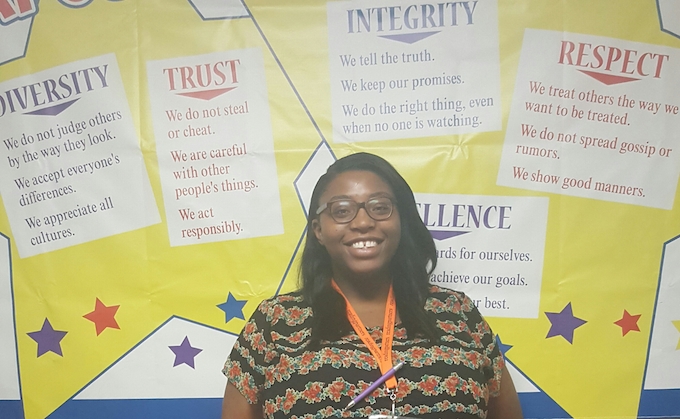 This year I have served with Reading Partners as an AmeriCorps literacy lead in Baltimore. In my role, I am responsible for providing direct tutoring support to Reading Partners students who are in need of more intensive literacy strategies to meet their learning needs. The AmeriCorps literacy lead is the newest role at Reading Partners, and is expanding to six new regions in 2016-17.
I collaborate with the site coordinator at Arundel Elementary/Middle School, while also providing quality and consistent tutoring to students enrolled in the program. As a literacy lead at Arundel, I've been paired with a total of 17 students and have given makeup sessions to over half of the 67 students enrolled
My typical morning
Anyone who works with children will probably agree that there is no typical day, but I do try to stick to somewhat of a schedule. My days usually begin around 7:45 am. I arrive at Arundel, have an informal check-in with the site coordinator, Jeff, and make sure I have all of the necessary supplies for my first three sessions, because they are usually back-to-back. The volunteer reading partners begin to roll in around 8 am, which is when Jeff and I greet tutors and make sure they are all set for their sessions.
Morning announcements end around 8:10 am, which is typically when I head down to pick-up my first student. On my short trip down the halls, hugs, hellos, and good mornings are always provided by various students; making this the best part of my day. From 8:15 until 11 am, I tutor and then I have my first break. During my break I write tutor notes, fill out my attendance doc, and try to squeeze in lunch before noon.
Afternoons at Arundel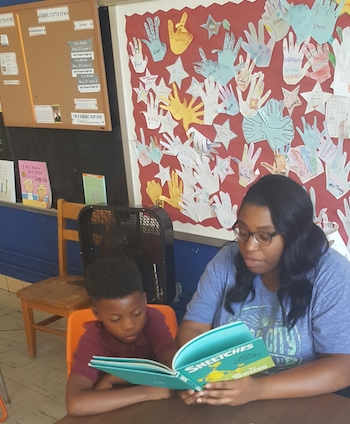 Around 12:10 pm, tutoring starts back up and unless it's Monday or Friday, tutoring continues through our after-school programs until 5 pm. Afternoons are a lot less hectic because there are fewer tutors, so I scheduled these times for my students who have trouble concentrating or focusing. There is another break at 2 pm, where I continue with tutor notes, attendance, and check my email. This is also the time when Jeff and I will have a mid-day check-in to discuss student progress, tutoring strategies, and of course, share cute or not so cute stories about the students we have worked with that day.
After-school volunteers begin to arrive at 3 pm for their sessions. So, once again, I grab my necessary supplies and prepare for my last two sessions. Students in the BELL afterschool program tend to be in one of three places: the classroom assigned to them, the cafeteria, or outside. Their whereabouts change daily, so every day is an adventure!  After the last two sessions of the day, Jeff and I pack up and head out.
A year of service
Being a literacy lead at Reading Partners is the best of both worlds. You get to enjoy the company of awesome tutors and co-workers, but you also get to have conversations with 8-year-olds about whatever is on their mind that day.  Each moment you take to listen to a child talk or read, you are building a bond that will help them to become positive members of their community and better students. Reading Partners is as much about building and sustaining bonds as it is about decreasing the reading gap; because it's all connected.
My year serving as an AmeriCorps literacy lead has been one of the most rewarding and challenging years to date. This role and these students have changed my life forever and I'm so glad that I was given this amazing opportunity.