February 24, 2020
PRESS RELEASE: Early Literacy Nonprofit Endorses Top Books to Read with Children During the Presidential Election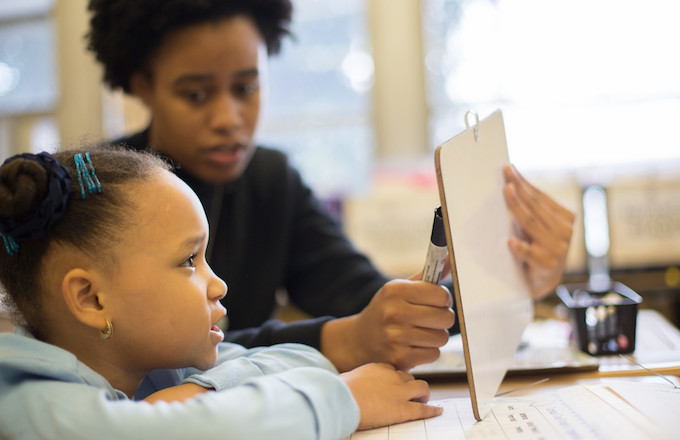 #ReadingMatters2020 booklist aims to empower parents to prioritize reading amidst US literacy crisis
Oakland, California, Feb. 24, 2020 (GLOBE NEWSWIRE) — Reading Partners, an early literacy nonprofit dedicated to mobilizing community volunteers to tutor students in under-resourced schools, today shares a list of recommended books for parents to read with their children during the presidential election cycle. The booklist was curated as part of its nonpartisan campaign, #ReadingMatters2020 to inject conversations about literacy into the democratic process taking place across the nation in 2020.
"It is absolutely essential that we elevate awareness of the US literacy crisis across party lines during the 2020 campaign cycle," said Karine Apollon, CEO, Reading Partners. "We decided to create this booklist as a way to engage parents and ultimately children, empowering them with an important dialogue focused on democracy and inclusive messages such as 'every voice matters' and 'anyone can become President'. The result is a list of inspirational books that will help to educate, entertain and diversify reading libraries at home." 
Research shows that students who are not reading at grade level by fourth grade are four times less likely to graduate on time. Additionally, 2019 National Assessment of Educational Progress (NAEP) scores reveal that only 35 percent of US fourth graders are reading at grade level—and only 21 percent of economically disadvantaged fourth graders. Today, it is estimated that 32 million adults in the US cannot read. Addressing the literacy crisis in the early elementary years, can help end the destructive trends of cyclical poverty and racial inequality.
"The content we choose to put in front of our children is of the utmost importance," continued Apollon. "Empowering children with books that both represent them and teach them about the broader world in which they live is absolutely critical. Teaching all children about the role they play in society — and that their voices matter, that their votes will one day matter — is all part of a thriving democracy."
#ReadingMatters2020 booklist 
In addition to the booklist, #ReadingMatters2020 highlights three key actions people can take to strengthen their local communities by advocating and activating around early literacy.
CONTRIBUTE – Become a volunteer tutor or donor with a proven program like Reading Partners to help young students build the reading skills and confidence they will need to reach their full potential.
SHARE – Share the #ReadingMatters2020 campaign video to spread the word about the positive ripple effect that comes from helping a child learn to read.
ADVOCATE – Tell your local, state, and national elected officials that literacy is an important issue they cannot ignore.
To become a volunteer with Reading Partners, go to readingpartners.org, or to learn more about the #ReadingMatters2020 campaign, please visit readingpartners.org/readingmatters2020 today.
---
About Reading Partners
For more than 20 years, Reading Partners has empowered students to succeed in reading and in life by engaging community volunteers to provide one-on-one tutoring. Since its founding, the national nonprofit organization has mobilized more than 60,000 community volunteers to provide proven, individualized literacy tutoring to nearly 60,000 elementary school students in over 400 under-resourced schools across ten states and the District of Columbia. Visit readingpartners.org to learn more about our program impact, or connect with us on Facebook, LinkedIn, Twitter, and Instagram.
Attachments
For media inquiries, contact:
Julia Strasdauskas
Collins + Co.
4432997751
julia@collins-company.com