July 23, 2013
Expanding to Tulsa to Serve Students in Oklahoma's Highest Need Schools
This fall, Reading Partners will open its tenth region in Tulsa, Oklahoma.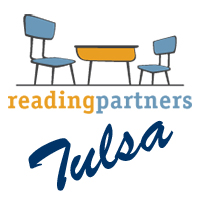 We are thrilled to announce that this fall Reading Partners will expand its program to Tulsa, Oklahoma! Partnering with Tulsa Public Schools, with funding from the George Kaiser Family Foundation and others, we will serve students in nine schools during the 2013-14 school year.
"Success in life is tied in very closely with being a successful reader," said Dr. Keith Ballard, Superintendent of Tulsa Public Schools. "TPS is committed to improving reading skills for young people so they can be high-achieving and be on a successful trajectory for college or career. We are so pleased to have the support of Reading Partners in nine of our schools. Together, I know we will make a tremendous difference in these young lives."
Reading Partners selected Tulsa as an expansion site based on interest from school district leaders in partnering with us to provide our high-quality literacy intervention program to address the region's significant achievement gap. Today, only 1 in 4 Oklahoma fourth graders is reading at a proficient level, and 36% lack even basic literacy skills.
Another contributing factor is Oklahoma's Reading Sufficiency Act, which requires schools to retain students who do not pass a reading test and do not meet other criteria for exemptions by the end of the third grade. Oklahoma fails to provide any funding for schools to identify students struggling with reading and to provide supports to get them back on track.
With your support, we are poised to make a big difference in the lives of Tulsa students, their families, and the community. If you know someone in the Tulsa area who would make a great tutor or member of our team, contact Outreach Manager Cassandra Love at cassandra.love@readingpartners.org.