April 24, 2017
Family volunteering: Three generations of reading partners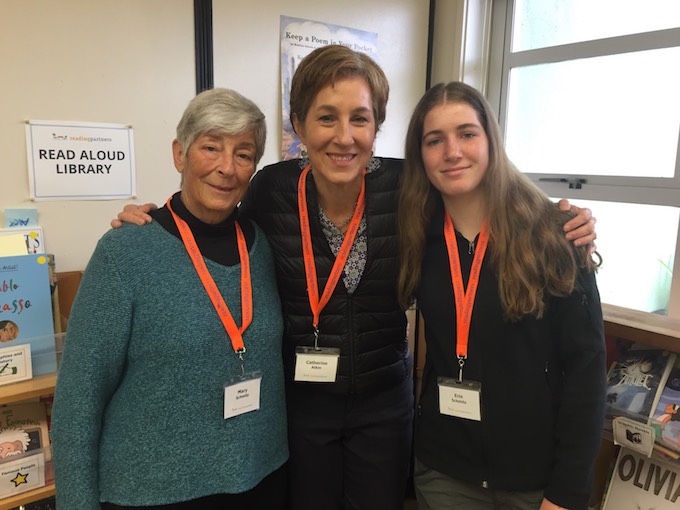 For Mary Schmitz, Catherine Atkin, and Erin Schmitz, volunteering is not only a way to give back to their community, but also a way to grow stronger as a family.
Mary, Catherine, and Erin are three generations of the same family, all serving at Manzanita SEED Elementary School in East Oakland. As a family, they hold strong values of commitment to student growth and giving back to the community where they live.
Catherine first discovered Reading Partners through her own early education work as executive director of Early Learning Lab in the Bay Area. She was immediately drawn to the Reading Partners program because she admired the evidence-based literacy curriculum. She recruited her high school-aged daughter, Erin, to join her as a volunteer, and the two began tutoring in their home city of Oakland. Shortly after their first session, Catherine shared her experience with her mother-in-law, Mary, who also expressed interest in getting involved.
"It's been a year since my husband died. I'm 78, and it's easier for me to stay inside," Mary explained. "Catherine told me, 'When you're ready to go outside and get involved, I have the thing for you.' Reading Partners helps me get over the lack of commitment, to do something other than what's in my own home…."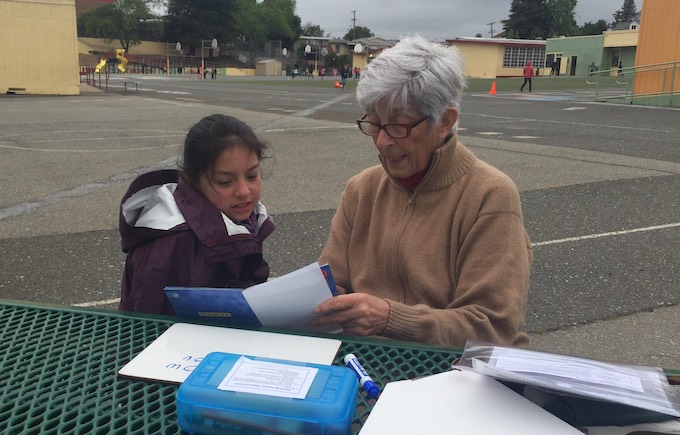 Soon after Mary began tutoring with Reading Partners, she understood why her daughter-in-law and granddaughter were so excited by the program.
This is a very good way of letting someone who is not a teacher, but wants to help, make a difference. By giving us directions, it makes it a more productive way to help the kids," Mary said.
As a high school student, Erin is passionate about reading and helping others grow in their reading skills. In elementary school, she would spend her lunches and recesses reading and loved being swept up in stories. Now she appreciates the chance to help other students foster that same love of reading. "For most of the day I'm a student, and I'm learning to read and write. Then I get to go to Reading Partners and see the other side of it. It's interesting to get into the teacher's mindset," she said.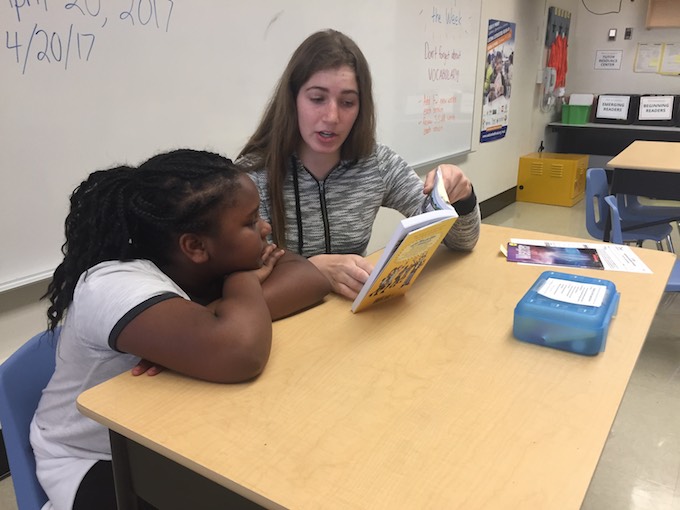 For all three women, volunteering with Reading Partners has been a wonderful experience, and they have especially enjoyed sharing the experience together.
"Volunteering with Reading Partners has been meaningful on so many levels. I was already so excited that I could participate in literacy-related volunteer work in my own backyard and do it with my teenage daughter," Catherine explained. "My mother-in-law is an amazing person who has done so much in the Oakland community. It is very special to be connected to something with two of my favorite women!"
Erin is inspired by her mother and grandmother who show their commitment to education: "I think it's important to know that my whole family values reading. We think that it's really important not just for skill building, but it expresses creativity, and it's something you use throughout your life. My grandma shows that it's not just something that's important when you're young."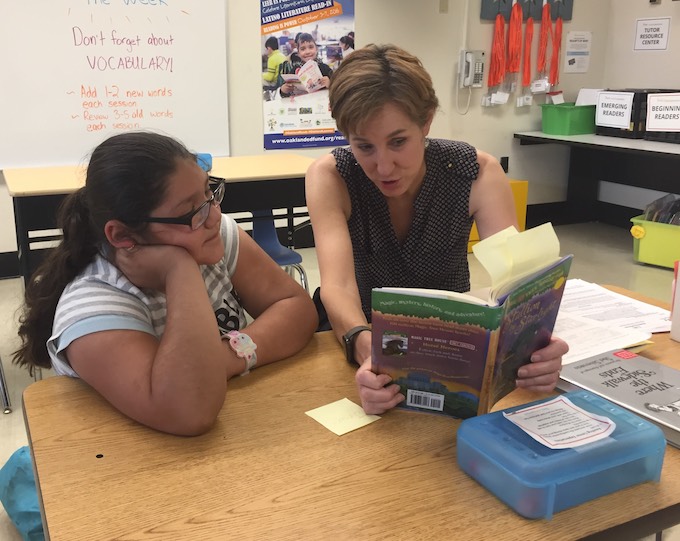 Mary, Catherine, and Erin embody strong family values of education and service, showing how the benefits of volunteerism can span generations of volunteers. Thanks to these women and their passions and values, three lucky students have been supported in fostering their own love of reading. No matter our age, all of us can take action to make our communities brighter, healthier, and more vibrant.