September 14, 2015
Fifth graders spend their summer spreading a love of reading through community book drive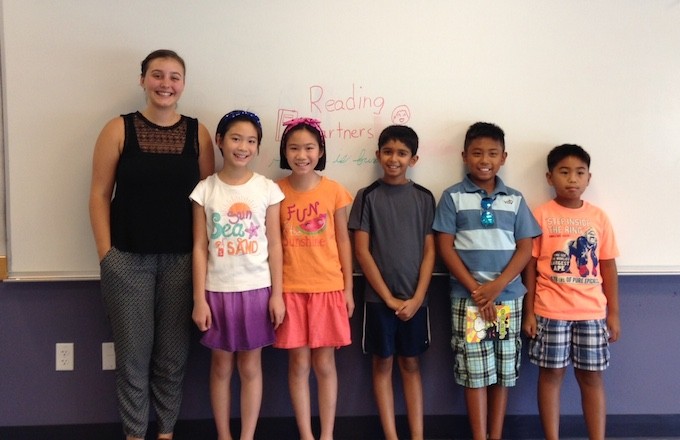 For most kids, summer is a time to relax and have fun without thinking too much about school. However, the Boys Club of Natomas and Girl Scout Troop 2563 had a different idea, and spent this past summer making a difference for their elementary school peers. These passionate 5th graders dedicated their summers to organizing a book drive to help fill the Take Reading Home libraries at Reading Partners Sacramento.
They started by placing decorated book drive boxes around their community, then they wrote notes of encouragement to include in the books and help motivate students at the beginning of the school year.
Over the summer, they collected more than 200 books that have been donated to Reading Partners. Throughout the year, Reading Partners students will be able to choose books after each session to take home and keep as a way to build their own home libraries and have new books to read with their families each week.
This book drive was not only a benefit for Reading Partners students, but was also a learning experience for the students of the Boys Club and Girl Scout Troop. When they delivered the collected books to Reading Partners, they had a chance to talk with the staff about what it means to work at a nonprofit, as well as discuss some of their favorite books — Goosebumps and Harry Potter, to name a couple.
As one of the students, Akshaj, noted, "You need reading for everything!" Understanding that reading is a fundamental skill at this age is a wonderful attribute and will help these kids become lifelong learners.
These students are a great demonstration of what can happen when people come together for a common cause. Their joy and enthusiasm for reading will benefit many students in the Reading Partners Sacramento program.
Thank you Akshaj, Zerlan, Matthew, Mihir, Connor, Ved, Jonathan, Emi, Kayli, Kylie, Adrian, Courtney, Evelyn, Victoria, Cheryl, Katie, Jaden, and Daniel for sharing your love of reading with your community!