April 6, 2017
Former Tulsa superintendent becomes AmeriCorps member for a day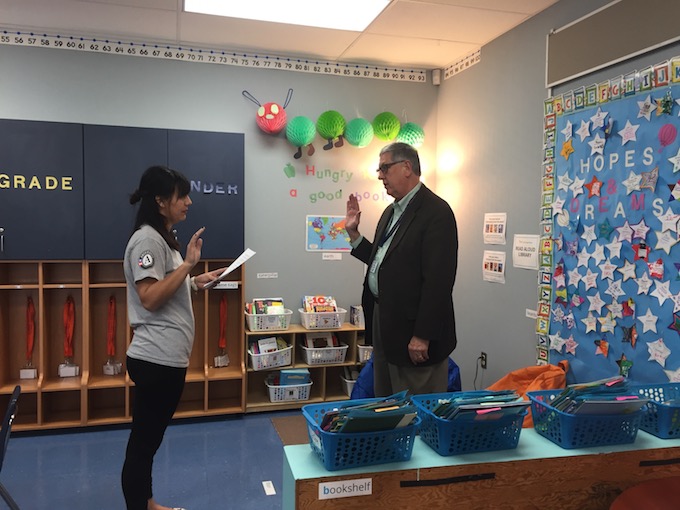 As the former superintendent of Tulsa Public Schools, Dr. Keith Ballard has filled many roles in the world of education, from classroom teacher, to superintendent, to college professor. On March 6, he found one more role to cross off his list as he pledged to serve as an AmeriCorps member for a day at Eugene Field Elementary School.
If you aren't familiar with AmeriCorps, it's a program in which individuals commit to a year of public service to meet critical needs in the community and gain the professional experience they need to launch their careers. With Reading Partners, AmeriCorps members provide support in schools for both our volunteers and the students we serve.
The majority of Reading Partners' 350 AmeriCorps members across the country serve as site coordinators who handle the logistics of running the reading centers where one-on-one tutoring takes place. Equipped with their own libraries, marker boards, learning activities, and curriculum, reading centers provide a central location in each school where the tutors and students can thrive in learning together. However, being a site coordinator involves so much more than helping volunteers and students. Site coordinators take student attendance, assess students' progress, train new volunteers, and coordinate volunteer and student schedules.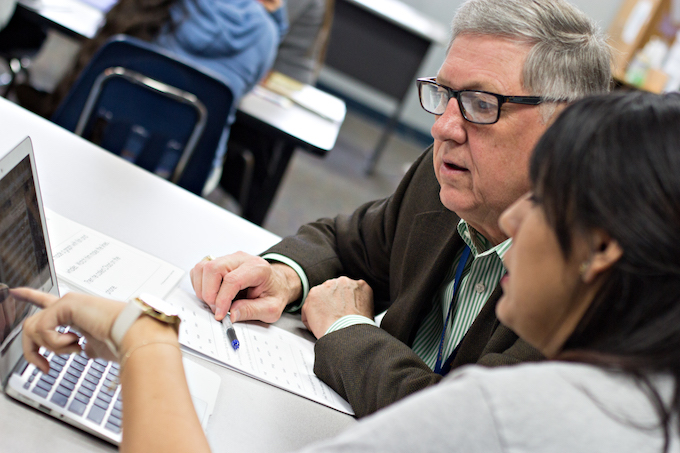 Though this is his third year volunteering with Reading Partners, Dr. Ballard discovered a lot about what goes on behind the scenes to make the program effective. He learned about the steps site coordinators take to track students' progress and how to assess students to determine where they should be placed in the program curriculum.
First on the agenda was leading a Sustain Group, which is a book club for students who recently graduated from the Reading Partners program. Dr. Ballard read aloud to the students, led a discussion, and assisted them in visualizing certain aspects of the story by asking, "What do you think a steam engine looks like?" and  "When you see your grandmother, how do you say hello?" This group helps ensure that students are able to maintain literacy skills and progress beyond reading proficiency.
Dr. Ballard spent the rest of the day doing what he does best: engaging with students and volunteers. He managed to fit in a make-up session with a student to make sure he stayed on track. He also observed and coached volunteers in the center on how to make their sessions more beneficial.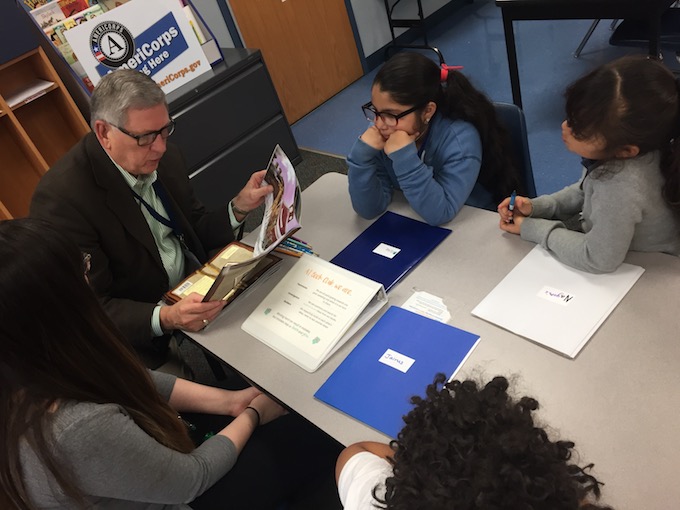 Christa Cervantes, the site coordinator at Eugene Field said, "He genuinely cared and wanted to know more about every student he worked with. He encouraged them all to really think about their answers and try their best."
As the day came to a close, Dr. Ballard left with an experience that proved how much AmeriCorps members do in a day and how vital their work is to our community. He discussed the importance of every child having the opportunity to gain reading proficiency through one-on-one reading instruction from a weekly reading partner.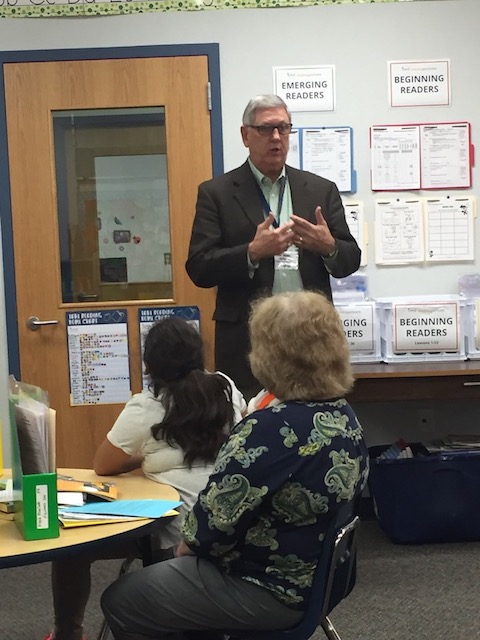 The AmeriCorps pledge that Dr. Ballard recited as he was sworn in as a member concludes with the words, "I am an AmeriCorps member and I will get things done," and that is exactly what AmeriCorps members do in our communities.
In the fiscal year 2018 budget proposal recently sent to Congress, the White House is calling to eliminate funding for the Corporation for National and Community Service (CNCS), which would be devastating for individuals, communities, and organizations who benefit from the work of AmeriCorps members.
Now, more than ever, we must take action to save AmeriCorps and programs supported by CNCS. Use these simple tools from Voices for National Service to let your representatives know how important it will be for them to reject this budget proposal and to protect funding for the CNCS.