March 17, 2016
Four-year Reading Partners volunteer shares what keeps her coming back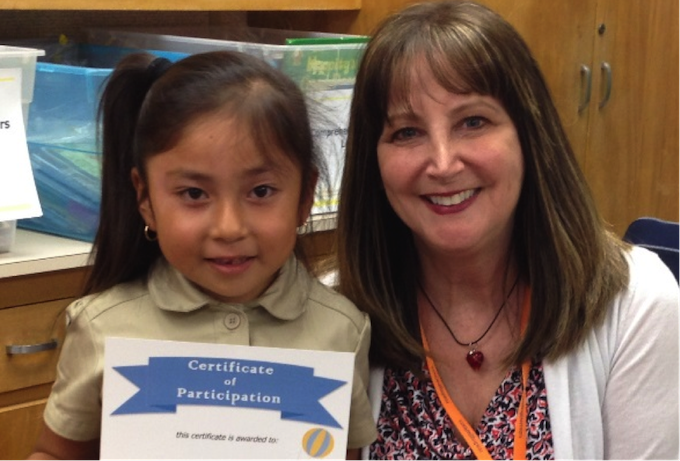 For many of us, experiences involving books are among our most treasured childhood memories. Carol Miller, account manager at Brocade in San Jose, CA, is no different. Carol remembers a childhood full of books with strong female characters and facts about nature. She remembers building forts just to have a quiet, secluded place to read. Carol even remembers resting in her mother's lap as her mother read from Three Billy Goats Gruff.
Despite already being an active volunteer with her church, local animal shelters, and the Second Harvest Food Bank, her love for reading led Carol to yet another volunteer opportunity through 1000 Hearts for 1000 Minds. One day, Brocade was hosting a fair to showcase opportunities for their employees to give back to the community. It was on that day that 1000 Hearts for 1000 Minds, and her personal love of reading, led Carol to Reading Partners. She quickly fell into step with the rhythm of the Reading Partners program, though not without some obstacles along the way.
"I thought when I signed up to be a Reading Partners tutor that I was going to give a student a little extra reading practice … I was so surprised to see that there was a curriculum!" Carol said, "I got so nervous, and thought, 'Oh, I'm not a teacher. I'm going to have to teach these kids something!'"
Carol soon overcame her initial anxiety and found that she and her student were learning more and more each week. With support from her site coordinator, Carol adopted new strategies to effectively guide her student through their lessons and provide the specific support her student needed. Eventually, just like many Reading Partners volunteers, Carol soon came to realize that her tutoring sessions meant much more to her student than an extra hour of reading.
"I received teacher feedback that she's seen improvement in my student's reading. But to be honest, I more or less expected that," Carol admitted. "But what I didn't expect was to receive a handwritten note from my student saying, 'You are the best' and 'I love you so much. You will be my best friend forever.'"
As for her favorite thing about giving back through Reading Partners?
"I love when [students] get an idea and … it's like they show you that they get it in a different way. I read [my student] a story about whales and it talked about how a whale spurts up water through its spout." Carol explains, "I sneezed, and he said, 'Oh! You spurted!' Not only did he get [the lesson], but he got it and applied it in a funny way."
As of 2016, Carol has been Reading Partners volunteer for four years and has tutored more than five students during that time. On why she continues to volunteer, Carol says, "I think as far as finding out your purpose in life, it helps to give back to people … [Reading Partners] goes along with something that I really love to do. If you have something that you enjoy and you're passionate about, it's always great to leverage that in different ways."
She adds, "The brochure says — 'The best experience of my life, other than raising my own children.' I'd like to endorse that. When I leave my tutoring sessions, I have a buoyant feeling of changing the world one student at a time."
A version of this article was published on the 1000 Hearts Blog with 1000 Hearts for 1000 Minds.