December 12, 2013
Give the Gift of Literacy: Tips on supporting reading during the holiday season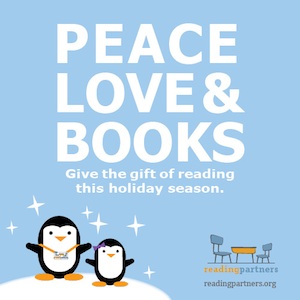 It is no secret that literacy can unlock opportunity for all children. Creating a literacy-rich environment at home, in school, and in the community enhances academic achievement and the likelihood for future success.
According to the Annie E. Casey Foundation report, "Early Warning! Why Reading by the End of Third Grade Matters," the transition from learning to read to reading to learn in third grade is a critical turning point in a child's education. Since we know that every child is capable of success with the right support network, we encourage community members to help support children's capacity for learning and reading.
Creating opportunities for reading at every corner is a great way to nurture a joy of reading. Here are some tips on supporting literacy at home and in the community during the holiday season:
At Home
Make holiday or winter reading a tradition. Read from the same book each year, or give a new holiday book each year.

Make at least one gift a book, even if it didn't make the wish list.

Have your children read holiday cards aloud.

Make homemade holiday cards with your children and have them write personalized messages in each card.

If you enjoy making holiday treats, then have your children read the recipes while you bake together.

Write your own winter books with your children and read them aloud to the family.
In the Community
Donate used or new books to local literacy programs and charities.

Make a gift donation to help support literacy programs in your area.

Sign up to volunteer. Become a reading tutor as your new years resolution!

Participate in local literacy events at libraries and with local charities.
Lets make literacy a priority in 2014. Join thousands of other volunteers, supporters, and advocates committed to narrowing reading achievement gaps in school. We know that literacy unlocks opportunity for the many children waiting and hoping to receive the supplemental support they need to become a success.
       OR