June 24, 2016
Golden State Warriors recognize Reading Partners' students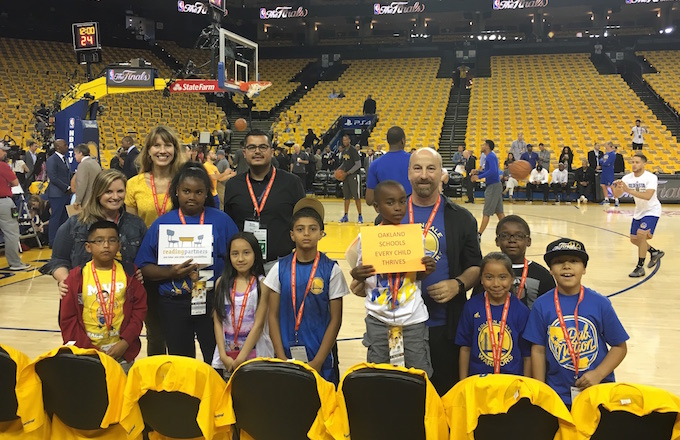 Thanks to our partnership with the Golden State Warriors and the Warriors Community Foundation, a group of eight Reading Partners SF Bay Area students from Allendale Elementary and Think College Now were invited to Game 7 of the NBA Finals on Sunday, June 19. The students were chaperoned by their principals and two Reading Partners staff members, including Executive Director Michelle Torgerson, and they participated in the full Oracle Zone Experience.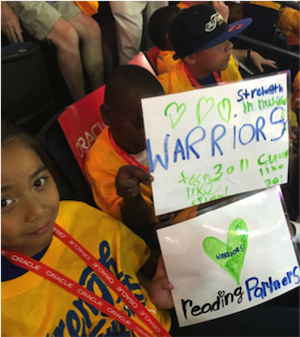 After arriving at Oracle Arena, the group received a behind-the-scenes tour. They then had the opportunity to watch the Warriors' shoot-around and warm-ups in courtside seats before the game began. Our students were excited to make their own signs dedicated to their favorite players, and were thrilled to be featured on the jumbotron during halftime. It was an incredibly meaningful experience and the whole group left feeling proud of the Warriors for their amazing and historic season.
Michelle Torgerson said,
The Warriors continue to amaze us by their support for students and the community. It'll be so exciting to see our partnership grow to provide more students with opportunities that they will carry through life.
Reading Partners and the Warriors Community Foundation have been working together to close the literacy achievement gap since 2014. Since then, the foundation has contributed $127,400 in total to our Bay Area programs. This year alone, their generous support has enabled us to serve 1,539 students at 30 elementary schools across the Bay Area.
We are so thankful to the Warriors for this opportunity and for all of their involvement in Bay Area communities. Their partnership has not only helped us expand to reach more struggling readers, but also has made our students' dreams come true!