March 28, 2016
How volunteering with Reading Partners helped me find my career path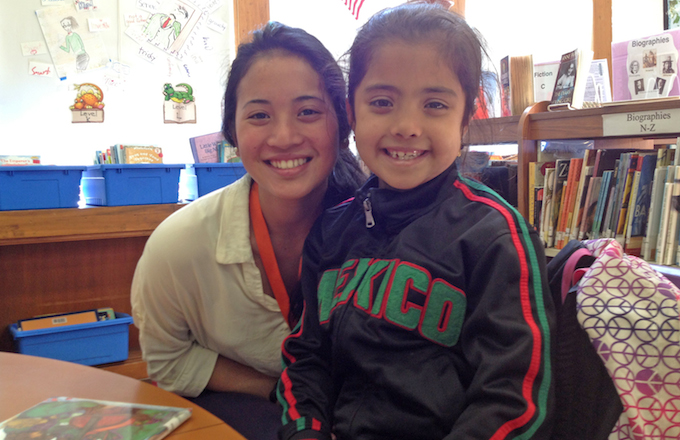 As a senior in high school, the past few years have consisted of big decisions regarding my future. However, it wasn't until about a year and a half ago that I found something that I was truly passionate about.
My first experience with tutoring children was in a special education classroom. With learning and behavioral problems, they were unable to control their emotions or focus on an assignment. However, as I began to work one-on-one with them, I began to see small improvements. Maybe they read 50 words per minute or maybe their number seven was finally facing the right way. No matter the change, big or small, I was proud to see them grow and to know that I was a part of it.
In order to graduate, my high school requires all students to do a senior project. Luckily for me, everyone in my group loved children and promoting the value of education, and it was here that we found Reading Partners. Going into the orientation, I was unclear of what to expect. However, everything was very straightforward and it was comforting to know that if I ever got confused there were clear instructions on how to proceed.
My first time tutoring with Reading Partners was better than I could have ever expected. Never before had I worked with a student who was so enthusiastic and excited to learn. She was very engaged throughout the read aloud — mimicking the characters' emotions and paying close attention to the pictures. When it came time for her to read to me, she read with not only clarity, but also expression, and was able to exceed her goal of words per minute every time. On the last time she read through the story, she was able to reach her all time best score — something that I was very proud to witness. Seeing the happiness on her face and the pride that she felt in herself only made me want to volunteer at Reading Partners more.
By tutoring students in elementary school, and now Reading Partners, I have found something that I am truly passionate about, and in the coming fall I plan to start my college career in pre-occupational therapy. In this capacity I will be able to help others feel competent in their abilities and happy in their lives. By working with these children I have been able to practice this, since being able to read is something that every child should strive toward. I plan to use what I have learned through volunteering at Reading Partners in my career path and to always strive to help others feel as proud of themselves as that little girl did when she read.