May 20, 2016
Interim CEO at Reading Partners is leading through serving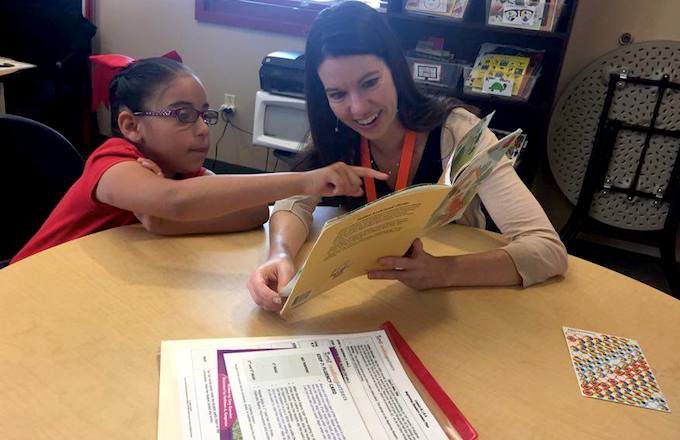 Recently, Jessica Vibberts was named the interim CEO of Reading Partners, but the role she relishes most is volunteering an hour a week as a reading partner to her student, Rachel.
"Last week when I saw you, you didn't know that word. Now you got it!" Jessica Vibberts praised her first-grade student.
"It was easy," Rachel replied, in the most nonchalant way possible.* She smiled at Jessica, as she radiated with confidence.
Rachel's positive attitude demonstrates just how far she has come since joining Reading Partners. Only a few months earlier, she was struggling to identify the sounds of letters, and lacked confidence in her reading ability. After receiving two tutoring sessions per week, Rachel has completed the Reading Partners Emerging Readers curriculum and is proudly reading entire books on her own.
As Reading Partners' chief people officer, Jessica has a passion for finding ways to connect with the people around her. Jessica admits that her first few sessions with Rachel were challenging, but over time, Jessica found ways to relate to her student and, in turn, Rachel grew more comfortable working with Jessica and the Reading Partners curriculum.
"Tutoring Rachel has been really special because she is the same age as my daughter and I have gotten to help both of them learn to read. There was a point earlier in the year when my daughter's teacher called me and my husband in to share that she was concerned about our daughter's progress in reading. It was terrifying — I didn't know how to help her. At the same time, I began working with Rachel and began to see the building blocks of reading skills coming together — both at home and at Reading Partners."
Throughout her tutoring sessions with Rachel, Jessica has continually brought the concepts back to Rachel's real life to help solidify her understanding of the material.
Erin Cohen, senior site coordinator at EnCompass Academy in East Oakland, has seen the relationship between Jessica and Rachel evolve over their time together: "Jessica is an intuitive, patient, and encouraging tutor. Rachel is very shy, and Jessica has risen to the challenge and has helped Rachel become a noticeably more confident student this semester."
Jessica's time spent tutoring helps her stay grounded in the Reading Partners mission. While she serves as Reading Partners' interim CEO, she hopes to encourage others to keep students at the heart of the work — inside the office, in reading centers, and in the hearts and minds of our network.
To me, the kid is at the center of all we do. So, every person we hire, every decision we make, every dollar we spend needs to be in support of that.
Jessica has made a meaningful impact throughout her career by advocating for students' right to quality education. As a first-generation college graduate, growing up in a community where only a third of her high school peers graduated college-ready, she is acutely aware of the pervasive lack of educational opportunities available to many children. After graduating from Sonoma State University, Jessica felt compelled to make a difference and soon joined the team at Summer Search as a program associate. She rapidly advanced to serve as executive director, then chief operating officer. Since joining the Reading Partners team in 2015 as chief people officer, Jessica has worked tirelessly to help the staff grow and align with the organization's values and mission.
"I spent most of my career working with teenagers. While most of them could read — some not terribly well, though — many of their parents could not. I saw the devastating effects of this, from loss of confidence, to loss of economic opportunities, and how it affected their families and communities," she said.
Jessica's professional experience and passion for the Reading Partners mission have made her a strong and well-admired leader throughout the organization. As Reading Partners continues to expand, reaching more students and achieving deeper levels of impact each year, Jessica is well-positioned, with the support of her executive team and incredible staff and AmeriCorps members across the organization, to lead Reading Partners through its first CEO search since the organization was conceived more than a decade ago. And she will be doing so while continuing to prioritize spending time and reading with inspiring students like Rachel.
*Student name has been changed to protect confidentiality.