February 15, 2014
Jennifer & Rachel's Story: Everyone's a reader, some just haven't found the right book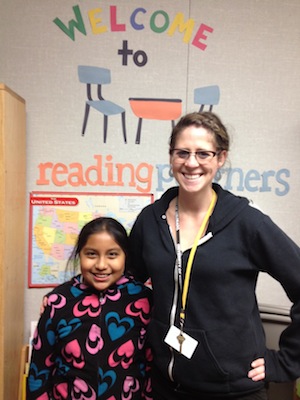 Jennifer, a third-grade student at Leonard Flynn Elementary in the Mission District of San Francisco, enrolled in Reading Partners in November, 2013. And after 3 short months with Reading Partners it has become apparent that she isn't short on enthusiasm for reading – when asked for an interesting fact about herself, her love of reading is the first thing that comes to mind.
Her tutor, Rachel, is continuously impressed by Jennifer's willingness to learn:
"She has a really good understanding of how important her education is, and takes it pretty seriously. It is really impressive because I don't think that a lot of kids think about that," says Jennifer.
As a one-on-one paraprofessional at a local high school, Rachel knows the importance of individual educational support. The pair is currently working on inferences, moving beyond simply reading the words on the page into thinking critically about what is happening and what will happen in the story. They're reading Jennifer's favorite book, which keeps her interested and motivates her to delve deeper into the story. Jennifer finds this lesson tough but rewarding thanks to Rachel's help: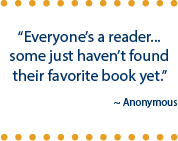 "My favorite book is called Dreams. It's about a boy who couldn't fall asleep so it was about like, inferences…we have to look at the picture. It is a clue for us. We figure out that his name is Roberto and he thought that he would never dream, but he did dream. I figured it out because Rachel helped me get some clues about it. I wanted to be Roberto!"
Rachel loves seeing Jennifer's steady progress in reading, especially when they have a "breakthrough lesson" like the day they read Dreams.
"Today I saw it really click with her [the lesson about making inferences] when I mentioned how she probably made a ton [of inferences] today and didn't really think about it–She kind of had an 'aha' moment," said Rachel.
Thanks to Jennifer and Rachel's hard work in the reading center, Jennifer is quickly learning to not only read the text in front of her, but to comprehend its meaning in more complex ways.
Reading Partners' model of structured, personalized curriculum and one-on-one instruction gives Jennifer the time and support she needs to make the most of this critical time in her education. As an added bonus, Jennifer has an outlet for her love of reading and a place to explore new books and concepts. As she says, "The thing that I love about Reading Partners is that I get to meet new people and read books that I have never read."