March 12, 2023
Reading Partners' literary-themed March Madness tournament returns with an Empowered Women Edition bracket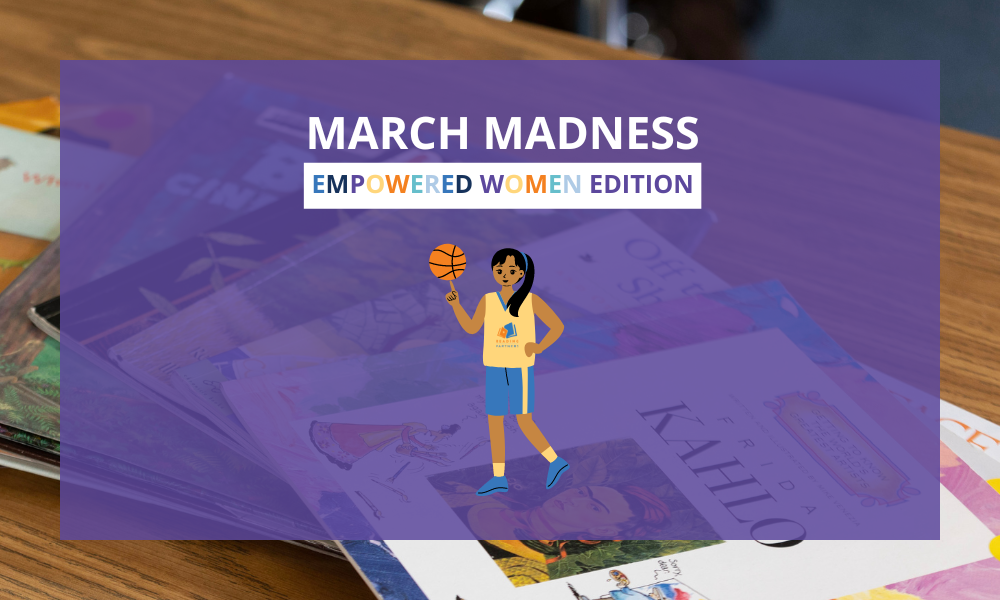 Check out the latest March Madness: Empowered Women Edition bracket (click to enlarge):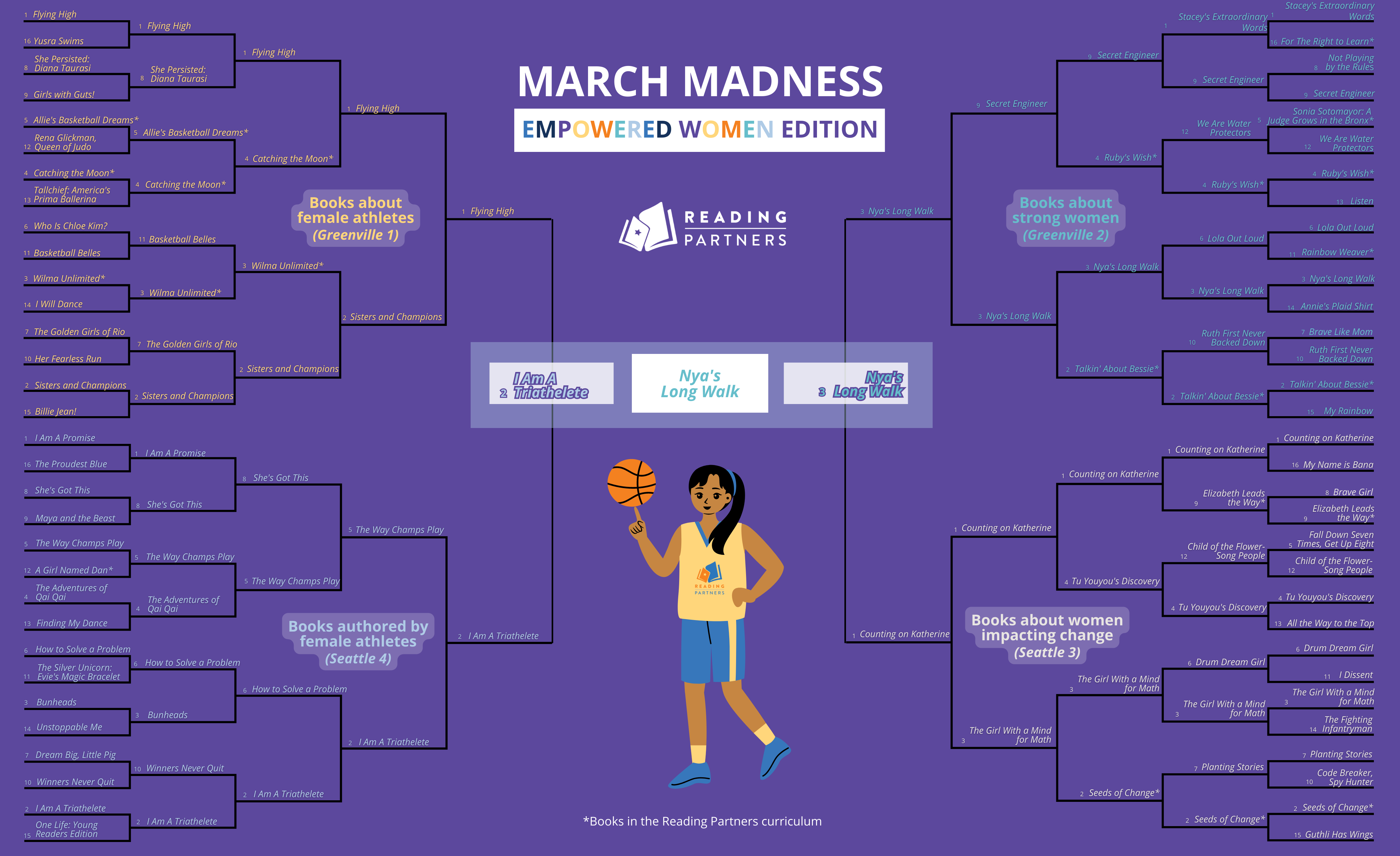 Click here to view the master list of book and team pairings.
Books, basketball, and trailblazing women: A slam dunk combination
When you think of the month of March, certain topics might come to mind: St. Patrick's Day, Mardi Gras, and, of course, "March Madness," the National Collegiate Athletic Association (NCAA) college basketball tournament. Just about every day in March is filled with exciting three-point shots, buzzer-beaters, and unexpected upsets.
March also coincides with Women's History Month, a time to commemorate the important accomplishments and contributions of women, past and present, who have impacted history, societies, and cultures. The idea of recognizing women in history in the United States began as Women's History Week in 1980, but the month-long celebration became official in 1987. Throughout history, women have fought for fair representation and equality. The fight for gender equality and freedom has been carrying on for centuries: women's suffrage, workplace pay equity, property rights, paid family leave, counteracting violence and discrimination, equal access to education and health services. The list goes on and on, and the fight still continues today.
Image source: NCAA
Today, both male and female NCAA basketball teams exist and participate in the tournament. However, this wasn't always the case. The first NCAA tournament began in 1939 with eight male teams and continued to grow in number. For many years, female athletes played on teams but did not have the same opportunities as male athletes. According to the NCAA, between 1966-1967, there were 10 times as many male athletes as female athletes playing collegiate sports. Some schools refused to dedicate funding to maintain women's sports programs. Others didn't have educational or sports programs for girls and women at all. In some cases, games were modified for the women's teams because athletic directors didn't believe females had the stamina or skills to play at the same level as the male players. Even female coaches, like the late great Pat Summit, were getting paid a fraction of what male coaches earned.
In 1972, Title IX of the Education Act Amendments was passed, stating that schools receiving federal funding could not deny access to or exclude any person from taking part in any educational program or athletic activity just because of their sex or gender. This was groundbreaking for women to be able to study the same classes and play the same sports as men. As a result, the number of female athletes playing collegiate sports increased exponentially. And in 1982, the NCAA Women's basketball tournament finally took off. Today, there are 68 women's basketball teams in the NCAA tournament. 
Image source: NPR
Each year, The National Women's History Alliance chooses a theme to help communities around the country guide their Women's History Month celebrations. This year's theme, "Celebrating Women Who Tell Our Stories," aligns perfectly with the mission and core values at Reading Partners, to work with communities to help children become lifelong readers. As part of our curriculum, students are exposed to various genres of children's literature that are inclusive and representative of many cultures, ethnicities, personalities, identities, and abilities. This includes myriad books with female figures or protagonists and others written or illustrated by women.
In honor of all the female athletes playing in this year's Women's NCAA Tournament, Reading Partners has created its second annual March Madness bracket, this year focusing on empowered and impactful women. The March Madness: Empowered Women Edition bracket highlights 64 children's books that tell the stories of strong and resilient females. Our objective is to expose children to empowered women who have played – and continue to play – a major part in society, as well as female protagonists who embody the toughness and tenacity that women around the world display. Just as we have incorporated inclusive, representative literature into our curriculum, our March Madness bracket shines a light on nonfiction and fictional books about female characters from diverse cultures, ethnicities, gender identities, professions, and abilities. Our hope is that students of all backgrounds, especially those from marginalized communities, can see themselves represented and be inspired by these female role models.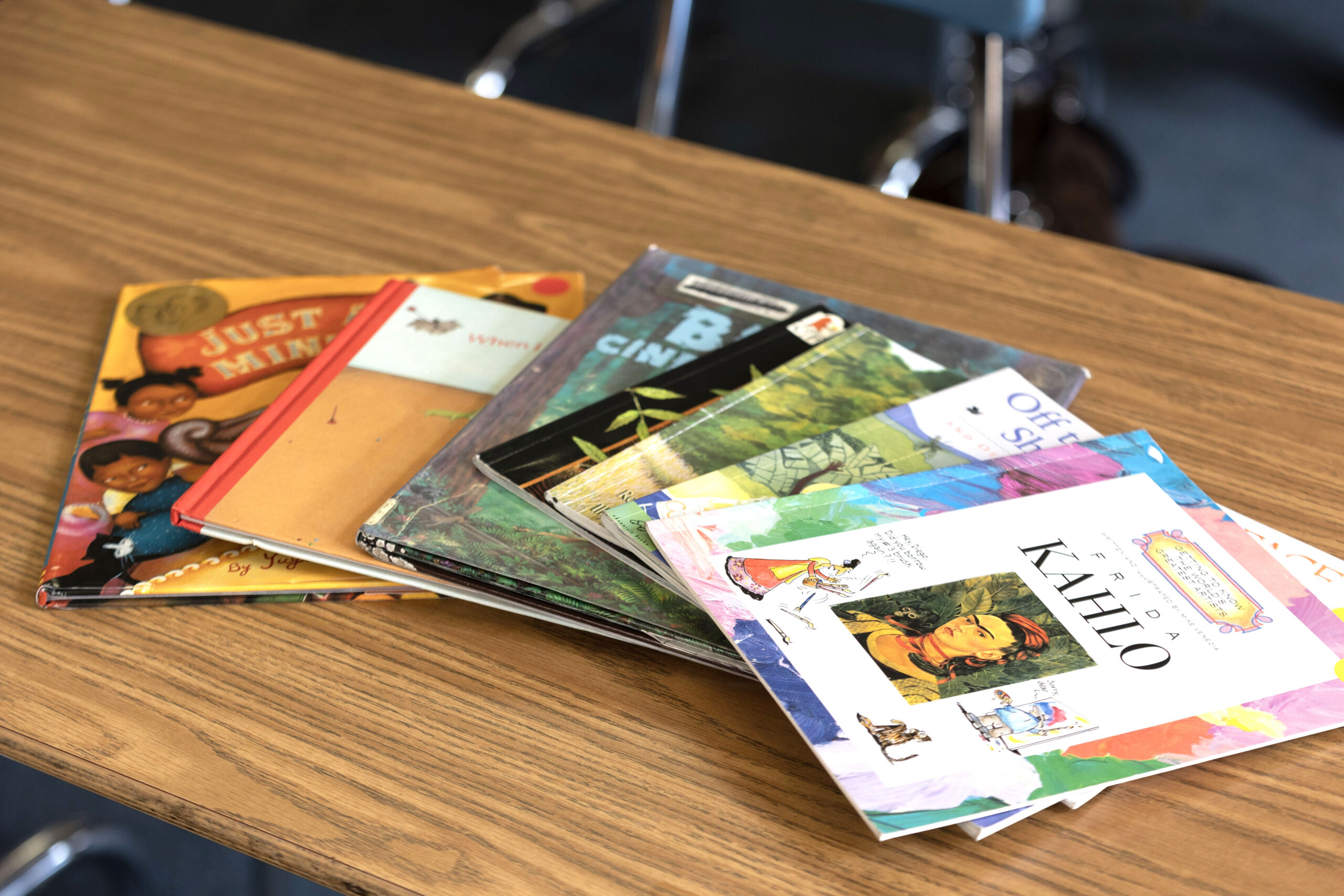 Here's how this works:
The actual NCAA tournament carefully distributes the teams into four divisions with 16 teams each: Greenville 1, Greenville 2, Seattle 3, and Seattle 4. To mirror the basketball tournament, our curated book list includes four literary themes with 16 titles each:
Books About Female Athletes

Books Authored by Female Athletes

Books About Strong Women

Books About Women Impacting Change
March Madness always brings thrills and unexpected surprises. So, to keep the spontaneity and excitement going, we randomly "pre-seeded" our four themes and 64 books into the bracket. Now that the real NCAA women's basketball bracket has been determined, each of those 64 teams has been paired with the corresponding book in our March Madness: Empowered Women Edition bracket. As the teams progress through the tournament from March 17 until April 2, students, educators, librarians, and families can follow along and see which teams (and books) are making it to the Sweet Sixteen, Elite Eight, Final Four, and the Championship round. The books that advance will gain some extra attention on our website and on social media (and maybe from the teams or players themselves!). Again, our book selections will be randomly pre-seeded, so apologies in advance to any authors or publishers whose books get linked to a rival school.
No matter which of the 64 books in our March Madness: Empowered Women Edition bracket emerges as the champ, when books like these become more familiar in homes, schools, and libraries across the country, they are all seen as winners in our eyes.